'Tis the season for apples! While everyone is going crazy over all things pumpkin, I'm over here enjoying Apple Bundt Cake with Praline Frosting. Apples are one of my favorite things about fall. Any way you slice it, I'm crazy for apples.
A few days ago, my newly-married daughter sent a text in our mother/daughter group (everyone has a text group with their kids, right?) announcing that she had made homemade apple butter and apple cider. I one-upped her when I told her I was serving Apple Bundt Cake with Praline Frosting for Sunday dessert. That was after I told her how proud I was of her.
Apple Bundt Cake
I use a yellow cake mix to save time and I add a package of vanilla instant pudding, applesauce, eggs, water, oil, ground cinnamon, ground nutmeg, allspice, vanilla extract and 2 cups chopped Gala apples. Oh, and pecans – toasted pecans.
First, I toast the pecans. It only takes a few minutes and once you smell that heavenly smell, they are done.
While the pecans are cooling, mix together the cake mix, instant pudding, applesauce, water, and oil. Mix until well combined. Add the eggs, spices, and vanilla. Mix until combined. Stir in the apples and chopped pecans.
Helpful Hint: If you use a mini bundt cake pan, the recipe makes 12 mini cakes.
Bake at 350º for an hour. Let cool completely before frosting.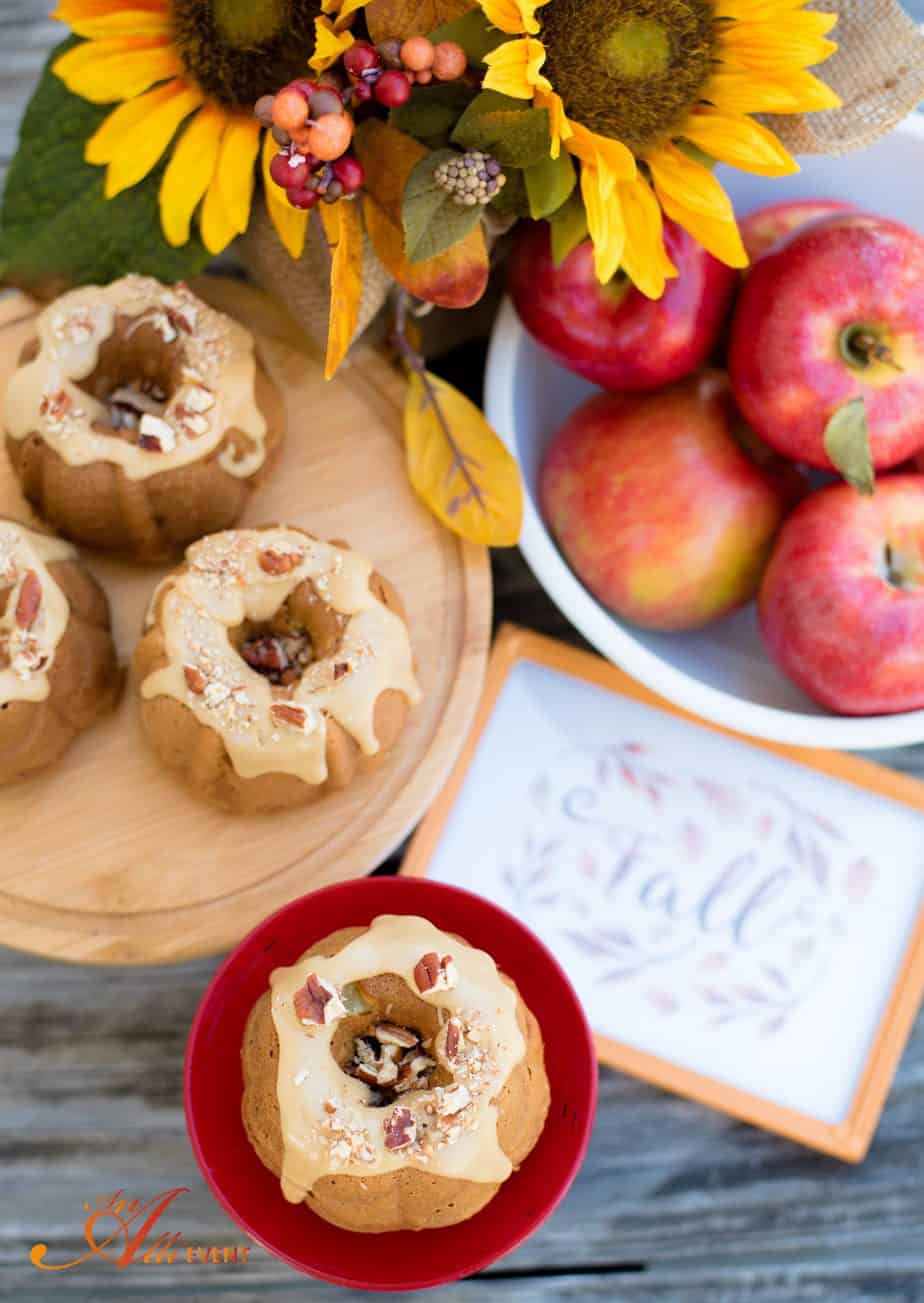 Apple Bundt Cake with Praline Frosting
Apple Bundt Cake is full of apples and topped with a delicious praline frosting.
Ingredients
1 yellow cake mix
3.4 oz. pack vanilla instant pudding
1 cup applesauce
1/2 cup water
1/4 cup oil
3 eggs
2 teaspoons pumpkin pie spice (OR 1 tsp. each cinnamon, nutmeg and 1/2 tsp. allspice)
1 tsp. vanilla extract
2 cups chopped Gala apples
1 cup finely chopped pecans
Praline Frosting
1/2 cup firmly packed brown sugar
1/4 cup butter
1 tsp. vanilla
3 Tablespoons milk
1 cup powdered sugar
Instructions
Preheat oven to 350º
In a baking pan, spread pecans in a single layer and toast for 6-8 minutes. Shake the pan a couple of times and watch carefully so that they don't burn.
In a mixing bowl, combine first 5 ingredients. Beat for one minute or until combined.
Add eggs, spices and vanilla extract. Beat until combined.
Stir in apples and toasted pecans. Pour batter into a greased and floured bundt pan. Bake at 350º for an hour. Let cool on a wire rack for 10 minutes. Remove from pan and cool completely.
Praline Frosting: Combine brown sugar, butter, and milk in a saucepan and cook on medium, whisking constantly. Bring to a boil and boil for one minute, whisking constantly.
Remove from heat and add vanilla and the powdered sugar, a little at a time.
Whisk until well combined.
Pour immediately onto the cake. Garnish with toasted pecans, if desired.
If the frosting gets too thick, add a dash of milk and whisk until desired consistency.
Nutrition Information
Yield

12
Serving Size

1
Amount Per Serving
Calories

478
Total Fat

20g
Saturated Fat

5g
Trans Fat

0g
Unsaturated Fat

13g
Cholesterol

58mg
Sodium

414mg
Carbohydrates

68g
Fiber

2g
Sugar

45g
Protein

5g
Praline Frosting
My Apple Bundt Cake with Praline Frosting is perfect for Sunday dinner, fall family reunions and when you're entertaining guests.
My husband tasted my Apple Bundt Cake and said, "Now that's a dessert! It's great with coffee or milk. It reminds me of an apple crumb cake – not overly sweet and very moist, with a nice crunch."
How do you like them apples? (southern speak)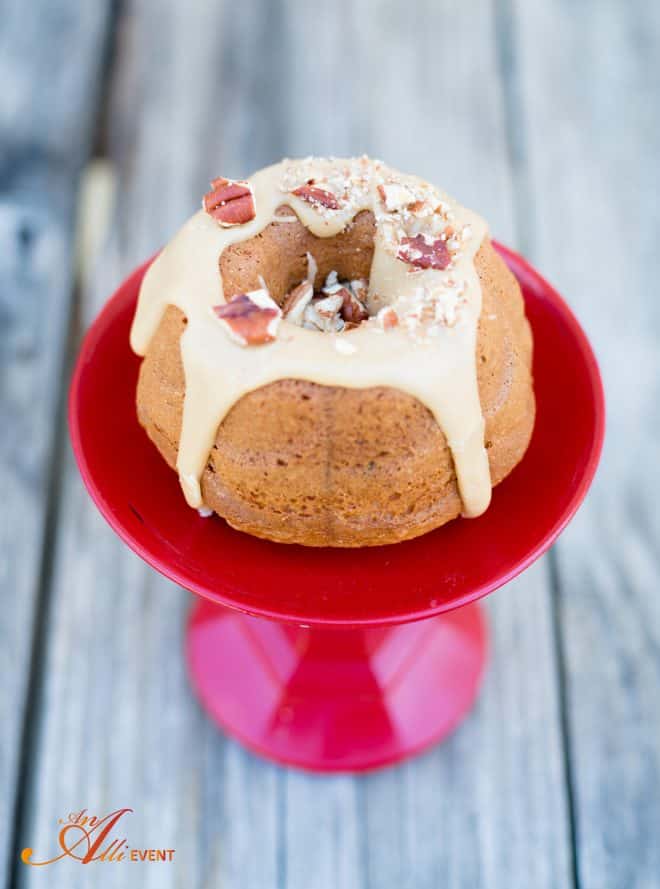 Are you as crazy about apples as I am? I've got lots more apple recipes.
Apple Pie Caramel Macchiato Shake

Print Friendly