When I'm decorating for Christmas events, I'm always in need of some faux snow.  And I've never been too crazy about the imitation stuff found at craft stores.
So, let me introduce you to the best cheapo faux snow in the world.  The one, the only . . . . Epsom Salt!  Yes, my friend, it is awesomeness packaged up in a box.  And it's only .88 cents (16 oz) at my local Walmart.  It sparkles, it shines – without all the glittery mess.  (I've never used glitter  without getting a speck of it on my face that only a jackhammer could remove.)
Faux Snow Covered Trees
Styrofoam trees (mine were left over from last Christmas when I did the coffee filter covered trees)
Faux Snow (aka Epsom Salt) 16 oz.
Mod Podge (sealer, glue, finisher)
This is gonna get messy!  Pour 1/4 of the box of Epsom Salt onto a large baking sheet or a sheet of aluminum foil or wax paper.  Pour some Mod Podge into a paper plate.  With your hands, smear the Mod Podge over the half of the tree that is facing up.  Roll in salt.  Complete other half.  I set them on paper plates to dry.  As the salt becomes gummy (from the glue)  dispose of it and replenish your large sheet of paper or baking sheet.  You can make snow drifts, throw snow balls, let's not go that far; it's not real, you know!  It's faux!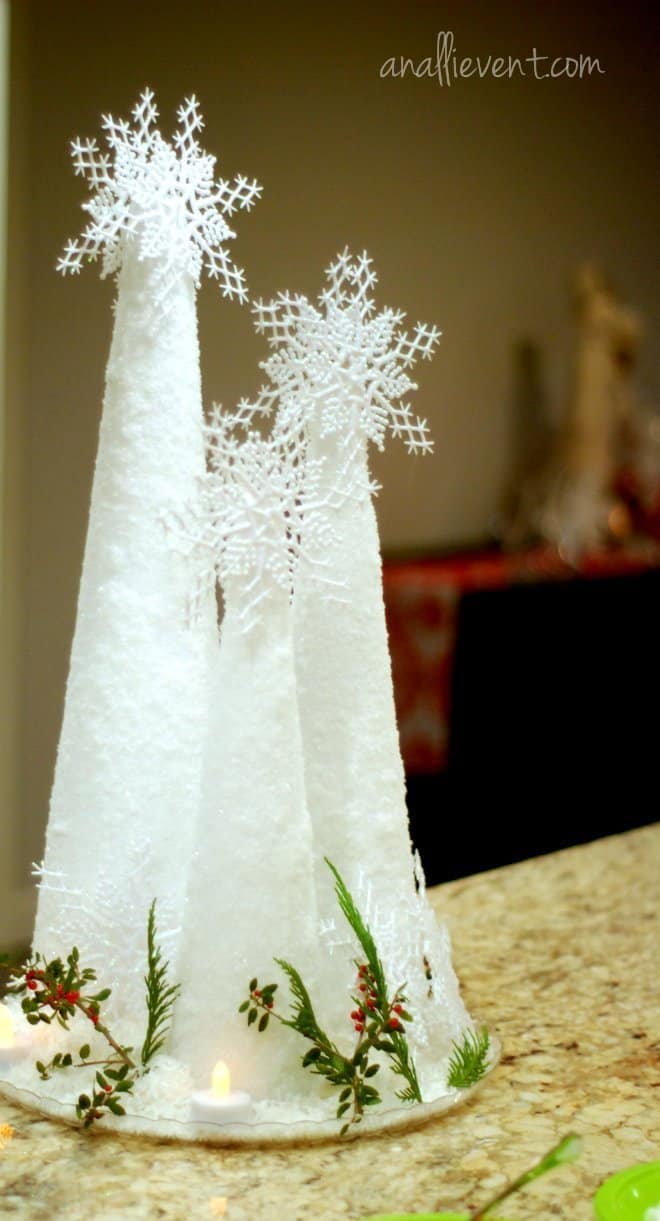 Helpful Hint:  When I'm using faux snow to showcase a food item, I always use shredded coconut.

Print Friendly