Welcome to a little chitchat and DIY Sunday Showcase 04.24.
We've got less than 20 days until my daughter says I do. We're checking and rechecking all the last minute details, letting the caterers know the final number attending and we're looking forward to the big day. I'm actually in Charleston this weekend. I'm gonna miss all these fun trips once the wedding is over.
Someone at Caitlin's bridal shower asked me if I was getting nervous. Not really. This is my third and last daughter to get married and I think I've worked out all the pre-wedding jitters.
Looking back at my first daughter's wedding, I was extremely nervous. I kept having a recurring nightmare that the caterers didn't show up and when we walked into the venue the decor was beautiful, but there was no food! I imagine I drove the caterer a little crazy by confirming the date over and over. Sorry.
This time, the venue is not formal (the upper deck of a yacht that holds 150 people). My dress is not as formal as the first two weddings and I can actually breath and sit down comfortably.
I've also found that I enjoy parties/weddings/etc. much more when I'm relaxed and not stressed out. I do hope I still feel like this on May 14th! With the wind in my hair while floating around the beautiful harbor of Charleston, I think I will.
With that said, let's get this party started and take a look back at last week's DIY Sunday Showcase.
My favorite from last week are these sweet chocolate "boulders!" I think they are awesome and would be perfect for a birthday party. So cute!
Jennifer's Favorite: DIY Cupcake Bouquet – perfect for Mother's Day!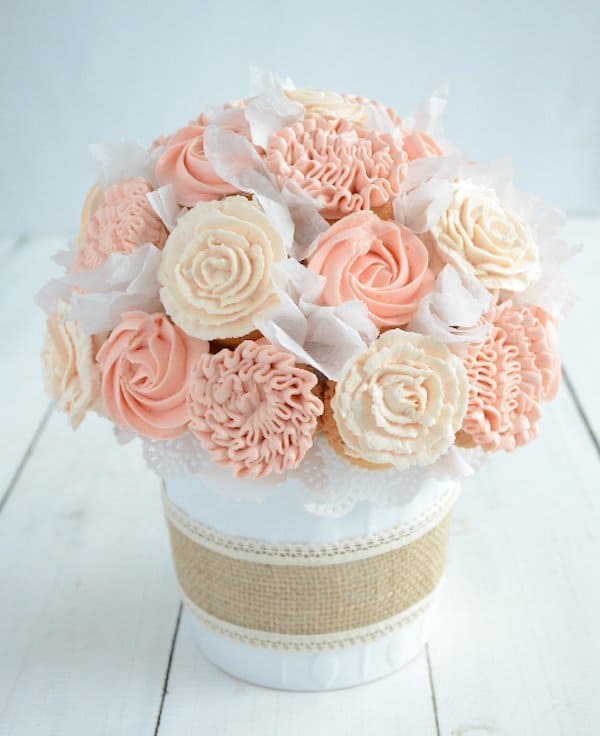 Marie's Favorite:  DIY Primitive Style Corner Cabinet
Wendi's Favorite:  Eclectic Bohemian Patio Refresh
Erin's Favorite:  Herb Jar DIY Hanging Garden 
Katie's Favorite:  Hanging Gutter Planter

Print Friendly