What's your plans for June? Are you taking a dream vacation? Gardening? Working? Whatever you're doing this month, remember to slow down and enjoy the sights and smells of summer. It's my favorite season. And it's time again for some chitchat and DIY Sunday Showcase 06.05.
In other news, I think I've found my Mother of the Groom dress for my son's November wedding. I've learned that you can never start the hunt for that ever-elusive-dress too early.
Yes, my daughter's Charleston wedding was only three weeks ago and we're still waiting for the photos and video. My son will be tying the knot in the fall on Tybee Island. Yes, another coastal wedding is in the works.
This will be my very first time as the mother of the groom. The old adage "Wear beige and keep your mouth shut" won't work for me. I never wear beige (washes me out) and I couldn't keep my mouth shut if I wanted to.
However, it's kind of freeing to only have the rehearsal dinner to be concerned about, instead of the entire wedding. And I only give my opinion when asked. And my future daughter-in-law is constantly asking for my opinion. So there! She's also asked me to do the take-home favor bags for the wedding.
So, have you ever been the groom's mom? How did it go?
Anyway, fingers crossed that I've found THE dress. Could it be that I found the one on my very first try? We'll see and I'll keep you posted.
Watermelon is my favorite thing about summer. I could eat chilled watermelon every single day. So my favorite from last week's DIY Sunday Showcase is How to Make Watermelon Cupcake Toppers. Aren't these adorable?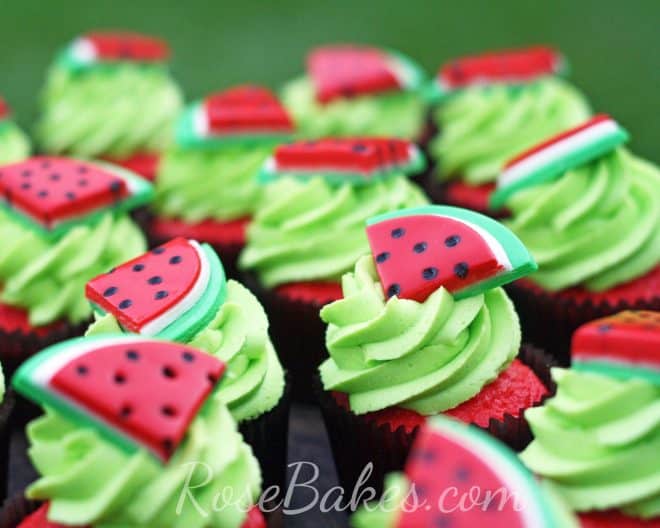 Jennifer's Favorite:  Antipasto Skewers
Marie's Favorite:  DIY Nesting Herb Boxes
Erin's Favorite:  Tomato Tart Summer Recipe
Wendi's Favorite:  Painted Rug Tutorial
Katie's Favorite:  DIY Herringbone Coffee Table

Print Friendly