Hot summer days cry out for Chocolate Strawberry Semifreddo.  What's a Semifreddo?  It's a partially frozen Italian dessert, usually in the form of an ice-cream cake, semi-frozen custards, and certain fruit tarts. I love the way that word slips off my tongue, so I've been saying semifreddo all day long, every chance I get.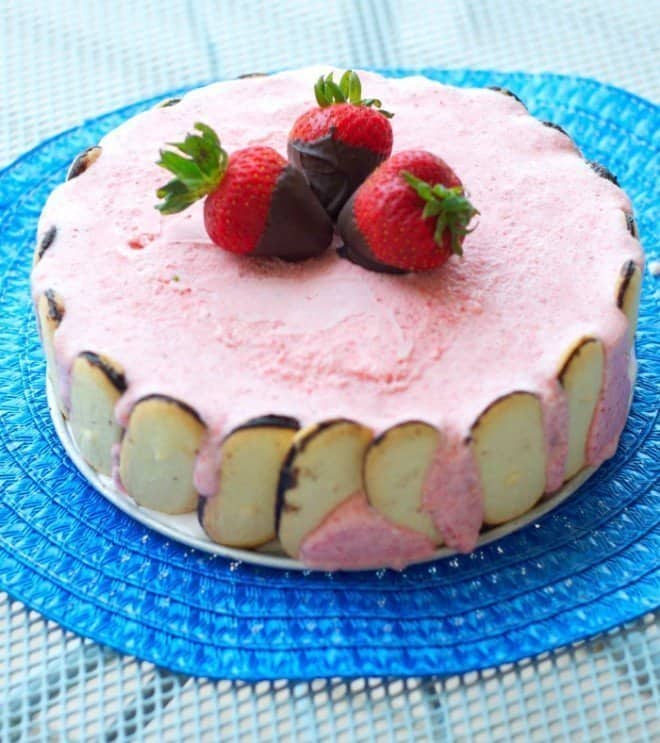 For my Strawberry Semifreddo, I ditched the ladyfingers that I normally use because my local grocery store didn't have them and I didn't want to drive 30 minutes to buy them (perils of small town living). While in the store I had a brilliant idea to use Milano double chocolate cookies instead.  You'll need about 2-1/2 packages of cookies.  Hide the remaining 1/2 package for when you're PMSing.
This is a no-bake dessert that basically calls for layering, placing in the freezer to harden and repeating with another layer.  It takes a little time, but it's not hard to do at all.  The bottom layer is strawberry ice cream and the top layer is made by combining marshmallow cream, pureed strawberries and whipped heavy cream.
The thin ribbon of chocolate sandwiched between two crisp biscuits adds just the right touch of chocolate to this cool ice cream dessert.  I melted a little semi-sweet chocolate and dipped strawberries as a garnish to make it prettier, but you don't need them at all.  
If you've got guests coming for dinner, you'll impress them for sure with this dessert (and you'll get to say semifreddo again).  You'll also be your family's favorite person if you jazz up a weekend OR weekday by whipping this out of the freezer.
Don't worry if the ice cream mixture oozes out between the Milano cookies.  It just makes it look homemade and that's a good thing.
Helpful Hint:  I usually put this together the night before I plan to serve it.  Freeze it and forget it until dessert time.

Strawberry Semifreddo
Ingredients
2-1/2 packages Pepperidge Farm Milano Cookies, Double Chocolate
½ gallon Blue Bunny Double Strawberry Ice Cream, softened
2 Tablespoons powdered sugar
1 Jar Marshmallow Cream (7 oz.)
1 cup heavy cream
1 Pt. fresh strawberries, hulled
Instructions
Line the bottom and sides of a springform pan with Milano cookies.
Spread strawberry ice cream in pan and freeze for 30 minutes.
Combine hulled strawberries and powdered sugar in a food processor and process until pureed. Reserve ¼ cup puree and whisk the rest with the marshmallow cream until well combined.
Beat cream at high speed with an electric mixer until stiff peaks form.
Fold into marshmallow mixture. Pour over ice cream in pan.
Drizzle reserved strawberry mixture over top, and gently swirl with a knife.
Freeze 4 hours or until firm.
Let ice-cream cake stand at room temperature 5-10 minutes before serving.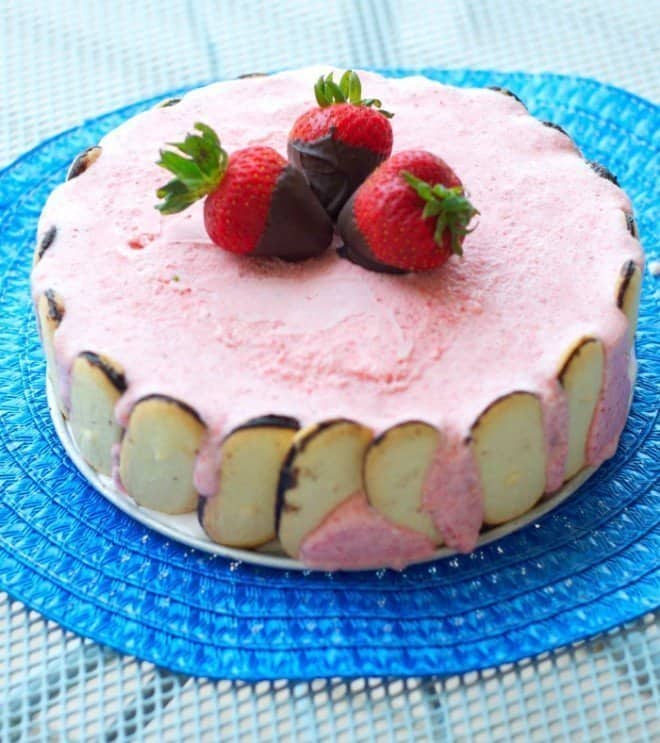 What's your favorite summertime treat?

Print Friendly