Light and fluffy sweet potato pancakes are compensated by Collective Bias, Inc. and its advertiser. All opinions are mine alone. #12DaysofPancakes #CollectiveBias
My favorite holiday, by far, is Christmas!  I get a warm, fuzzy feeling when the holidays are just around the corner and there's a chill in the air.
I get excited about spending time with the family and especially the grandchildren.  The way their eyes light up when they spy my Christmas tree for the first time and when they find out I'm making Sweet Potato Pancakes for breakfast are moments to be cherished forever.
Holiday Brunch
I'm almost at a loss for words when I try to describe the feeling I have when the entire family comes over for a holiday breakfast or brunch (it's a mom thing).  Spending time with the family is too important to spend all morning in the kitchen.
I always rely on Aunt Jemima Buttermilk Complete Pancake Mix to make me look good and to save time.  That smiling face was always a staple in my mom's kitchen and you'll always find Aunt Jemima pancake mix in my pantry and syrup in my refrigerator.
To ensure that I have everything I need for my Sweet Potato Pancakes, I swing by Walmart and head for the breakfast aisle.  I like that the syrup and pancake mix is side-by-side on the shelf.
Secret Ingredient for my Light and Fluffy Pancakes
Aunt Jemima Buttermilk Complete gives me a headstart on my light and fluffy Sweet Potato Pancakes.  I bet you'll never guess my secret ingredient!  It's baby food sweet potatoes! I don't have time to cook and mash sweet potatoes.  The baby food is the perfect consistency for these pancakes and it's so convenient.
With just a few ingredients, Aunt Jemima helps me serve homemade pancakes that are delicious and brings the family together for the holidays.  It just can't get any better than this!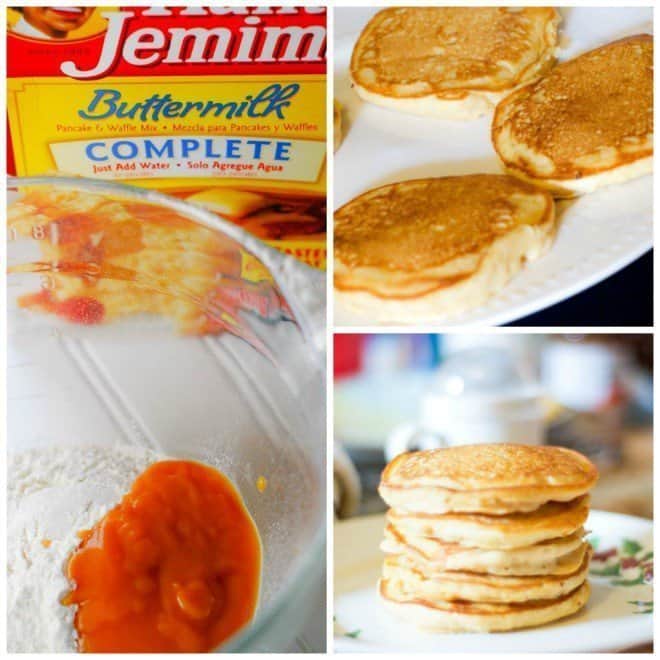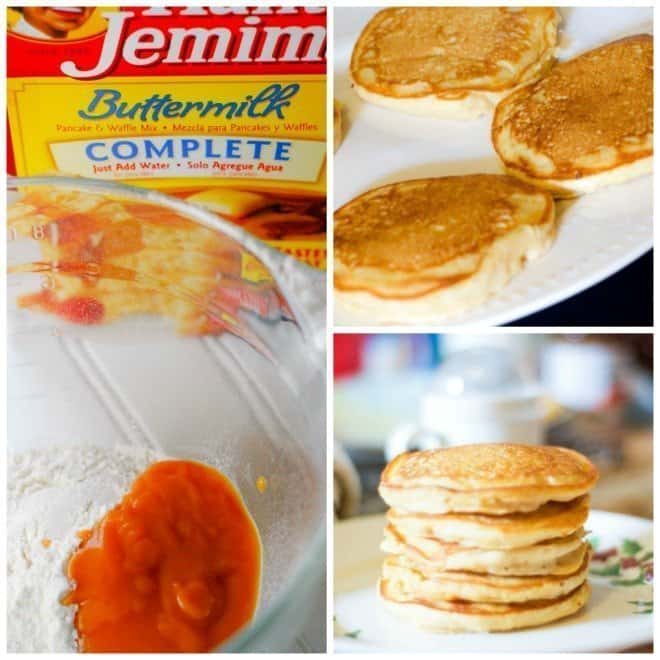 Light and Fluffy Sweet Potato Pancakes
Sweet Potato Pancakes
Ingredients
2 cups Aunt Jemima Buttermilk Complete
5 oz. sweet potatoes, pureed (I use all-natural sweet potato baby food - works perfectly!)
2 Tablespoons brown sugar
1 teaspoon cinnamon
1 teaspoon vanilla
Pinch of nutmeg
Instructions
Heat skillet over medium heat.
Combine all ingredients in a medium-sized bowl and stir until large lumps disappear. Do not overmix.
Lightly grease skillet with solid shortening.
Pour slightly less than ¼ cup batter for each pancake onto skillet.
Flip when pancakes bubble and bottoms are golden.
Serve with Aunt Jemima® Original Syrup.
Makes 12-18 pancakes

Do try my Sweet Potato Pancakes.  They're light and fluffy with a subtle taste of sweet potatoes, cinnamon, and brown sugar – perfect for a family holiday breakfast.  And make sure to slow down and enjoy spending time with your family during the holidays.  Oh, the memories you'll make!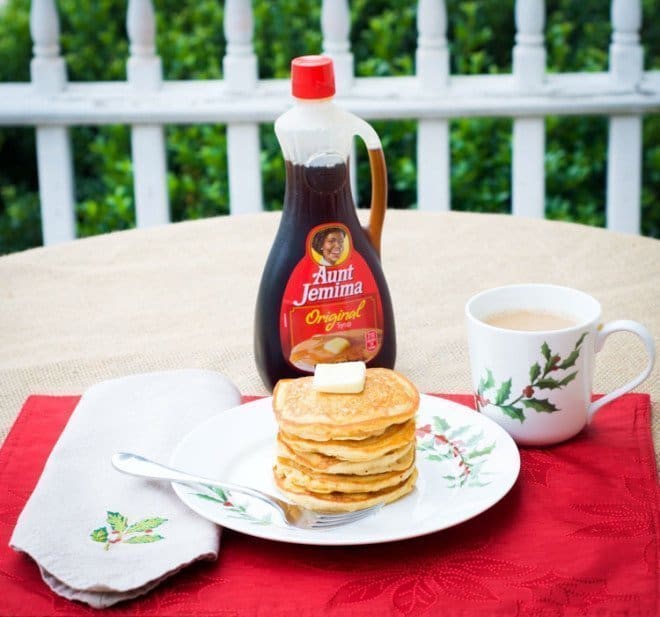 Do you enjoy brunch? What's your favorite brunch food?

Print Friendly