It's party time at the Pretty Pintastic Party! We're glad you're here. And, please, please, please repin the features. There's only six and they've already been pinned. You just need to repin them to your boards. It's like this; if you were featured, wouldn't you want everyone to repin? I would! And, if everyone repins, the huge red letters with all the exclamation points will go away. That's reason enough to repin! 🙂
Here's what I've been up to this week:
What to Wear to a Summer Wedding came about when my youngest daughter got engaged a couple of weeks ago (We've found the venue and locked it in!) and I picked a winner from my Facebook page contest. I gave the winner a shout out and she got to pick a subject for a post and she chose weddings.  Make sure you're following along on Facebook so you can enter all the cool giveaways!
I also shared the finished videos from the Sex After Menopause webinar.  I was a panelist and Dr. DePree really knows her stuff!  You can catch a behind-the-scenes look AND see the videos here.
It's your turn to show us what you've been doing all week!  Welcome to the party!
 Welcome to the Pretty Pintastic Party where all posts are pinned; features pinned by all!
Important:  Once again this week, we had to have to pass over a few posts that we thought would make great features…. but when we checked to see if the bloggers had pinned the features, they hadn't, so we had to choose different features (we check not only the repins, but also pins from that blogger's feed). 
Since repinning is the

ONLY

rule at our party, we will

ONLY

choose features from those who repin.

Thanks for your understanding, and please know that we really appreciate those of you who DO repin!

First, let's meet the hosts:
Annie from Annie's Noms Pinterest, Facebook, Twitter
Roberta from Mommy Like Whoa Pinterest, Facebook, Twitter
Deanna from Gloriously Made Pinterest, Facebook, Twitter
Alli from An Alli Event Pinterest, Facebook, Twitter
Deb from Seeking Lavender Lane Pinterest, Facebook, Twitter
Daisy from Simplicity Relished Pinterest, Facebook, Twitter
Stephanie from The Tip Toe Fairy Pinterest, Facebook, Twitter
Madison from The Wetherills Say I Do Pinterest, Facebook, Twitter
Kelly from The Take Action WAHM Pinterest, Facebook, Twitter
Heather from Divas Run for Bling Pinterest, Facebook, Twitter
Biz from Dandelion Discoveries Pinterest, Facebook, Twitter
Destiny from Suburban Wife, City Life Pinterest, Facebook, Twitter
Diane from Recipes for Our Daily Bread & Our American Travels
Pinterest, Facebook, Twitter
Sarah from Sarah Sofia Productions Pinterest, Facebook, Twitter
Jamie, Kerry, & Lucy from Coffee With Us 3
Pinterest, Facebook, Twitter 
Here's what your hosts have been up to this week!
Now on to the Party!!
This is a super relaxed party!
You show up with your fabulous posts and we pin every single one! We only ask one thing from you!
        This week's Features:    
Glazed Birthday Cake Muffins by The Seasoned Mom DIY Chalk Paint by Sweet Little Ones Why & How to Turn off Location on Your Phone by Intelligent Domestications Should I Start a Business? by Financially Wise on Heels Patriotic Jello & Cream Push Pops by Culinary Ginger How to Organize Your Family by Just Another Mom.  If you were featured, grab a featured button!!        
   Please grab a button and help us spread the word about our party!!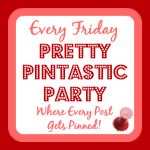 By linking up, you give anniesnoms.com, mommylikewhoa.com, simplicityrelished.com, wetherillssayido.com, mandablogsabout.net, thetiptoefairy.com, coffeewithus3.com, gloriouslymade.com, anallievent.com, sarahsofiaproductions.com, recipesforourdailybread.com, ouramericantravels.com, suburbanwifecitylife.com, dandeliondiscoveries.com, divasrunforbling.com, seekinglavenderlane.com, thetakeactionwahm.com, or any co-host permission to feature your post on social media and our blogs using a photo, title, and link to your site. Proper credit and links will be given to you.

Print Friendly