It's Pretty Pintastic Party time! You know what I like about this party? There's not a lot of rules and regulations. The only rule for linking up is to pin the features.
Oh, yeah, one more thing, I'll be sharing some of your linkups on my Facebook page, too. If I share your link I'll tag you so that you'll know. Let's get this party started!
 Welcome, Welcome!!  We are so glad you are joining us for our party!
We think it's going to be pretty fantastic Pintastic!
 First, let's meet the hosts:
Annie from Annie's Noms Pinterest, Facebook, Twitter
Roberta from Mommy Like Whoa Pinterest, Facebook, Twitter
Deanna from Gloriously Made Pinterest, Facebook, Twitter
Alli from An Alli Event Pinterest, Facebook, Twitter
Daisy from Simplicity Relished Pinterest, Facebook, Twitter
Stephanie from The Tip Toe Fairy Pinterest, Facebook, Twitter
Madison from The Wetherills Say I Do Pinterest, Facebook, Twitter
Manda from Manda Blogs About Pinterest, Facebook, Twitter
Ruth from Captain America & His English Rose Pinterest, Facebook, Twitter
Jamie, Kerry, & Lucy from Coffee With Us 3 Pinterest, Facebook, Twitter
Here's what your hosts have been up to this week!
Every week we will have a fabulous co-host!    Our co-host this week is Amanda from Dwelling in Happiness. Amanda shares great DIYs, organizational tips, printables, and a whole lot more.
Check out her awesome ideas for Decluttering Your Life!  Show Amanda some love by following on Facebook, Twitter, and/or Instagram.            
Now on to the Party!!
This is a super relaxed party! You show up with your fabulous posts and we pin every single one!
We only ask one thing from you!
This week's Features: 
Maple Bacon Cinnamon Rolls from Pink Heels Pink Truck Age-Appropriate Chores for Kids Printable from Bitz & Giggles Vicky Bunny Amigurumi Pattern from Jenny and Teddy Caramelized Banana Oatmeal from A Taste of Madness
If you were featured, grab a featured button!!
Everyone else grab a button and help us spread the word about our party!!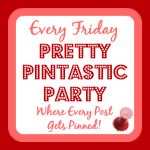 By linking up, you give anniesnoms.com, mommylikewhoa.com, creativeramblingsblog.com, wetherillssayido.com, mandablogsabout.net, thetiptoefairy.com, coffeewithus3.com, cataldolife.com, gloriouslymade.com, anallievent.com, or any co-host permission to feature your post on social media and our blogs using a photo, title, and link to your site. Proper credit and links will be given to you.

Print Friendly