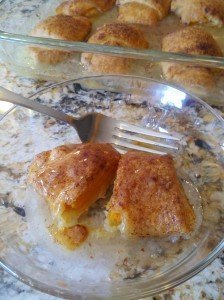 Think apple dumplings, not chicken and dumplings.  Think melt-in-your-mouth deliciousness.  Think scrumptious.  Think dessert OR side dish. Make a run to the grocery store.  Hurry.  You have to try these.
I have a special place in my heart for the sweet potato.  Because it is, well, sweet.  You can fry it, bake it, casserole it or souffle it.  I'm all in.  But this is a new-to-me recipe.
Here's how I found it:  Some of our church ladies had prepared food for a bereaved family.  Everyone that had participated had met at the church.  As I was helping load a car with the food, I happened to pick up a casserole dish over-flowing with mounds of pillowy, tender dough, filled with creamy sweet potatoes, floating in a slightly sweet, cinnamon kissed syrup.  I sniffed, I glared peeked, my stomach growled. I fell in love.  The thought, very briefly, crossed my mind as to whether one dumpling would be missed.  Hey, it was almost lunch time and I was hungry.  I just said no.
The private investigator in me found out that my son-in-law's mom, Diane, had made the dumplings, so I had to get the recipe.  She promptly brought it to me at our next church service, all written out on a cute little recipe card.  So today's shout out goes to Diane.  Yum-O and thanks a billion!  I made these on Thanksgiving as a side dish instead of my usual sweet potato casserole.  They were a tremendous hit and have now officially became An Alli Event.  Thanks again, Diane (aka GiGi – yes, we share the world's best grandchildren and sometimes I try to claim her two that we don't share).
Sweet Potato Dumplings
1 pack of crescent rolls (8 count)  (Diane's recipe called for 16 but I used 8 so I wouldn't be tempted to over-indulge, but if you have a crowd, use 16 rolls and two potatoes.  Everything else stays the same)
1 medium sweet potato, baked (some recipes use frozen sweet potato patties, halved)
1 cup of water
1 cup of sugar
6 Tablespoons of butter
1/2 tablespoon of Cornstarch
1 teaspoon of vanilla extract
Cinnamon for sprinkling on top
Preheat oven to 350° F.  Some recipes call for not baking the sweet potato and slicing it in thin slices, but I like the way I did it.  Recipes are made to be tweaked!  Separate crescent rolls.  Slice the cooked sweet potato in half lengthwise.  Place a heaping tablespoon of sweet potato in the middle of the crescent roll.  Roll up, tucking in the ends so that the potato is not peaking out and trying to escape.
After you finish rolling them up, place in an 8″x 8″ glass baking dish with the pointy end of the crescent roll facing down. If you are doubling this recipe, use a 9″x 13″ glass baking dish.
 In a saucepan, combine the water, sugar and cornstarch. Mix well. Add the butter.  Heat over medium heat, stirring occasionally until the butter has melted and the sugar has dissolved.  Remove from heat and stir in the vanilla extract.  Pour the sugar mixture over the dumplings.  Sprinkle with cinnamon and bake for 30-35 minutes.
For dessert:  Serve warm with a big scoop of Blue Bell vanilla ice cream.  Think heavenly!

Print Friendly