We are about to go all out here for the last installment of my Perfect Valentine's Day Dinner – The Trilogy. You can see part one here and part two here. These are all tried and true, no fail recipes.
Don't let the fancy sounding menu fool you.  It's easy.  I promise!  I don't like hard!
Menu
Chicken Cordon Bleu
Spiced Carrot Strips
Rice Pilaf
Buttered Rosemary Rolls
Nutter Butter Peanut Butter Pie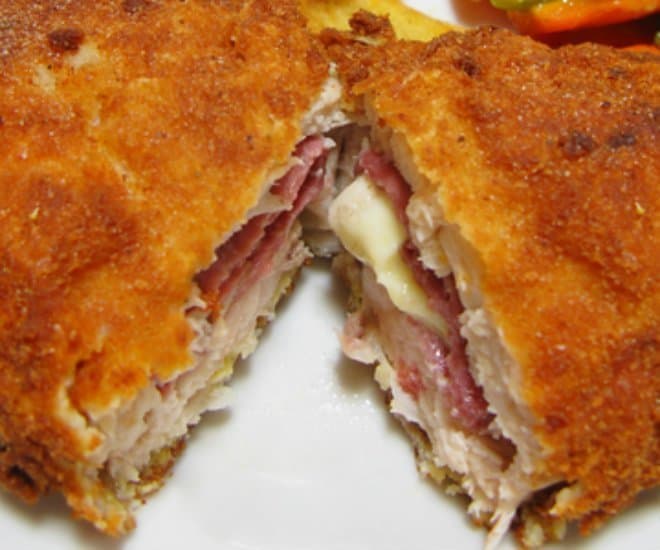 Ingredients
2 boneless, skinless whole chicken breasts
1/8 tsp. salt
1/8 tsp. pepper
1 egg, beaten
1/2 cup milk
2 slices cooked ham, cut in halves
2 slices Swiss cheese, cut in halves
1/2 cup plain flour
2/3 c fine dry bread crumbs (I like Panko)
1/4 cup butter
Instructions
Place each chicken breast half between sheets of waxed paper. Flatten to 1/4" thick, using a rolling pin. Sprinkle with salt and pepper. Combine egg and milk. Brush both sides of chicken with milk mixture. Place a piece of ham and cheese in center of each chicken piece. Brush tops of cheese slices with milk mixture. Fold chicken in half and secure with toothpicks. Roll chicken breasts in flour, dip in remaining milk mixture and coat with bread crumbs. Cover and chill for one hour. Melt butter in skillet and brown chicken on all sides. Place chicken in a greased baking pan. Bake uncovered at 350 for 40 minutes. Serves 4.
Ingredients
5 large carrots, cut into small sticks
2 T butter
1 T sugar
1 tsp. salt
1/4 tsp. ground cinnamon
Instructions
Place carrots in a saucepan. Cover with water and cook until tender, about 8-10 minutes. Drain. Combine butter, sugar, salt and cinnamon. Pour over carrots and toss to coat. Serve immediately. Yields 4-6 servings.
Get the rice pilaf recipe by clicking here.  And here is the Pioneer Woman rolls!
Nutter Butter Peanut Butter Pie is found here.  This is another family fave that I make often.
How do you celebrate Valentine's Day?

Print Friendly