A girl should be two things:  classy and fabulous ~Coco Chanel
I can almost hear Tom Jones singing Love is in the Air because Valentine's Day is just around the corner!  And in the next few days, I will be sharing my top three Perfect Valentine's Day Dinners that will prove how classy and fabulous you really are!  You can find number 2 here.  Number three can be found here!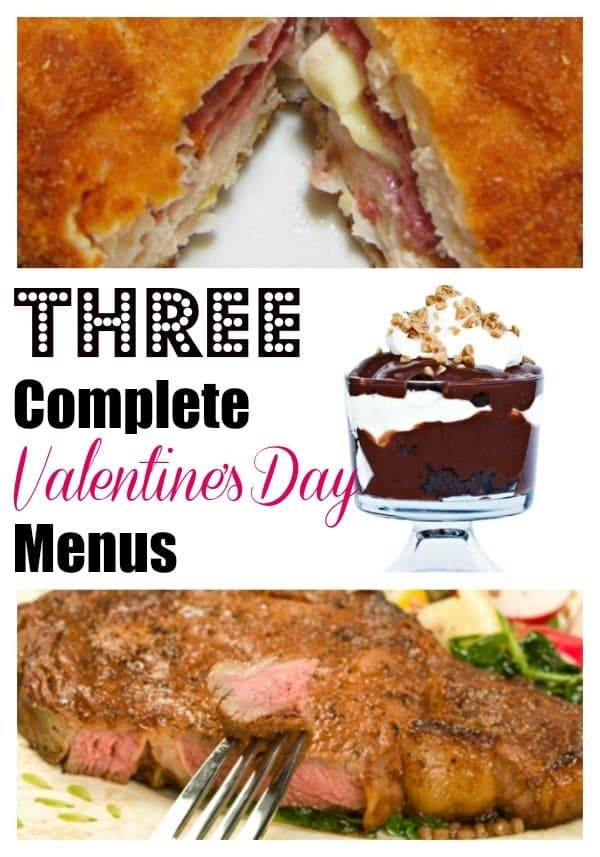 I don't know about you, but there's not a snowball's chance in Haiti that I will in a restaurant on Valentine's night.  If hubby and I go out to dinner for Valentine's Day, we do it a few days before or after.  I don't particularly like crowds of couples vying for that same table with the same purpose.   And even reservations tend to not turn out so good on this night of global love!
And, if you are a mom with young children and you don't live near your relatives, forget trying to find a sitter for this oh-so-special day.  So, why not put the children to bed and have your own little romantic get-a-way right in the comfort of your own home?  That is exactly what we did when the children were young and we lived in Tulsa, miles and miles away from family, and I didn't trust anyone with my children didn't have a sitter.

We are going to start with the easiest dinner from our trilogy and go from there, OK?  And, there will be lots of leftovers for tomorrow!
Menu #1
Baked Spaghetti
Garlic Bread
Caesar Salad
Chocolate Trifle
My Baked Spaghetti off-the-chain good and very easy to make.  And while it's baking, you can put the finishing touches on that fabulous outfit you splurged on for this special Valentine's Day dinner.
Ingredients
1 cup chopped onions (omit if you don't like onions)
1 cup chopped green peppers
1 T butter or margarine
1 (28 oz) can of tomatoes
1 (4 oz) can mushrooms
1 can sliced, ripe olives (black), drained
2 tsp. oregano
1 lb. ground chuck, browned and drained
12 oz. spaghetti, cooked and drained
2 cups shredded cheddar cheese
1 can cream of mushroom soup
1/4 cup water
1/4 cup grated Parmesan cheese
Instructions
In skillet, saute onion and green pepper in butter. Add tomatoes, mushrooms, olives and oregano. Add ground chuck. Simmer uncovered for 10 minutes. Place half of the spaghetti in a greased 13 x 9 baking pan. Top with half of the veggie/meat mixture. Sprinkle with 1 cup cheddar cheese. Repeat layers. Mix soup and water until smooth. Pour over casserole. Sprinkle with Parmesan cheese. Bake uncovered at 350 for 30-35 minutes. This yields 10-12 servings. Note: To make this dish even easier, omit the first 5 ingredients and replace with a large jar of Ragu spaghetti sauce with mushrooms.
You could make homemade garlic bread but why would you when there are so many good, frozen ones in the grocery store.  Don't reinvent the wheel is my mantra!  Buy the frozen kind!  Don't wear yourself completely out before the big night!  Wink, wink.
Caesar Salad?  See above about the wheel.  The grocery store has an awesome Caesar Salad in-a-bag (kinda like a bed-in-a-bag in the produce section).
I end this perfect Valentine's Day Dinner with my chocolate trifle.  This is one of the dishes I'm known for.  Everyone loves it and it's so simple, but oh, so good!  
Ingredients
1 pkg. chocolate fudge cake mix
1 (6 oz) pkg. instant chocolate pudding mix
1/2 cup strong coffee
1 (12 oz) container whipped topping, thawed
8 Heath Bars (1.4 oz each), crushed
Instructions
Bake cake in 13 x 9 pan according to the package directions. Set aside to cool. Prepare pudding mix according to directions on the package. Crumble cake, reserving 1/2 cup. Place half of remaining crumbs in the bottom of a 5-quart trifle dish (or a big glass bowl). Layer with 1/2 of the coffee, 1/2 of the pudding, 1/2 of the whipped topping and 1/2 of the crushed Heath bars. Repeat layers. Top with reserved cake crumbs. Place in the fridge for 4-5 hours before serving. This can be made the night before and refrigerated overnight. Note: This is my go-to dessert! It's always a big hit at parties!
Centerpiece – Use a white tablecloth with a hot pink runner.  Place a small glass vase (I used a jar) filled with water into the center of a larger vase.  Fill the space between the small vase and the larger vase with small conversation heart candies.  Buy a dozen roses from the local superstore and cut to desired length and place in the smaller vase.  Done!

Print Friendly