This shop has been compensated by Collective Bias, Inc. and its advertiser. All opinions are mine alone. #GladeAtmosphere #CollectiveBias 
When decorating a home, it's those fabulous little touches that finish off a room and adds to a room's story. For me, it's all about light, airy feel.
When friends and family walk through my front door, they instantly notice that my home is relaxed, casual and inspired by the sea. Without fail, they comment on how good my house smells and they think I've been to a high-end specialty store for my favorite scent. They don't know my secret is The Atmosphere Collection™ Fine Home Fragrance by Glade® and that the collection is available at my local Kroger.
I adore the smell of jasmine, rose petals and lady apples. My go-to scent for my great room is N°1 Enraptured™ – Jasmine and Cedarwood. It's a charming scent and I display the beautiful candle on my coffee table.
My coastal inspired bathroom continues the story of my love for the beach and is a warm and inviting retreat after a long day.
My small master bathroom has been a long time in the making. Finally, I have a blank canvas because this room was recently gutted and totally redone, including replacing that old popcorn ceiling.
For some reason, it took me a while to get around to adding the finishing touches. The only story my bathroom was telling was a tale of wanting to be complete. When it comes to my bathroom, I want it to reflect a calm, decluttered, and serene space that includes a small nod to the sea.
How to Create a Coastal Inspired Bathroom
Since the main color palette in my master bath is gray and light blue, I want to keep that calm and serene feeling by adding navy and a small touch of coral as the accent colors. Since I had a blank canvas, I decided to start with the window treatment and go from there.
No-Sew Window Treatment
For months, the window in my master bath has been covered with a bed sheet. Yikes!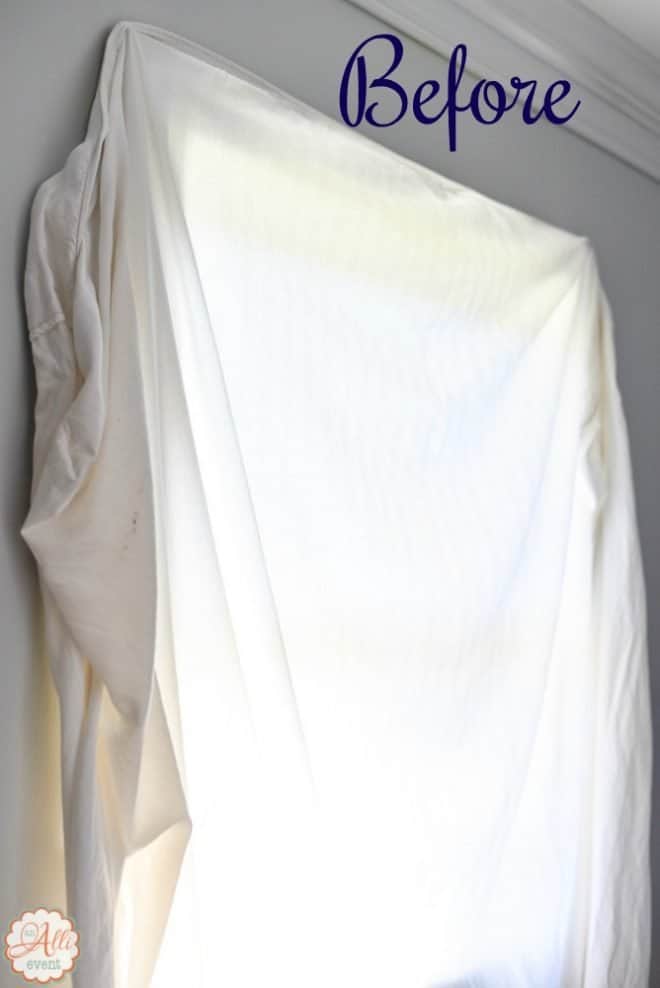 I couldn't find the type shade I wanted, so I decided to make my own. I transformed a plain vinyl shade into a beautiful window treatment.
For the window treatment, you will need:
Fabric (measure your window before buying)

Spray Adhesive

Fusible Bonding Web (no-sew hem)

Adjustable Vinyl Roller Shade. (Don't forget the hardware. It wasn't included with the shade I bought.)

Tape Measure
Remove the vinyl shade from the roller. Just rip that vinyl right off. Measure your fabric to fit the roller and leave an inch on each side and the bottom.

Fold the edges over and follow the instructions on the fusible bonding web to hem your window treatment. While you're using the iron, go ahead and press the fabric to remove all wrinkles.

Attach the fabric to the roller tube with spray adhesive. Let dry completely. I allowed mine to dry overnight to be on the safe side.

Install the shade with the hardware! You now have a custom window shade.
Storage
My master bath is small, so I have to come up with creative ways to add storage. The blank space to the right of the mirror is the perfect place to add shelving. I love the color. It reminds me of driftwood.
I have a pretty blue set of mason jars that I use to hold bathroom supplies. I spray painted the rings and lids white and added decorative knobs to dress them up a bit. Be sure and use heavy duty glue.
The mermaid is a favorite piece because it reminds me of the sea and my love for long walks, fresh air, and plenty of sunshine.
Fragrance
For me, the most important aspect of a finished room is the smell. Do your first thoughts usually turn to specialty stores when searching for the perfect high-end scent? I have a nice surprise for you! I found the perfect scent at my local Kroger. The Atmosphere Collection™ Fine Home Fragrance by Glade®  is curated, crafted and layered with ingredients by world-renown fragrance designer Ann Gottlieb.
I'm relieved that I don't have to run around to all the specialty stores hunting down the perfect designer scent. For my coastal inspired bathroom, my go-to scent is N°3 Free™ – Coconut and Beach Woods. I love smelling the combination of Starfruit, Beach Woods, and Coconut in a heady, creamy cocktail.
This scent completes the serene, calm and relaxing look of my coastal inspired bathroom and I'm relieved that my bathroom is finally finished and smells amazing.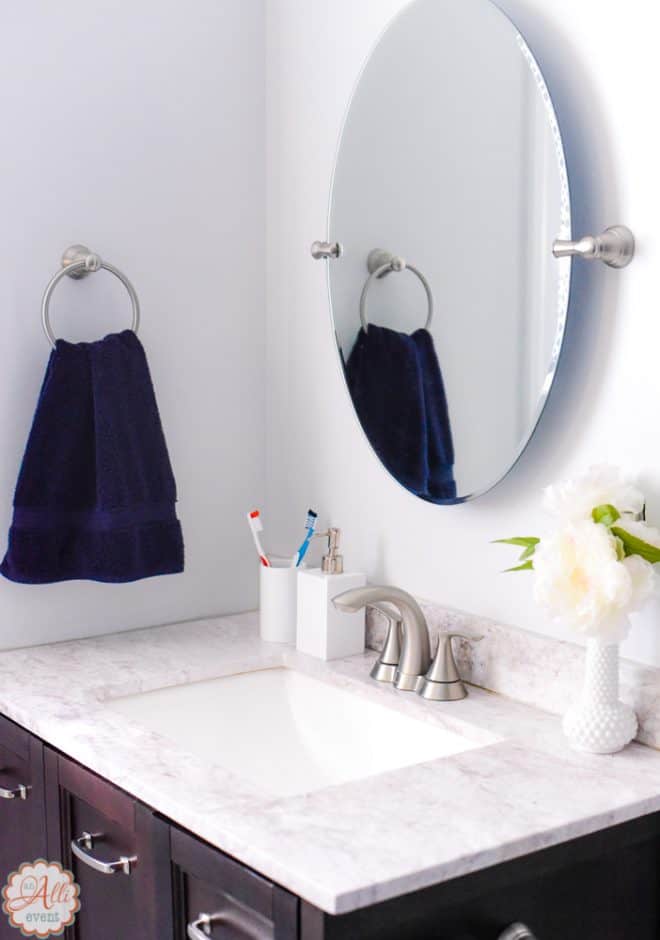 Atmosphere Collection™ Fine Home Fragrance by Glade®  has an elevated home fragrance for every room.
Every room begins as a blank canvas and longs for a story. Since our home is a reflection of ourselves, finding the perfect scent to compliment your home and decor is essential. My coastal inspired bathroom is all me and is an expression of what I love.
If your rooms could talk, what story would they tell?