Today's post, Dishes to Make Family Dinners Special Again, is written by lifestyle blogger, Kacey Mya. 
Rubbed out by wolfed-down sandwiches on the way to practice and microwaved leftovers after a long day at the office, family dinners threaten to become nothing more than nostalgic memories.
More than reminiscent, however, family dinner time offers well-documented advantages within a broad spectrum of developmental and emotional domains. Parents describe family meals as coveted time during which members can catch up and mindfully talk to one another. While nearly half report enjoying fewer family meals than when they were young, 82% identify their favorite benefit as reconnecting meaningful bonds.
For young children, eating dinner together models an important sense of belonging and security. As they grow, children who sit down regularly with their family have a greater chance than their counterparts of earning high grades in school.
When it comes to an emphasis on well-being and the establishment of making healthy food choices, family dinners simply can't be beat. Children love to emulate their parents. Eating well in tandem with your kids helps keep you healthy even as it enforces lifelong nutrition value.
How can you resurrect family dinner time and make it special again? Through food of course! Check out the 5 dishes below. Each varies in the manner of involvement, but all have the same delicious goal — family togetherness.
Classic Child-Friendly Comfort

. Who can deny the draw of a crisp grilled cheese sandwich with hot tomato soup? If you're a foodie — perhaps hoping to raise little foodies — consider this

Three-Cheese Grilled Cheese recipe

.
Use of sourdough bread ups the all-important crisp factor, and the interplay of three very different tasting kinds of cheese is like a mini palate-forming exercise for your child. In less than half an hour this meal is ready for the table. It's a safe bet that one of the topics of conversation will center around your junior Chef's involvement in the preparation.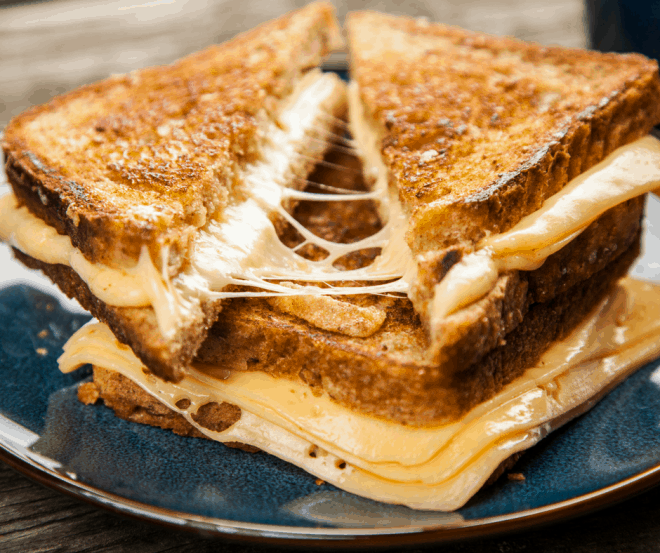 Winner Winner Chicken Dinner.

There is no better role model for maintaining the ritual of a mindful family gathering than the Amish. Committed to a life of simplicity with an emphasis on community, traditional Amish dishes are a great source for family dinner inspiration.
The Amish Chicken Casserole utilizes a minimal number of basic ingredients. Prep time is mostly hands-off, this dish bakes itself for 30 minutes in the oven.
Feel free to switch-out the type of chicken meat used according to your family's preference. Slice mushrooms in large chunks so they can slip easily from reluctant diner's plates. Children may help grate cheese, stir the sauce to thicken and add ingredients. This recipe can be doubled — or tripled — for big extended family meals!
Build Your Own Pizza

. Homemade pizza is a healthy and cost-effective alternative to well-used delivery options. Working with dough can be rewardingly tactile and often comically messy! Consider setting up individual pizza stations, and use your imagination when it comes to toppings. Novel topping choices encourage kids to try new foods.
Pizza-making is a multi-step process, which is perfect for the development of your child's order and sequencing skills. Rewarding in and of itself is the promised end result. Who wouldn't eagerly anticipate the prospect of Build-Your-Own Homemade Pizza night?
Color Code a Theme.

Up for a creative challenge? Choose a holiday, and plan dinner with your family based on the corresponding color scheme. For instance, on Veteran's Day see if you can build a menu around food items that are either red, white or blue. This idea is so off the beaten track you're likely wondering how it could ever truly work — and if it does — how could it possibly be palatable.
Consider toasted English Muffins with fresh sliced tomato and melted Bleu cheese. Pasta smothered in thick Bolognese sauce. Puff pastry blueberry tarts, and vine-ripened strawberries with cream.
Innovative and cooperative meal planning such as this lend family dinners an added level of playful intrigue. Imagine how many novel vegetables you might be able to incorporate into a St. Patrick's meal!
Throw a Fiesta.

You don't have to wait for a holiday or special family event to throw an impromptu party. You don't even have to purchase specific food and decorations. Consider simple one-dish recipes that use basic ingredients, then give them a fancy name!
Fiesta Biscuit Casserole is a meal your children can help you prepare in 15 minutes. Arrange to play a party game together while the dish bakes. Sometimes even the slightest change in routine elicits great pleasure.
Plans to invite your family meaningfully back to the dinner table do not need to be intricate, time-consuming or expensive. They just require commitment. The commitment in itself makes family dinners special.
About Kacey
Kacey is a lifestyle blogger for The Drifter Collective, an eclectic lifestyle blog that expresses various forms of style through the influence of culture and the world around us. Kacey graduated with a degree in Communications while working for a lifestyle magazine. She has been able to fully embrace herself with the knowledge of nature, the power of exploring other locations and cultures, all while portraying her love for the world around her through her visually pleasing, culturally embracing and inspiring posts.
Follow Kacey on Twitter and subscribe to her blog to keep up with her travels and inspiring posts!