Road trips were alway fun when my kids were little.  We'd play all the stuck-in-the-car-for-hours games and have lots of deep conversations.  And sometimes I'd question my sanity of being shut up in the car with the kids for hours.
Back in those early days, we didn't have phone apps that helped map out our trip.  We relied on a good old paper atlas.  Remember those?  And finding places to eat turned into a game as we read all the billboards, trying to find a restaurant to suit everyone.
Those days have changed.  There's now all kinds of apps to help plan and execute the perfect road trip.  Here are some of my favorites.
5 Fun Apps for Road Trips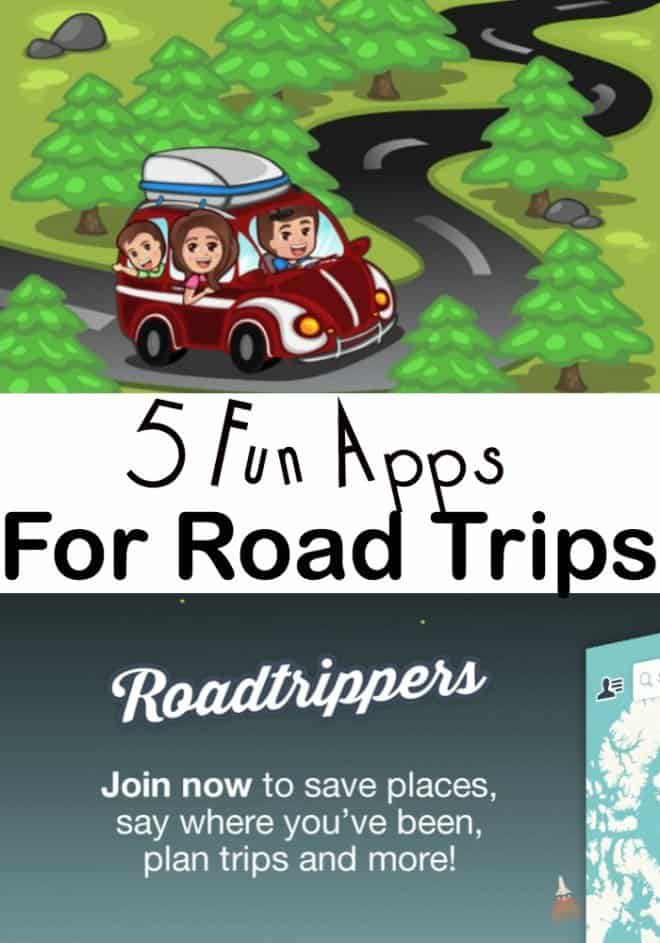 1. Find Fun Detours
Plug your route into Road Trippers or Roadside America ($2.99). They both highlight unusual places to stop along your way such as The Clown Motel in Tonopah, Nevada or Ben & Jerry's Flavor Graveyard in Waterbury, Vermont.  Also, try the FieldTrip app.  It pings your cell phone when you're near historic, unique or hidden locations that you might want to check out.
2.  Find a Restroom Fast
SitOrSquat instantly locates the nearest facility.  I love that it also gives a cleanliness rating.  We could all share horror stories of roadside restroom facilities.  Now, they're a thing of the past.  Thank you, Charmin!
3.  Must Try Restaurants
Road Food and TV Food Maps offer a state-by-state rundown of food spots you don't want to miss.  They also let you know the specialty of each restaurant.  TV Food Maps tracks over 40 different TV shows in one place, making it easy to eat like the Food Network stars.
4.  Find New Games to Play
Family Car Games is a resource app that has over 100 family friendly games to play in the car. You can pick games that are age appropriate and level of difficulty.  This one comes in handy when the kids are bored.
5.  Waze and iExit
OK, this one may not be so fun for the kids, but the adults will like these 2 apps.  Waze alerts you to traffic jams and will talk you through detours.  My husband loves this app.
iExit displays a list of upcoming exits and rest areas.  It includes colored icons that represent food, gas, lodging, even big name retail stores.
What's your favorite app for road tripping?