Appetizer Party Tips & Buffalo Chicken Bites has been compensated by Collective Bias, Inc. and its advertiser. All opinions are mine alone. #BackYourSnack #CollectiveBias
Have you ever wanted to have friends over for dinner, but were too nervous, inexperienced or intimidated to go ahead and do it?  Forget dinner!  Appetizer parties are all the rage! I'm going to show you an easy appetizer hack.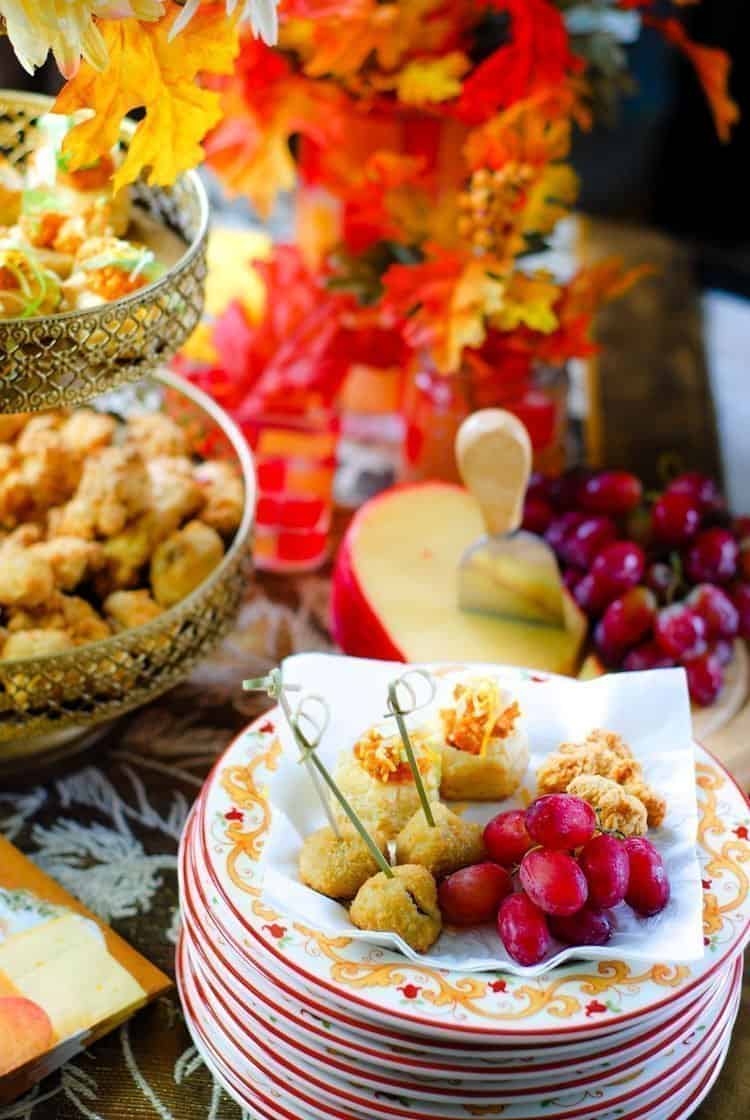 First of all, let's talk appetizers.  An appetizer party is a perfect way to ease your way into entertaining guests and you can host the bash before going out to a movie or a night on the town. Here are my appetizer party tips:
1.  The number of appetizers you serve depends on the number of guests.  For example:
If you're hosting 8-12 guests, you'll want to serve 5 appetizer selections.  For 25 guests, make it 9-10 appetizer selections.  For now, we're talking about keeping it small, so I recommend no more than 6-8 guests for your first party and no more than 5 appetizer selections.
2.  Serve foods that are spill-proof, not messy and don't require cutlery.
Remember this is an appetizer party.  When the cutlery comes out, it can quickly cross the line into a full-on dinner party.  Stay away from the forks.  Use cute picks, if needed.
3.  Keep the Decor Simple
I'm hosting a casual fall get together, so I use a pretty table runner and an easy fall centerpiece that I put together in minutes.  Add a stack of pretty dishes, napkins, glasses and you're done.  Wait for Christmas to bring out the glitz and glam!  By then, you'll be a pro at throwing parties!
Helpful Hint: Be careful not to get too fancy when decorating.  I've thrown many parties over the years and my most successful ones have been casual and laid-back.  No one likes stuffy.
4. Have great music playing softly in the background.
I, for one, hate pregnant pauses.  It can be the death of a party.  Music helps your guests relax and at least they have something to talk about.  "Hey, who wrote that song?"  "OMG – that song was THE SONG when I was in college."  You get it.
5.  Now is not the time to try that complicated recipe that has 29 ingredients.
No, no, no!  Just the thought makes me nervous. Keep it simple.  My best appetizer recipes are semi-homemade.  My most popular appetizer, Buffalo Chicken Bites in Puff Pastry Cups looks so elegant and complicated.  Only you (and I and everyone reading this) will know how easy it is because I'm about to let you in on my secret.
Boneless Chicken Bites
I use Farm Rich Buffalo Style Boneless Chicken Bites, frozen puff pastry cups, shredded cheese, and shredded lettuce.  And you don't have to run all over town to specialty stores.  Walmart has everything you need.
Buffalo Chicken Bites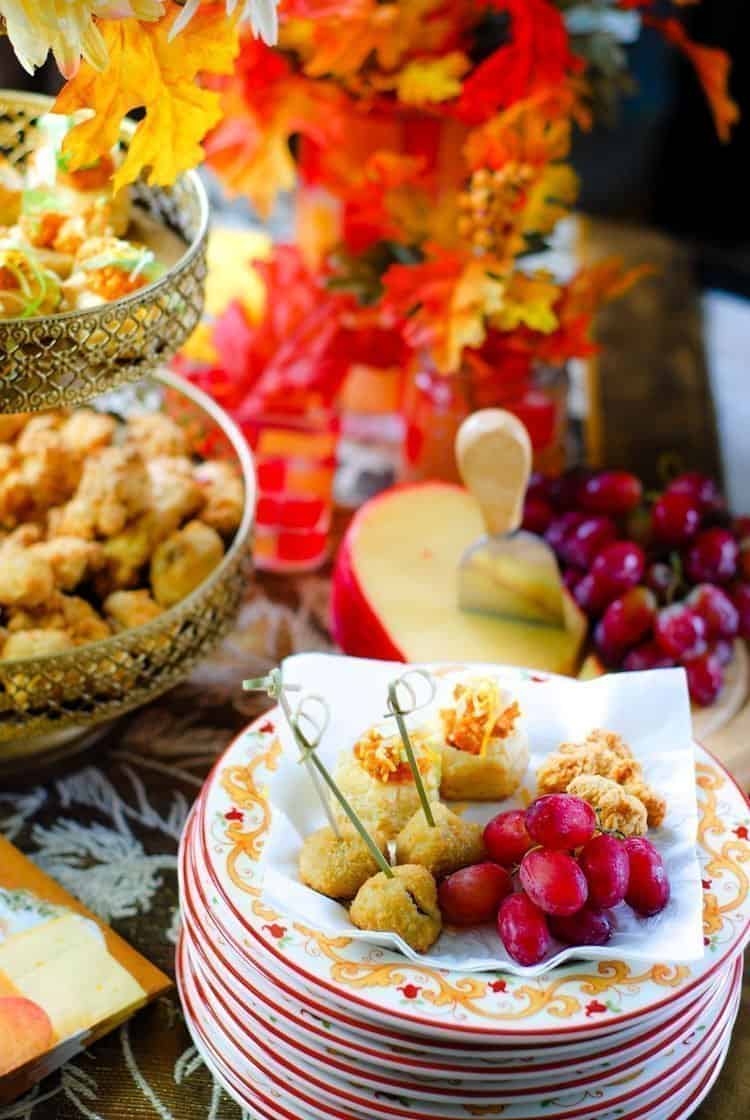 Ingredients
1 package Puff Pastry Cups, frozen
1 package Farm Rich Buffalo Chicken Bites
Grated Cheese
1 package shredded iceberg lettuce
Instructions
Heat the Farm Rich Buffalo Chicken Bites in the oven as directed on packaging.
Meanwhile, bake the puff pastry cups according to package directions.
Once the pastry cups have cooled, remove the center with a knife (follow the indented circle on top).
Dice the chicken bites and mix with the package of Buffalo sauce.
Fill the cups with chicken and top with shredded lettuce and cheese.
Heat the chicken bites in the oven using the directions on the package.  Bake the puff pastry cups.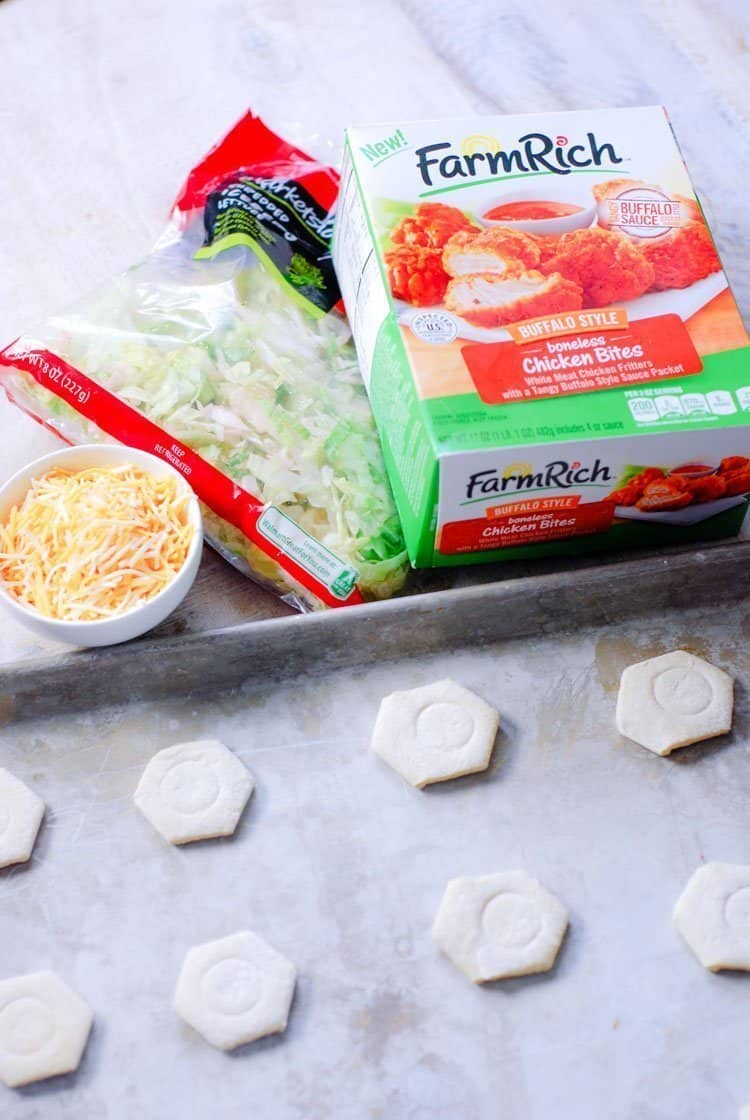 Once all the food is ready, cut the tops out of the pastry shells by following the indented circle.
Once the chicken bites are cooled a little, I cut them into bite-sized pieces and mix them with the Buffalo Chicken sauce.  Then I stuff the puff pastries with the chicken, shredded lettuce and cheese.
For my fall appetizer party, I also serve Farm Rich Breaded Mushrooms and a fruit and cheese tray.
See how easy my little party was to throw together?  And my guests loved my snack hack.  They thought it took hours to prepare, but in reality, it took mere minutes.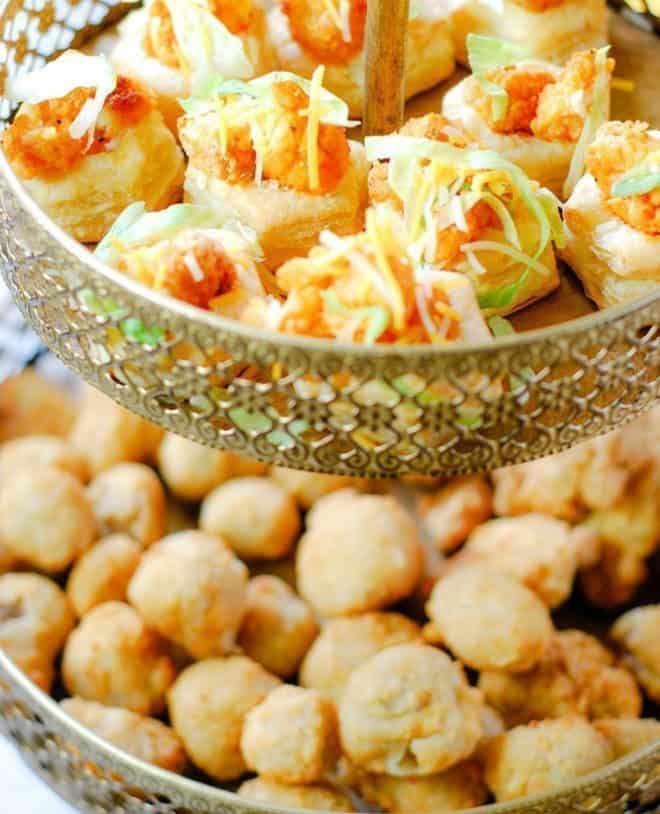 Parties don't have to be complicated to be fun!
How would you use Farm Rich products to create your own snack hack?