MARVEL Superhero Halloween Party has been compensated by Collective Bias, Inc. and its advertiser. All opinions are mine alone. #AvengersUnite#CollectiveBias
Every year when I ask my grandkids what they want to be for Halloween, they name a MARVEL Superhero.  Every. Single. Time. And the hunt begins.
Imagine my surprise when I saw that Walmart has Spiderman and Avenger costumes at such low prices.  So, I decided on the spot to throw a MARVEL Superhero Halloween Party including a viewing of the October 2nd Blu-Ray/DVD release of MARVEL's The Avengers: Age of Ultron.  Yep, it's party time!
Superhero Costumes
You can find the costumes in the Halloween section and the MARVEL's The Avengers: Age of Ultron Blu-Ray/DVD was in a display at the front of my local Walmart store.
MARVEL Superhero Halloween Party
For my MARVEL Superhero Halloween Party, I wanted a Spiderman cake to serve as an edible centerpiece for my food table.
Now's the time to let you in on a little secret:  As much as I love to bake, I'm not a cake decorator at all.  I can pipe frosting onto a cake or cupcake and it's pretty, but anything that requires intricate work, no thanks.
It's a good thing that I have a friend who has a cake decorating business. I just called her up and she delivered. Thanks, Mica!  You rock!
Party Decor
A small skyline behind the cake is a must. Wrap a cereal box and 2 smaller boxes with black craft paper. Add windows by cutting small squares from yellow construction paper and gluing them to the boxes. Instant skyline. (Behind the skyline is an Avengers poster, also from Walmart.)  But I'm about to dress that poster up.  Keep reading.
Pumpkin Beverage Cooler
My husband made a beverage cooler for me from a pumpkin.  He just cut off the top, scooped out the gook and placed a bowl inside.  The bowl is filled with ice to keep beverages chilled.
I found a neon green spider web at Walmart, so I grabbed it.  It is the perfect accent for the poster behind the food table.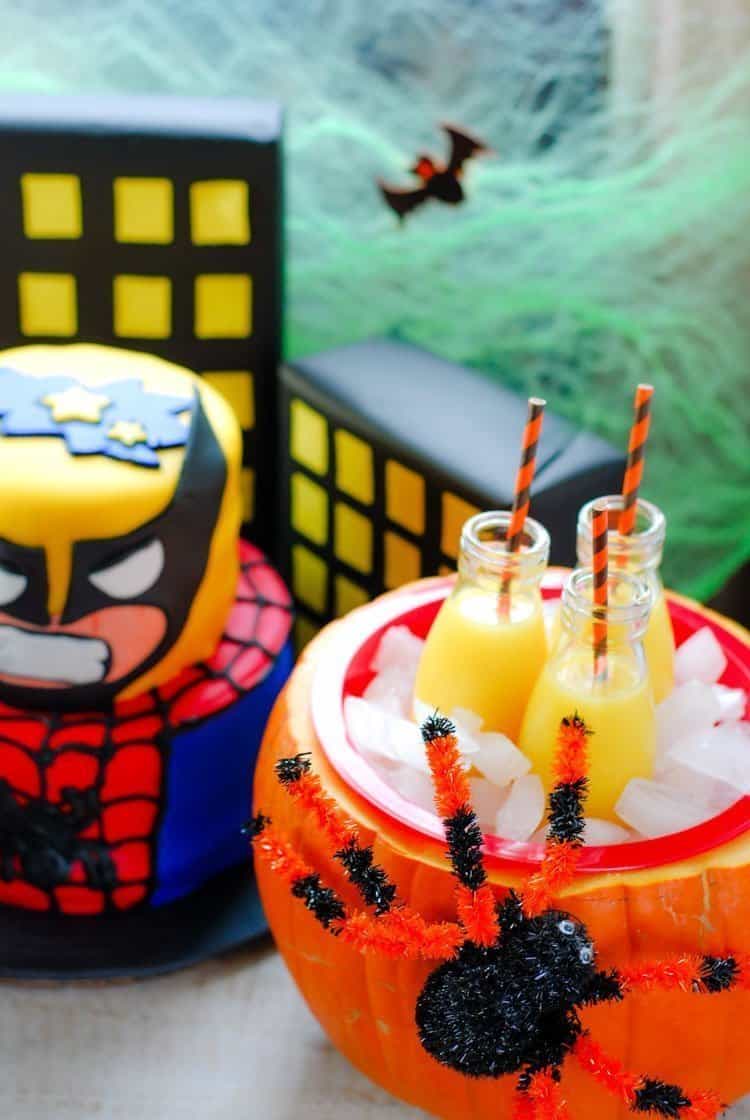 Spider Cookies
Buy some iced sugar cookies from the Walmart bakery. Use a black gel pen (from Walmart) to make spider cookies.  All you do is draw circles, then run a toothpick through them, starting from the inside. Instant spider webs.
Of course, all the food has to have MARVEL Superhero names.  Here's the menu:
Spiderman/Superhero Cake
Spidey Cookies
The Incredible Hulk Burgers
Hawkeye Fries
The Avengers Mini Candy Bars
Pow, Zap & Boom Popcorn
Iron Man Punch (orange juice)
A MARVEL Superhero Halloween party wouldn't be complete without fog to add a little mystique.  Fog machines are really affordable these days and I just happen to have one.  The kids could not contain their excitement when they saw fog rising up and swirling around the room. See how the fog transformed the photos below.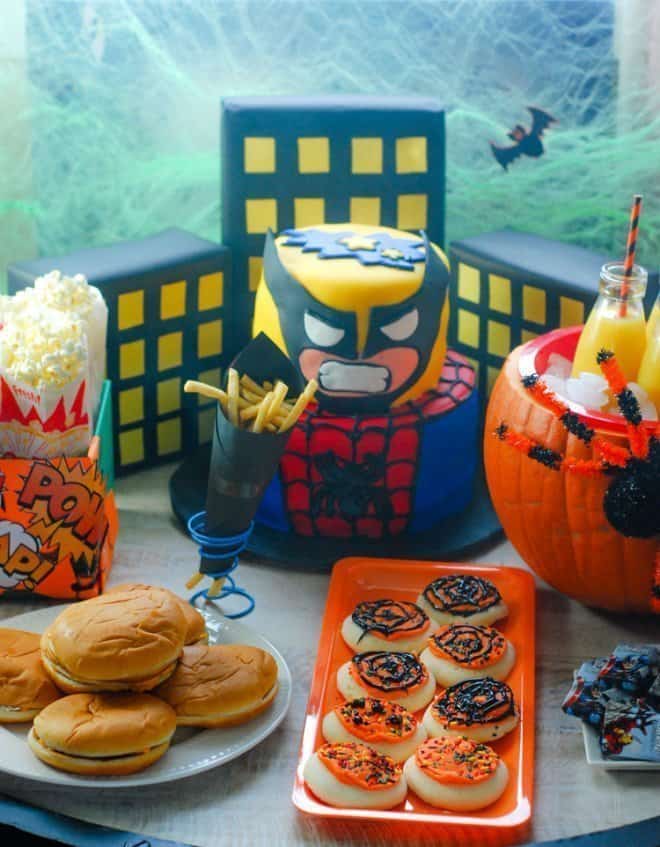 The boys really got into their superhero characters and I didn't have to beg and plead for them to have their photos taken.  They were actually thinking up photo shots all by themselves. I've learned the secret; dress them up in MARVEL Superhero characters and I can take all the pictures I want (and I did!).
Meet Thor (aka Caden)
The Incredible Hulk (aka Logan)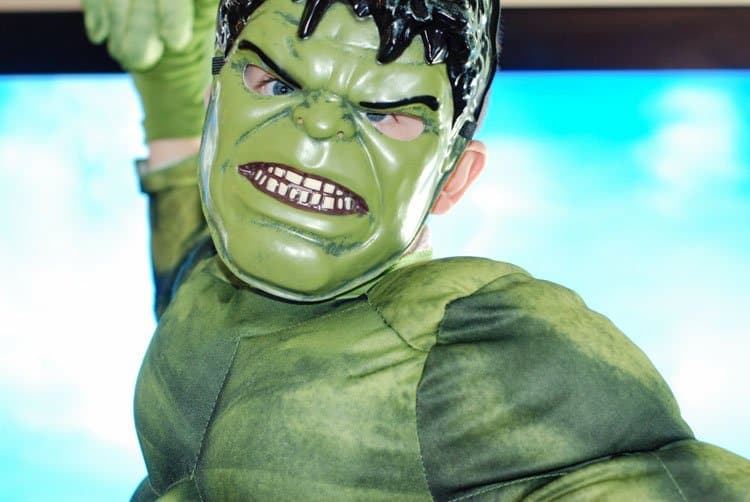 Iron Man (aka Tegan)
Spiderman (aka Tyler) – Yes, he had to take it outside to the play area and keep it real.  🙂
This party was so easy and fun to put together and the kids (and adults) had a blast!  The grand finale was viewing MARVEL's The Avengers: Age of Ultron.  And I get to keep my crown as the coolest nana in town.
I would love to hear all about your MARVEL Halloween dress up plans!