While planning my trip to Turks and Caicos, I kept going back and forth between booking accommodations at Alexandra Resort or Blue Haven. I finally settled on Alexandra. Asú on the Beach is located at the Alexandra.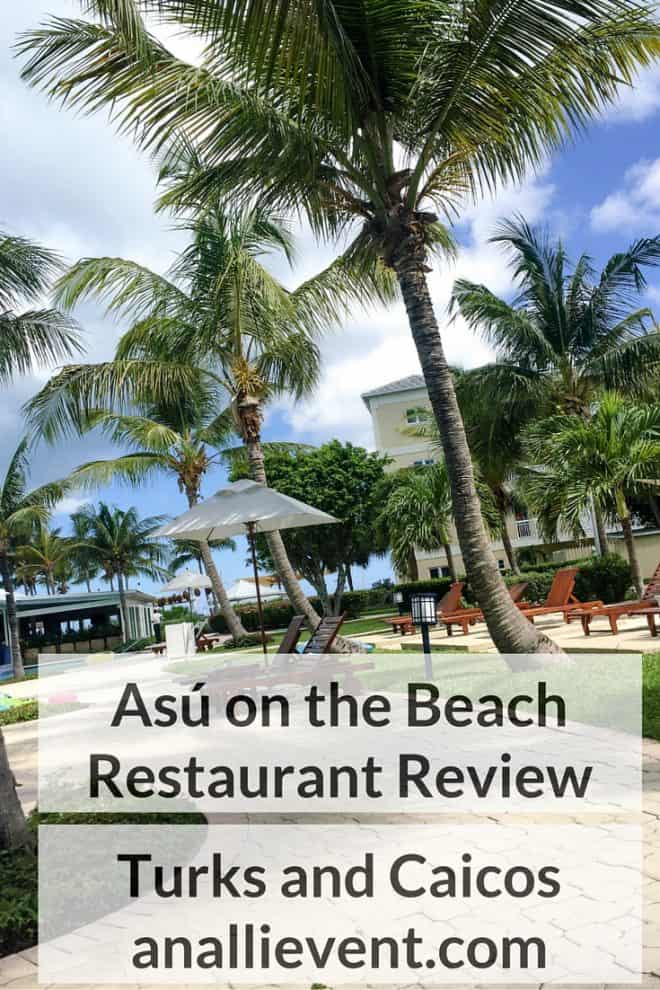 My husband and I always like exploring new restaurants outside the resort, so I didn't let the fact that Asú on the Beach is the only restaurant on the property of Alexandra deter me.
First of all, we have eaten several meals at Asú on the Beach. I'm writing this review while we are still here and it's fresh on my mind.
Our first meal at Asu on the Beach was the day we arrived and we were waiting for our suite to be ready for check-in. I hate that my first meal was my least favorite meal. I had the veggie burger and a side salad.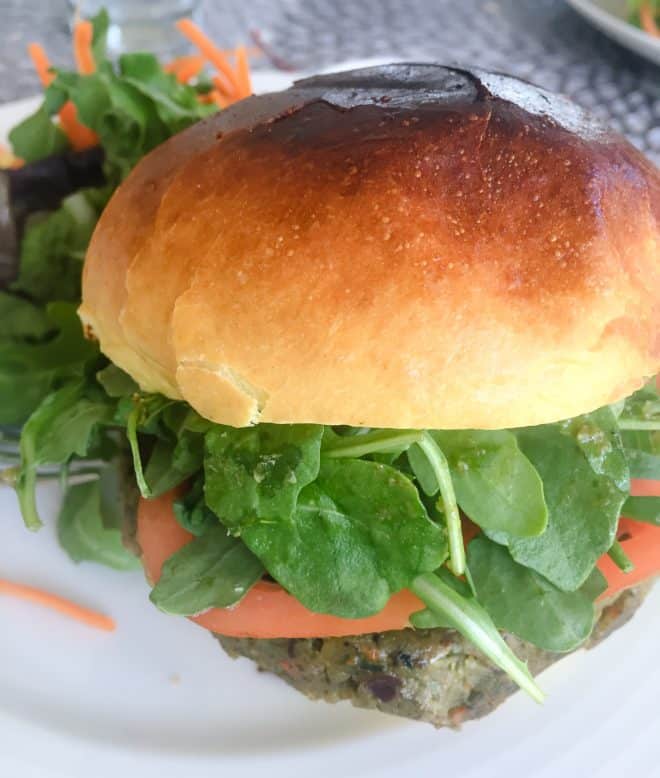 I've made homemade veggie burgers and have eaten them in restaurants many times. The best veggie burger I've ever eaten was in St. Maarten at Jimbo's. Delicious.
I'm pretty good at guessing what's in a burger. The veggie burger at Asú on the Beach has me stumped. I can't figure out how a veggie burger can taste so bad. I couldn't eat it, so I pushed it off the bun and ate the bread and the really good pesto sauce. The salad was fresh, colorful and tasty.
The blackened fish tacos are amazing. My husband kept trying to feed me his tacos because he felt sorry for me. My husband prefers soft tacos, but I love the crunch of hard tacos, so I'm in taco heaven.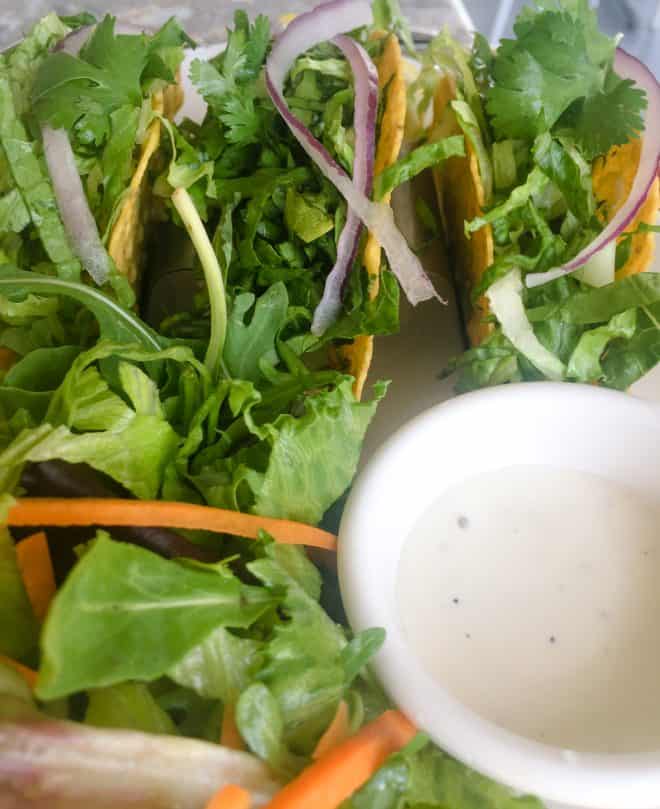 Thankfully, every meal since the first day has been wonderful.
The fried grouper sandwich is delicious. They will grill it if you ask. Eating grilled grouper makes it A-OK to splurge on fries.  And lots of catsup.
My Very Favorite Food at Asú on the Beach
I know you've been waiting to hear my favorite food. My very favorite food at Asú on the Beach is the Kale Salad. If you ever visit, you've got to try it. I ordered mine topped with salmon. You can also top the kale salad with grilled chicken or sautéed shrimp.
The salmon is grilled perfectly and the kale is finely chopped with avocado, tomatoes, shaved parmesan, croutons and finished with a parmesan vinaigrette. The cost is $17.00 and is perfect for lunch.
More about Asú on the Beach
Asú means sunset in Taino, the language spoken by the Arawak Indians who lived in Turks and Caicos centuries ago.
You can sit inside the restaurant or on a deck overlooking the white sand and spectacular turquoise waters of Grace Bay. That's a no-brainer. The covered deck wins every single time.
The inside restaurant includes big screen TV's and an open-concept kitchen.
Asú on the Beach is open for breakfast, lunch and dinner and is reasonably priced. The special of the day on Wednesday of this week is grilled pork chops, potato salad and coleslaw for only $13.00.
If you get bored from eating at one restaurant, guests of the Alexandra can take a complimentary dining shuttle to dine at Blue Haven Resort and Marina, and Beach House Resort.
According to Alexandra Resort's website, "Resort guests may purchase a daily meal plan for $120++pp/day (half price for children ages 12 and under). The meal plan includes breakfast, lunch and dinner, plus select alcoholic and non alcoholic beverages by the glass at lunch and dinner. The meal plan is available for purchase prior to arrival or at check in."
In conclusion, I give Asú by the Beach 4-1/2 stars out of five because of the veggie burger. Since the burger was so weird, I had to knock off 1/2 a star.
Are you planning a trip to St. Maarten? Check out my Top 5 Kid-Friendly Restaurants that are kid-tested, kid-approved.