My husband and I love the Caribbean, but we don't really care for cruises. I'm sorry to all my cruise loving friends. I just don't love them. At all. I wrote all about it on my blog post about vacation opinions. I do love to review every resort we visit and today I've got a review of Alexandra Resort.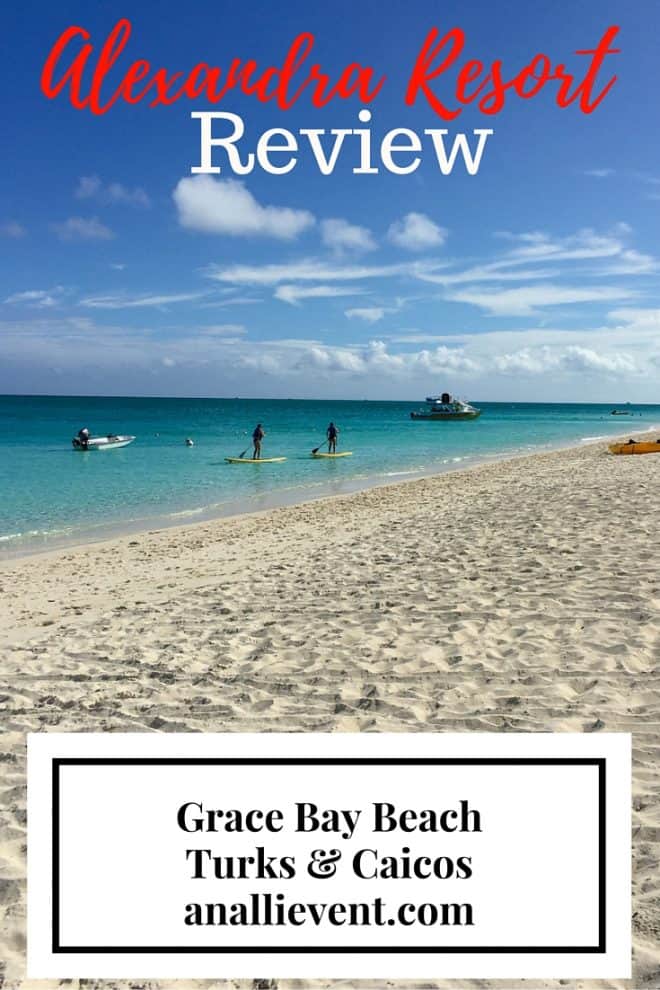 The Turks and Caicos tourism website describes it as "An archipelago of 40 low-lying coral islands in the Atlantic Ocean, southeast of the Bahamas.
The island of Providenciales, known as Provo, is home to expansive Grace Bay Beach, with luxury resorts, shops and restaurants. Scuba-diving sites include a 14-mile barrier reef on Provo's north shore and a dramatic 2,134m underwater wall off Grand Turk island."
For the next two weeks, we're vacationing in Providenciales (Provo), an island in the northwest Caicos Islands, part of the Turks and Caicos Islands, a British Overseas Territory.
When the youngest kids were almost grown, we decided to visit a different Caribbean Island each year. The oldest kids screamed "not fair" and the youngest ones got to travel to St. Thomas, Puerto Rico and The Dominican Republic before they, too, flew the nest.
Since those days, we've been to St. Maarten twice, Barbados, Bahamas, and a few more. A few times, we've skipped the Caribbean and went to Mexico.
We only live a couple of hours from the coast of South Carolina and we visit there once a year for our annual family vacation, but you just can't beat the clear waters and the vibe of the Caribbean. Can I live here year round?
I never pay full price for a Caribbean vacation. I use the getaway portion of a timeshare we've owned in North Myrtle Beach for decades.
Since I use our timeshare exchange, I have to research like crazy because I don't want to be stuck on a bottom floor, facing an alleyway. I included all that in this post.
Before I ever book my Caribbean getaway through my timeshare exchange company, I check out the website of the resort I'm interested in. Then I call the resort and ask all the pertinent questions like, "Are all the suites ocean front?" Sometimes they are all ocean front. If they have "garden" suites, beware.
I have a saying, "If I don't have an ocean view from my suite, I'm not at the ocean." So I don't stay anywhere that I don't have that view. I realize that you're not in the condo that much, but I've got to be able to see the ocean from my terrace. That's just me.
Note: The Nikon D750 is safe and sound at home. All photos are taken with my iPhone. Sometimes I just need a break.
We took a non-stop (always!) flight from Charlotte, NC to Provo and it only took 3 hours to get here. That's another reason I love visiting the Caribbean – non-stop, short flights.
(My breakfast on the plane)
Review of Alexandra Resort
We are currently staying at Alexandra Resort for two weeks. It's a 4-1/2 star resort on Grace Bay- the #1 beach in the world. I totally agree on the 4-1/2 stars (out of 5). Click here to visit their website.
Accommodations
Our suite is a one bedroom, 1-1/2 bath ocean view that includes a washer/dryer. The full kitchen has granite countertops and stainless steel appliances. It's well equipped for cooking and is fully supplied with dishes, pots, pans, etc.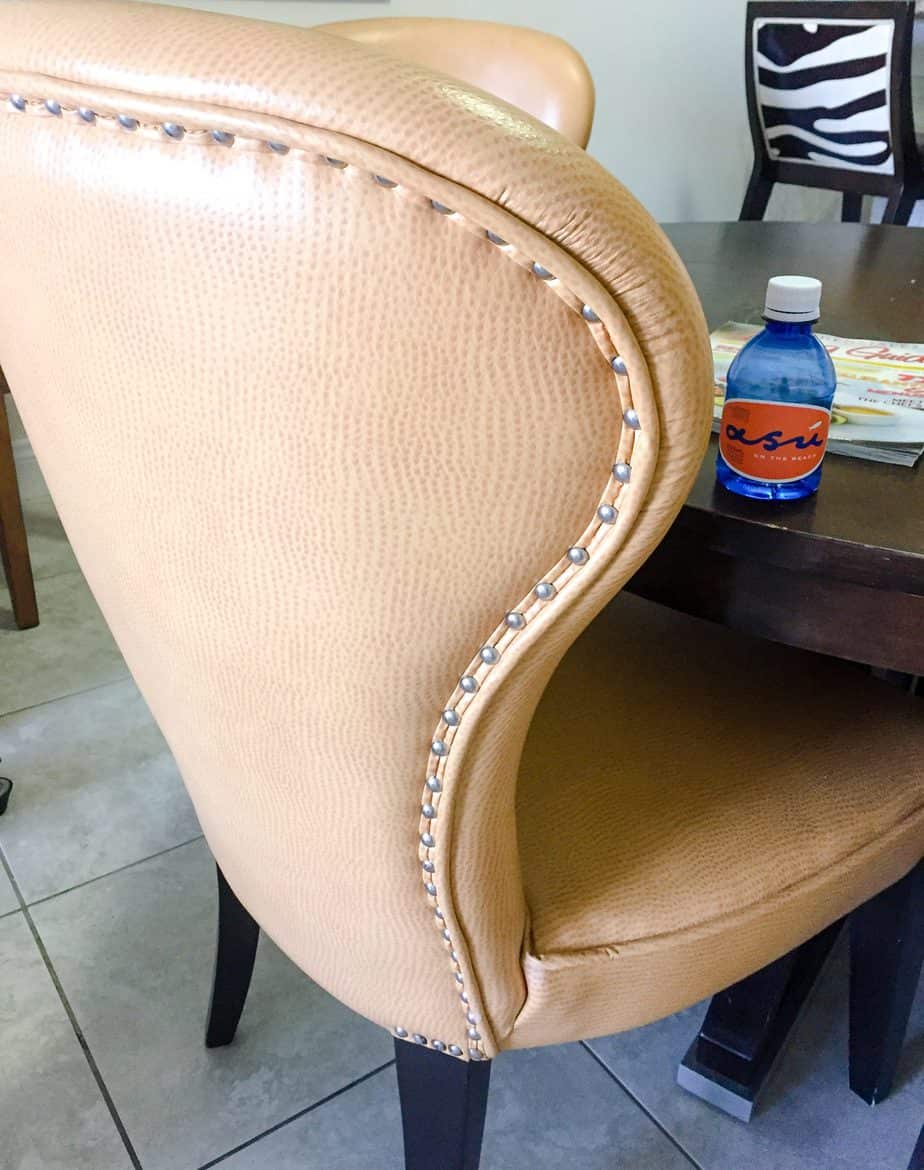 I'm in love with the bar stools.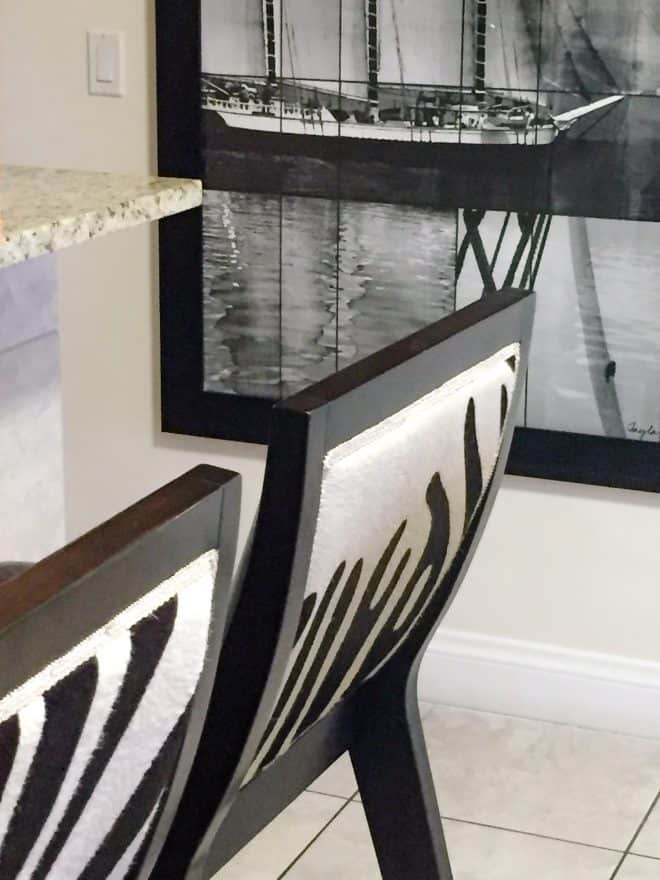 The patio/terrace area is huge and overlooks the pool area and the ocean.
The one thing that does not wow me is the lobby/check-in area. It doesn't have that tropical feel. It's not a big deal, but it's just OK. The views are awesome from the lobby, but the lobby itself looks tired.
Check in is at 3:00 PM. Of course, we are usually early for check-in and our suite is never ready. We headed over to Asú on the Beach to relax and enjoy lunch while we waited for our accommodations.
Alexandra Resort is not all-inclusive. There is an optional meal plan. Personally, I prefer it this way. We once stayed at an all-inclusive resort and I didn't care for any of the food. We ended up going outside the resort for most of our meals, so it was really expensive.
Speaking of expensive, Turks and Caicos is probably one of the most expensive islands we've visited when it comes to dining out and buying groceries. All of the dining on the islands we've visited are expensive because most of the food has to be imported.
The WIFI is free and fabulous. It's the best WIFI of any of the islands I've visited.
The yellow umbrellas are reserved for Alexandra guests – that's me!
Luxurious beach towels are provided on a daily basis.
More Facts about Turks and Caicos
The currency is the American dollar. My grandkids will be bummed, because they always like for us to bring home some foreign coins to add to their collection.
The official language is English since it's a British Overseas Territory. Of course, they drive on the left side of the highway.
PS – While thumbing through a real estate magazine, I realize I can get a really cool oceanfront place in Provo for 12 million! 🙂 When my ship comes in . . . . .
I can now add Turks and Caicos as a favorite island. And Alexandra Resort as a fave resort. What's your favorite Caribbean island?
Love to travel? Check out my top 10 packing tips.