Barber Foods Chicken Cordon Bleu has been compensated by Collective Bias, Inc. and its advertiser. All opinions are mine alone. #SimplySpecialMeals #CollectiveBias
Last week was my family's annual beach vacation.  There was 12 of us and we enjoyed playing in the surf and sun during the day. In the evenings, we visited different restaurants and shows, trying to pack in as much summer fun as we could before the season ends in a few weeks.
On Thursday night, everyone else had plans, so my husband and I planned a quiet night in, just the two of us.  I don't do a lot of cooking when we're at the beach, but I decided our date night deserved a special meal.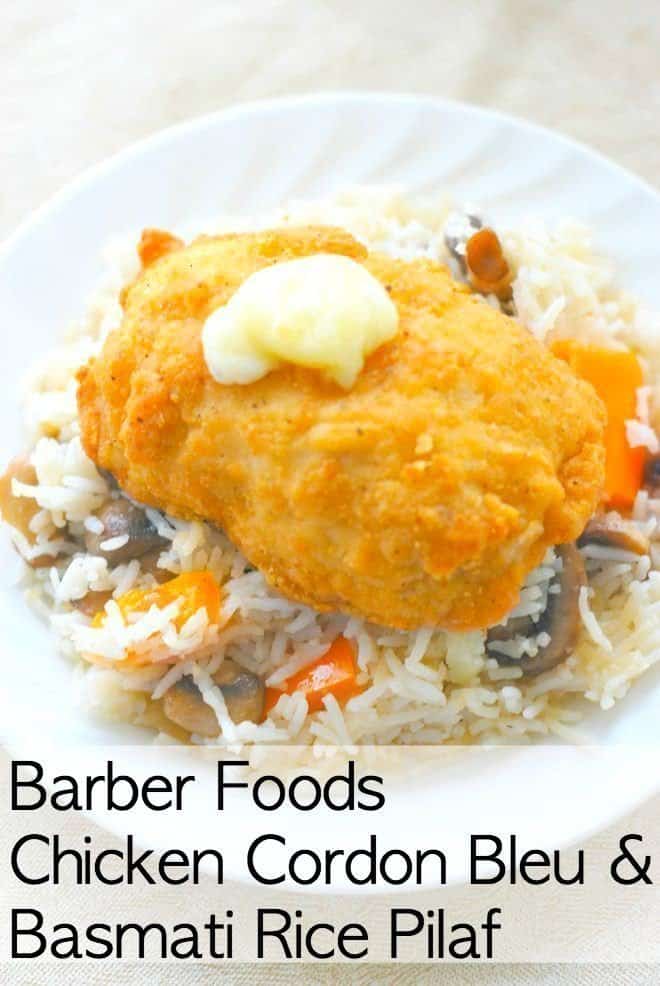 Head to Kroger to Grab Everything You Need
Since salt and pepper were the only seasonings I had available and I didn't want to buy a bunch of herbs and spices to cart home, I headed to Kroger to peruse the aisles and decide what to cook.
As I was going over the list of my husband's favorite foods in my head, I thought about his absolute favorite – chicken cordon bleu.  I almost dismissed that thought entirely because of all the ingredients it requires.
While walking down the frozen food aisle, I spotted Barber Foods Stuffed Chicken Breasts with brand new packaging AND a new recipe for their stuffed chicken.  I had a difficult time deciding between Chicken Cordon Bleu, Broccoli Cheese and Chicken Kiev varieties. Decisions.  Decisions.
Since I had Chicken Cordon Bleu on my mind already and I saw that it was filled with a creamy blend of American and Swiss cheese, along with savory ham, into the shopping cart it went.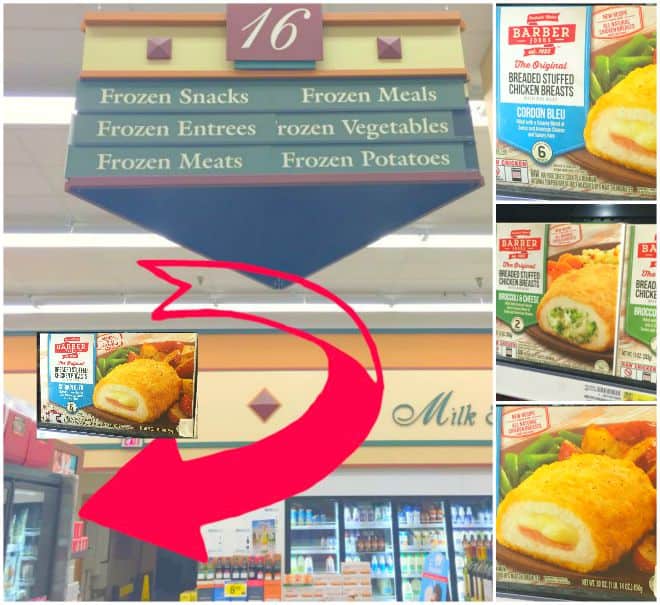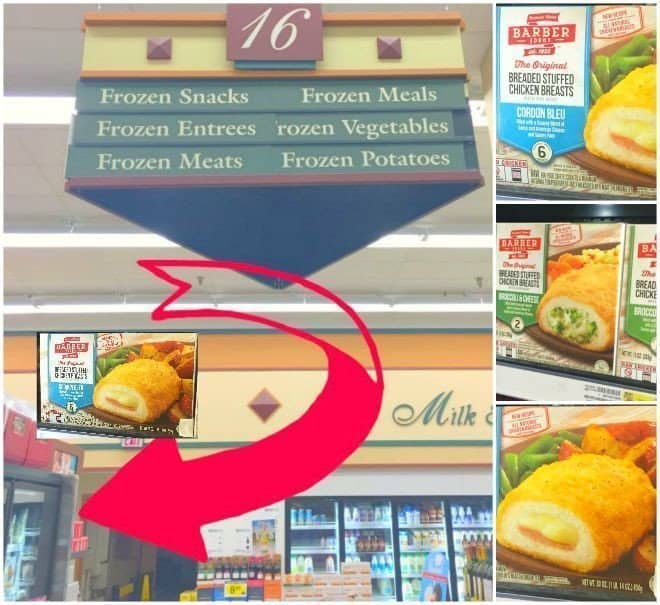 After I had decided on the main dish, I knew that Basmati Rice Pilaf would be the perfect side dish for the Chicken Cordon Bleu.
Unlike ordinary long grain rice, Basmati is light, fluffy and has a distinct, nutty flavor.  Like a fine wine, Basmati improves with age and the fragrance is unlike any other rice – it's amazing.
Barber Foods Chicken
Basmati Rice
Helpful Hint:  I don't normally rinse regular rice, but I do rinse Basmati rice.  Place it in a colander and run cold water over it until the water runs clear.  Let drain.
While the chicken was baking according to the directions on the package, I started on the rice pilaf.
Helpful Hint:  Be sure and follow the instructions on the Barber Foods packaging in order for the chicken to be cooked to the correct temperature.
The veggies are given a quick sauté while the rice is cooking.  Once everything is done, the rice and veggies are gently stirred together. The photo above was taken as soon as the rice was done.  You can see the fluffiness of the basmati rice.
Yield: 4 servings
Basmati Rice Pilaf
Basmati Rice Pilaf is easy to make and has the best flavors.
Ingredients
1 cup Basmati rice, rinsed and drained
2 cups chicken broth
8 oz. sliced mushrooms
1 bell pepper (I used orange), cubed
1 medium shallot, diced
Instructions
On high heat, bring chicken stock to a boil in a medium saucepan. Add rice, stir once and cover with a tight-fitting lid. Cook according to the package directions.
Meanwhile, on medium-high heat, saute diced shallot in a skillet in 2 tablespoons oil.
Once shallot is translucent, add mushrooms and saute until almost done.
Add peppers and saute until crisp tender.
Once the rice is done, gently mix the sauteed veggies into the rice.
Nutrition Information
Yield
4
Serving Size
1
Amount Per Serving
Calories

90
Total Fat

1g
Saturated Fat

0g
Trans Fat

0g
Unsaturated Fat

0g
Cholesterol

2mg
Sodium

465mg
Carbohydrates

18g
Fiber

2g
Sugar

4g
Protein

4g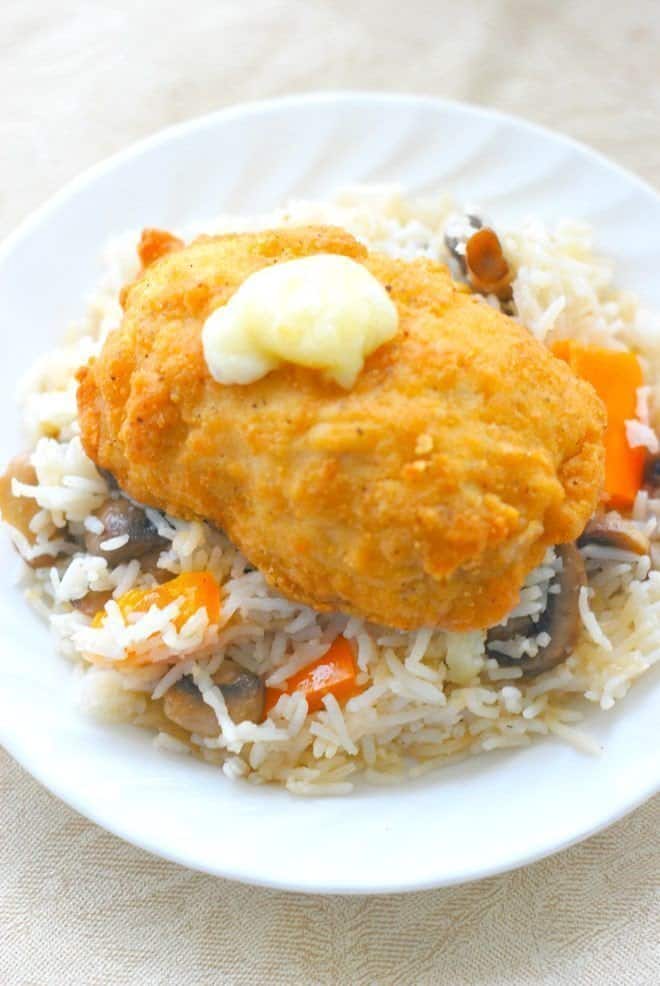 Romantic Dinner
I had planned dinner on the balcony, overlooking the ocean at sunset. A few minutes before dinner was ready, the sky turned black and a storm, complete with thunder and lightning, began to rage.
Actually, the stormy weather added a nice, cozy ambiance to dinner and my husband said the Barber Foods Chicken Cordon Bleu was excellent. The new and improved flavor is tastier, crispier and delicious! And if he wants to believe I made it from scratch, who am I to argue?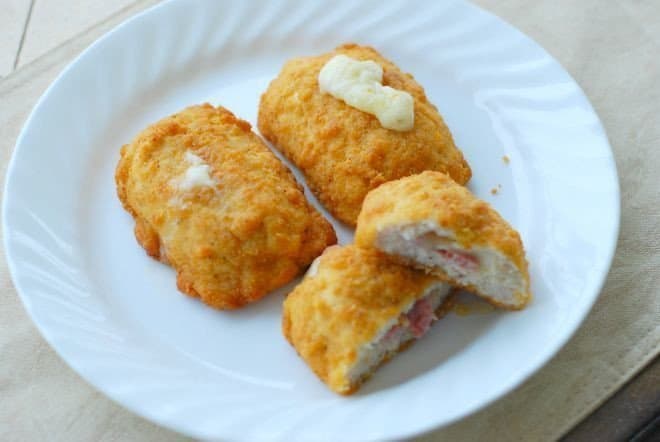 Thanks, Barber Foods, for making me look good and helping me create a date night to remember! Chicken Kiev is on my mind for our next date night in.
Which Barber Foods stuffed chicken breast would you like to try?  Remember to look for the new packaging!
To keep up with the latest, follow Barber Foods on Facebook, Twitter & Pinterest!