This post, Cheese Ring Appetizer, is sponsored by Mahón-Menorca Cheese. All opinions are my own. To see my collection of recipes with pecans, check out my Best Recipes Featuring Pecans.
I'm an appetizer kind of girl. Give me a delicious appetizer like this cheese ring and I'm good to go.
This Cheese Ring is the perfect appetizer for Memorial Day, 4th of July, or any time you need a beautiful, colorful, tasty addition to your party. It's also a big hit at Christmas and Valentine's Day parties.
You can make it a few hours ahead of time and add the strawberry preserves to the center of the ring just before serving.
A cheese ring is an appetizer shaped in a round mold. I always make sure to use a really good cheese like Mahón-Menorca Cheese, that I grate myself.
You don't have to buy any special equipment to make this appetizer. A tube pan or bundt pan works just fine. Make sure to line the pan with plastic wrap before you add the cheese ring.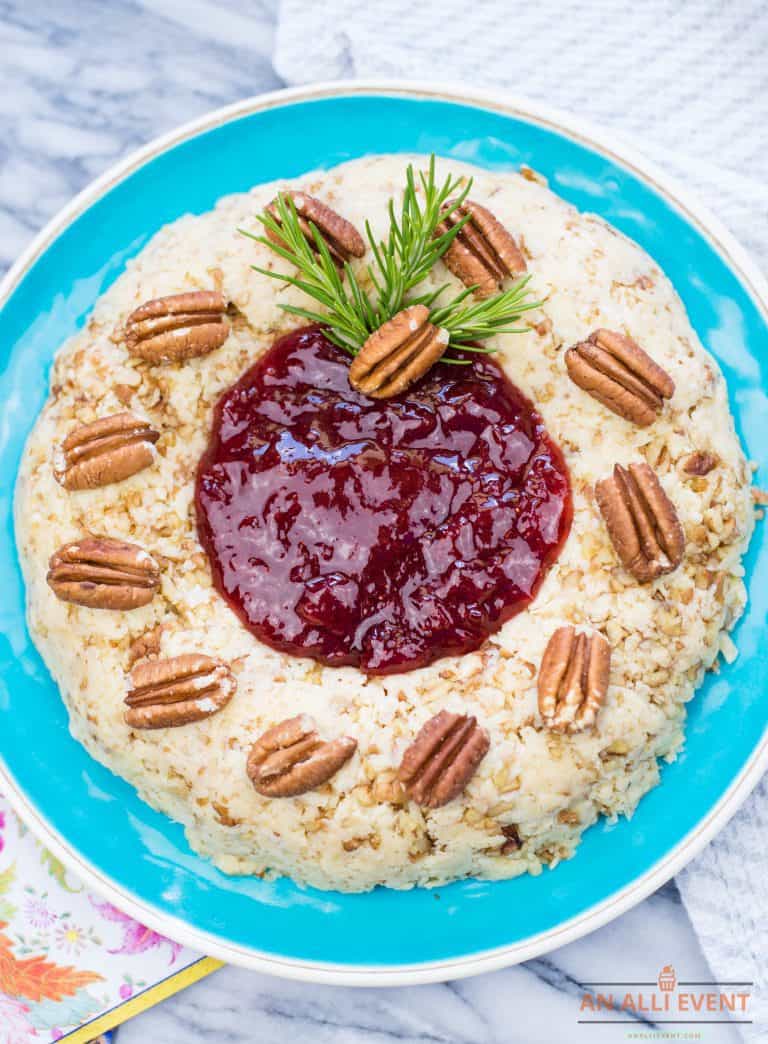 Cheese Ring Appetizer with Strawberry Preserves
I like to gather all my ingredients together before starting a recipe. It just simplifies things for me. Now is the time to grate the cheese and set it aside.
Cheese
For this recipe, I use Mahón-Menorca cheese. Mahón-Menorca Cheese can be purchased nationwide at Whole Foods. If you can't find this particular cheese, it's fine to use shredded sharp cheddar.
You can also find Mahón-Menorca at other fine retailers such as Fairway Markets, Harris Teeter, Saveway, Kroger, Murray's, Central Markets, Costco, Gourmet Garage, West Side Markets, Zabar's, Central and Town & Country Markets in Seattle. This delicious cheese can be found in the best specialty stores all over the country.
Toast the Pecans
You will need 1 cup of chopped pecans for this recipe. You can buy them already chopped or chop them yourself. I like to chop the nuts after I toast them. They don't burn as easily when you chop them after toasting.
You can toast the pecans on top of the stove or in the oven. You can even toast them in the microwave but I prefer the stovetop or oven method.
Stovetop – Place the nuts in the skillet in a single layer. Cook over medium heat, shaking the skillet about every 15 seconds or until the nuts are golden brown and aromatic – about 5 minutes.
As soon as you remove the skillet from the heat, transfer the nuts to a plate to cool.
Oven – When you need to toast a lot of nuts, go with the oven method. Preheat the oven to 350º F. Line a baking pan with parchment paper. This helps with cleanup and keeps the nuts from burning. Bake for 5-10 minutes.
You'll notice the nuts begin to darken and the aroma of toasted nuts. Be careful not to burn them. Carefully remove the parchment paper, with the nuts, from the baking sheet and cool completely before chopping the nuts.
Let's Make a Cheese Ring
Grate the Mahón-Menorca cheese and set aside.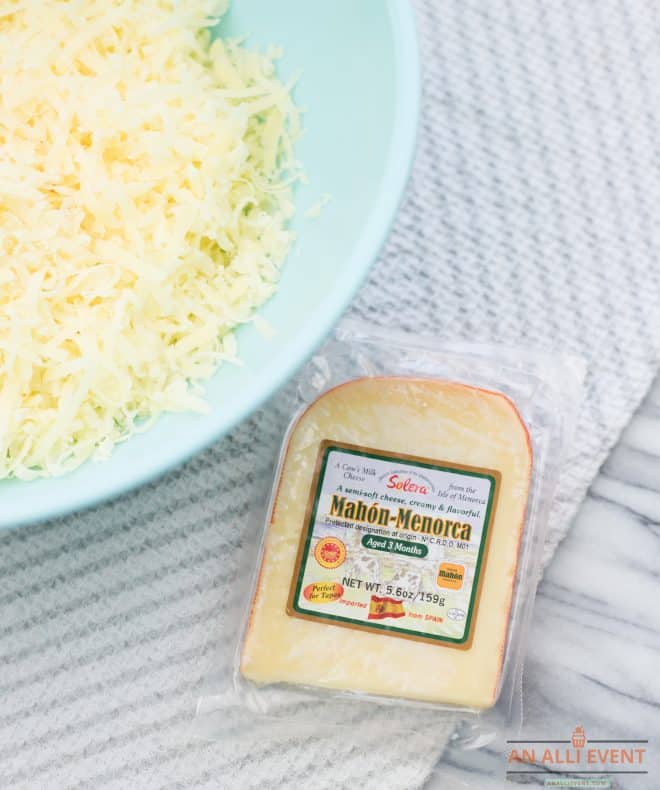 Mix the mayonnaise, grated onion, minced garlic, and Worcestershire sauce together in a small bowl.
Add the mayonnaise mixture to the cheese. Add the toasted chopped pecans and mix well.
Press into the plastic wrap-lined tube pan. Cover and place in the refrigerator to chill for at least 2 hours (or overnight).
Unmold the cheese ring onto a serving platter. Discard plastic wrap. Fill the center of the cheese ball with a cup of strawberry preserves. Garnish with whole toasted pecans if desired.
What about leftovers?
Leftovers need to be refrigerated. You can make an awesome sandwich with the leftovers. What about topping a salad with the leftover cheese ring? Or you can take a break and enjoy it with crackers the day after your party.
Yield: 20 servings
Cheese Ring With Strawberry Preserves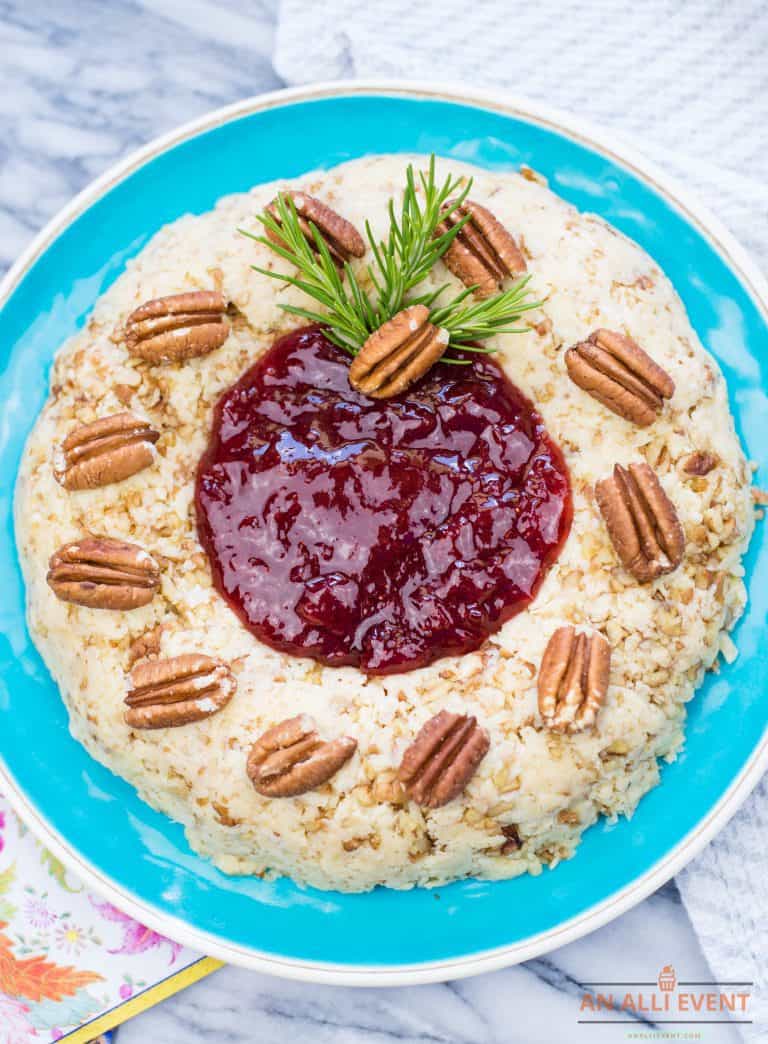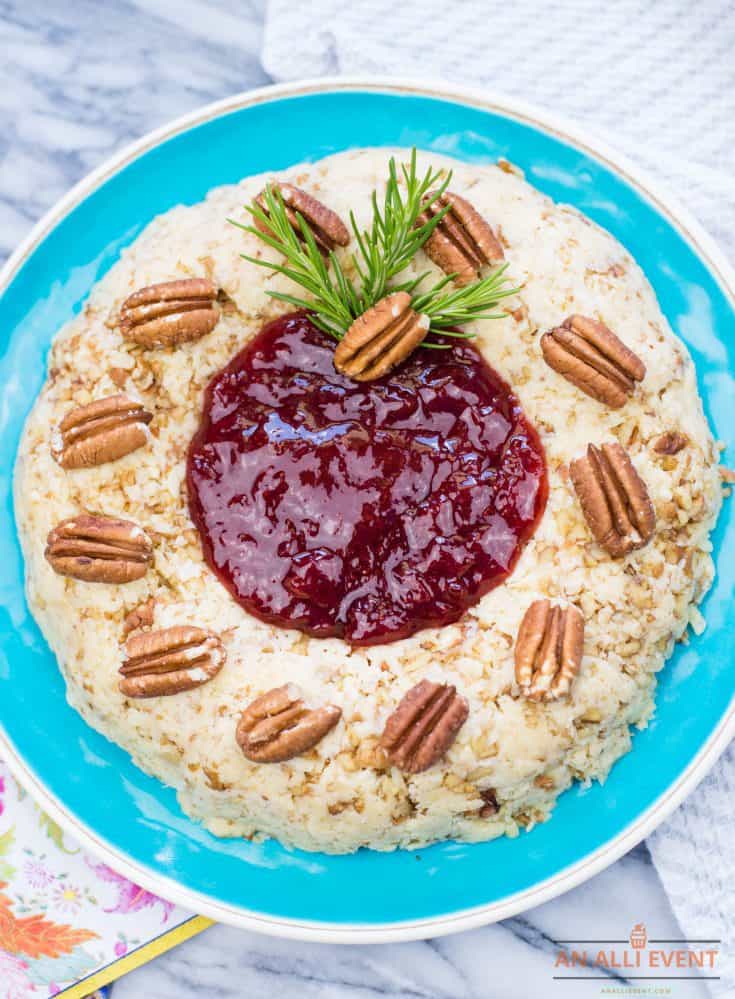 This Cheese Ring with Strawberry Preserves is a delicious appetizer for your next dinner party. The creamy cheese mixture is filled with toasted pecans and pairs perfectly with the strawberry preserves.
Total Time
2 hours
15 minutes
Ingredients
1 pound Mahon Menorca Cheese, shredded (OR shredded sharp cheddar cheese)
1 cup chopped pecans, toasted
3/4 cup mayonnaise
1 small onion, grated
1 teaspoon minced garlic (or 1 medium clove garlic, minced)
1/2 teaspoon Worcestershire sauce
1 cup strawberry preserves
Crackers
Instructions
Line a tube or bundt pan with plastic wrap and set aside.
Mix together the mayonnaise, onion, garlic and Worcestershire sauce. Stir in the shredded cheese and pecans. Press mixture into plastic wrap lined pan.
Chill for at least 2 hours.
Un-mold the cheese ring onto a serving platter. Discard plastic wrap. Fill the center of the ring with strawberry preserves. Serve with crackers
Nutrition Information
Yield
20
Serving Size
1
Amount Per Serving
Calories

233
Total Fat

18g
Saturated Fat

6g
Trans Fat

0g
Unsaturated Fat

11g
Cholesterol

26mg
Sodium

209mg
Carbohydrates

13g
Fiber

1g
Sugar

8g
Protein

6g
The next time you're hosting a dinner party and need a beautiful appetizer, you should make this cheese ring. It looks fancy but is simple to make.
To learn more about Mahón-Menorca cheese, make sure to follow along on Facebook, Twitter, and Instagram.