This shop has been compensated by Collective Bias, Inc. and its advertiser. All opinions are mine alone. #HungryForCrab #CollectiveBias
My husband and I are huge seafood lovers. As a matter of fact, we had our very first date at Red Lobster in Macon, Georgia. It was a long time ago, but we both remember it as if it was yesterday. 
Date Night Nerves
I recall shopping for a new date-night outfit. I was so nervous that I barely said two words on the way to the restaurant.
Date night at Red Lobster has been a regular thing since then. We always talk about that first date and how we now have five children and four grandsons. And our happily-ever-after story began at Red Lobster. That's your cue to ooh and ahh!
Guess where we dined this past weekend when we went out on a date? You're correct! My husband and I headed to Red Lobster in Matthews, NC for Crabfest. It's back!
Red Lobster Crabfest
Red Lobster has the largest variety of crab dishes ever offered on the menu. This includes four types of wild-caught crab. Decisions, decisions.
Since every date-night must begin with an appetizer, you must split the Crab Fritters. The fritters are served with a layer of french fries and a side of Meyer lemon aioli. The lemon aioli is amazing! It is the perfect dipping sauce for the fritters.
For my entree, I finally settled on the new Crab Cakes & Crab-Oscar Salmon. Premium lump crab cakes and wood-grilled fresh Atlantic salmon with crab-hollandaise topping is served over mashed potatoes. 
Upgrading the salmon to Sockeye is a wonderful idea. The wild-caught Alaskan Sockeye Salmon has a deep, red flesh with a distinctive rich flavor and firm texture. It's delicious!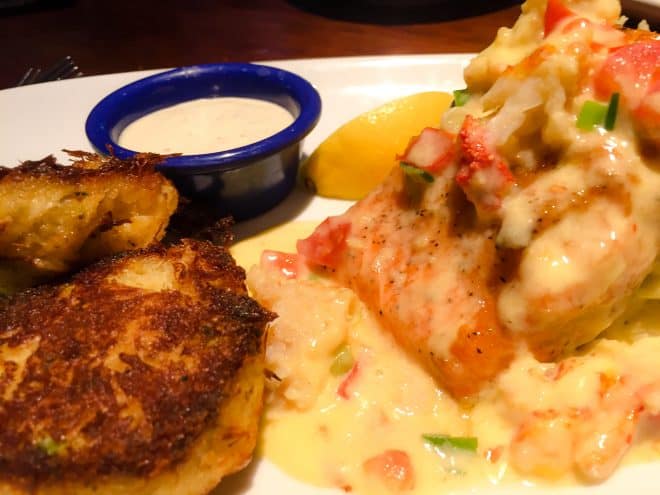 Since my husband eats crab legs every chance he gets, I knew exactly what he would order – the new Crab Lover's Dream™. You get two types of crab legs – wild-caught North American snow crab legs AND king crab legs, paired with Red Lobster's signature crab, Linguini Alfredo. Of course, I took a bite (or two) of the crab linguini.
My husband also tried the New Grilled Parmesan Corn with cilantro-lime butter. He was impressed with the smokey flavor from the grill and the cilantro-butter.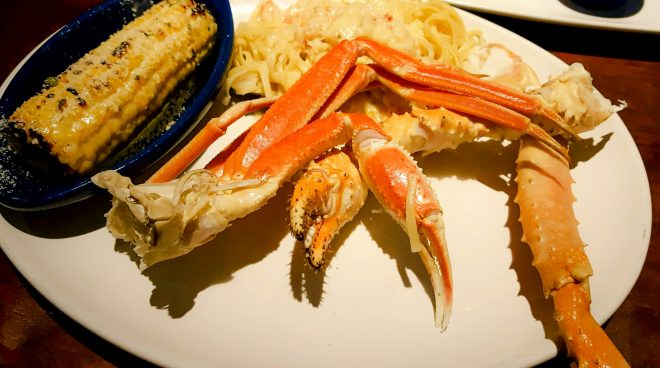 Helpful Hint: If you don't know how to crack crab legs, it's really easy. Here's a video that shows you everything you need to know. You'll be an expert in no time at all.
Did you know that there are four types of crabs?
Alaska Bairdi (pronounced bear-dye) Crab: Alaska Bairdi Crab is larger in size than traditional snow crab and has a more delicate, sweeter and tender texture.
North American Snow Crab: Snow Crab is known for its trademark large clusters, snowy-white meat, and sweet, delicate flavor.
King Crab: This is the largest of Alaska's three crab species, prized for its leg meat, rich flavor and tender texture.
Blue Crab: Blue Crab, most commonly used for crab cakes, features a sweet flavor and softer texture.
Which crab is your favorite? I love them all!