I'm excited about this DIY Dollar Store Cupcake Stand! It's so simple to make and you can make a group of these or use them at each place setting when hosting a party.
I wanted to make individual cupcake stands for a party. Ideas began to take shape in my mind and I headed to the dollar store to find the materials I needed.
Head to the Dollar Store for Materials
Of course, when I got to the Dollar Store, the one item I needed was nowhere to be found.
So, I adjusted my sails and prepared to change course as I perused the aisles of that store. And then it hit me like a ton of bricks. (She's a brick house is now playing in my mind).
You know those cute little glass cupcake stands with the cute little domed covers and cute little knobs on top? The ones that hold just one lone cupcake? I love those things.
Every time I plan a party I think about using them as part of my tablescape. I would need a lot of them and the price never seems to fit within my budget.
I've seen those little stands priced from $14.99 each (online and big shipping fee) to over $40.00! Nope. Not gonna happen.
Little Cheese Plates for the Win – DIY Dollar Store Cupcake Stand
I was so excited when I realized I have 4 little cheese plates that I had ordered out of a magazine when trying to help a kid raise money for her school.
Those little plates had been sitting way up in a kitchen cabinet and had never seen the light of day. They fit perfectly into my little project!
And from the get-go, I made the decision to only use craft items I had on hand (except that I was out of glue and had to purchase some).
And I knew I wanted to spray paint (why, oh, why is it raining today?) the body because I didn't want to just have the entire thing be glass. That's no fun!
Thankfully, I had plenty of red spray paint left over from Christmas. Since it's almost Valentine's Day and my favorite color is red, I can use the DIY cupcake stands for any occasion.
Now, I do have some neon pink spray paint . . . better save that for something else.
Actually, the only thing I had to buy at the dollar store was the domed cover. I had plenty of the $1.00 glass candle holders left over from another project.
A Trip to Hobby Lobby
I did make a trip to Hobby Lobby to buy glue and the knobs for the top of the domed cover. The knobs were half price and I used my Hobby Lobby coupon from my phone, so the glue was almost half off, too.
Materials Needed for DIY Dollar Store Cupcake Stand
You will need these materials to make a DIY Dollar Store Cupcake Stand:
3 small plates (or pillar candle holders from the dollar store)
3 glass candle holders
E6000 Glue
Spray paint
Glass Domed Covers (dollar store vases)
The below photo is what the DIY Dollar Store Cupcake Stands will look like when you're done. If you want to add Red Velvet Cupcakes, my recipe is amazing.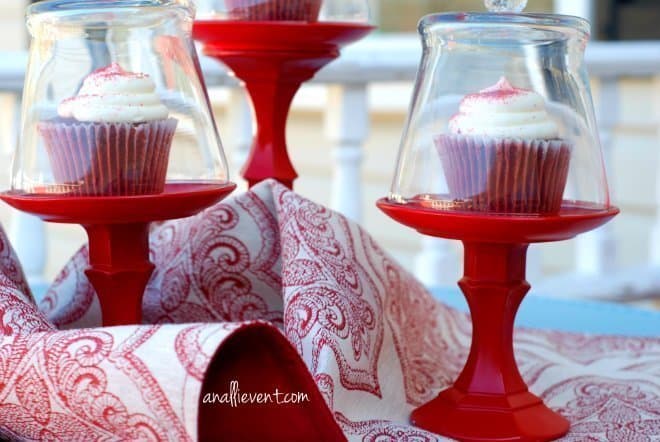 The knobs I purchased at Hobby Lobby are perfect for these cupcake stands.
If you want a very special presentation at a dinner party, make a cupcake stand for each guest. It doesn't have to be red. You can paint them a color to match your theme.
You could also add a small doily and make individual bundt cakes for each guest. Let your imagination run wild on this easy DIY project.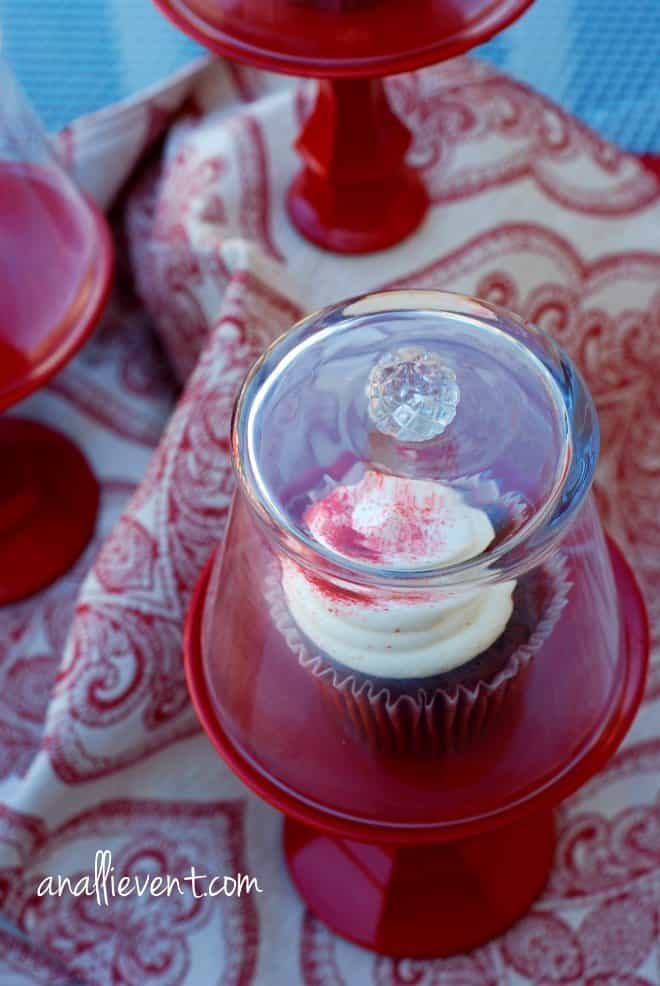 Yield: One
DIY Dollar Store Cupcake Stand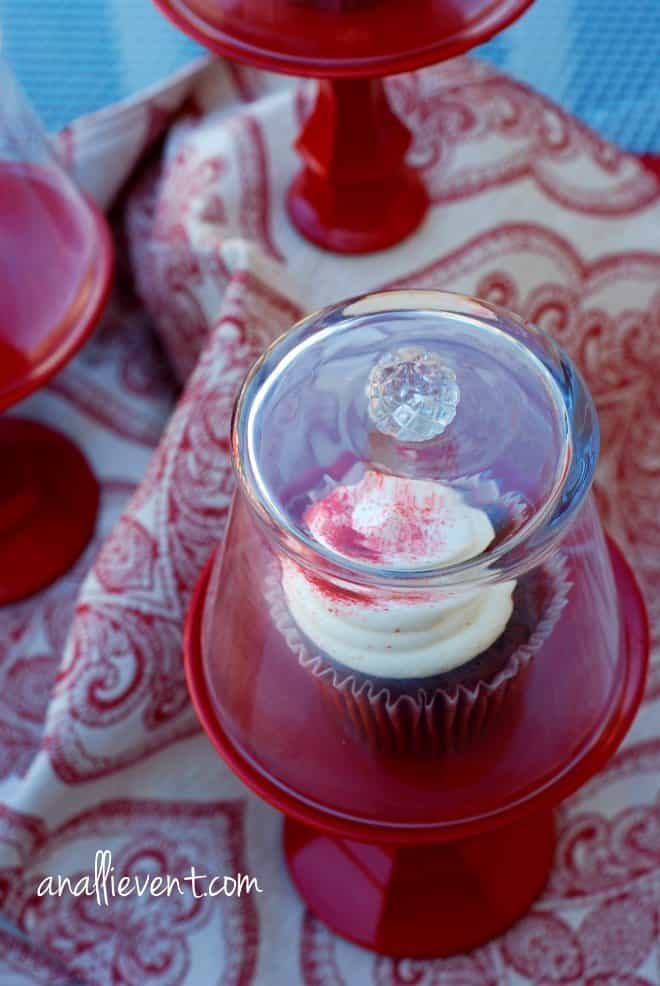 This DIY Dollar Store Cupcake Stand is so cute. Make several to use at your next party.
Total Time
2 hours
30 minutes
Materials
3 small plates (or pillar candle holders from the dollar store)
3 glass candle holders
E6000 Glue
Spray paint
Glass Domed Covers (dollar store vases)
Instructions
Find the center of the bottom of the plates and glue to the top of the glass candle holder.
Glue knob to top center of the domed glass. Let set overnight.
Spray paint the bottom (glass candle holder and plate) of the cupcake stand and let dry.
To use, place a cupcake on the stand and top with the glass dome.
Want more DIY ideas?