My mom is famous well known for her homemade biscuits.  She should be.  She's been making them since she was 8 years old – for 73 years!  That's right.  She grew up on a farm – working in her dad's cotton fields and in her mom's kitchen.  She learned to make biscuits at the side of her mom (my namesake).
Her biscuits are really homemade or from scratch as they used to say.  Growing up, she made them in their special wooden biscuit bowl that her mom had promised would be hers someday.  We don't know what happened to that old biscuit bowl, but Grandma's biscuit making skills live on through my mom and my daughter (hey, it's OK to skip a generation, right?).  And that's all that matters!

Mom makes her biscuits entirely by hand – no rolling pin, no biscuit cutter, nothing but her hands. She's always used White Lily self rising flour and her biscuits are always the exact same size and every one of them have the ridges on top from her perfect three finger pat.  I've tried and tried to duplicate her biscuits.  Well, I haven't tried too often because the results have always been dismal at best and caused me to throw in the towel, stomp it and shake my fist at it.
To me, the perfect biscuit is not too thick, but crusty and flaky on the outside and tender in the middle.  It's the perfect vehicle for my mom's homemade jams and jellies.  My mouth is watering just thinking about mom's biscuits with homemade blackberry jam.
I finally realized that one of my many problems with biscuit making was the fact that I don't like to do it by hand because I don't like the squashy feel of combining that shortening and flour with my fingers.  So I adjusted my biscuit making to include my pastry blender, a fork and a biscuit cutter and now they are pretty decent.  Not my mom's, mind you.  But decent.
The last time I visited my mom, I purposely made sure I had my camera to capture each step of my mom's process.  The grands were with me, so mom made biscuits for breakfast every single morning.  The lighting was not the best, but the pics came out fairly decent.
My mom, of course, doesn't really have a recipe, but she measured everything so I could share it all on my blog.  My mom is the best!  And I'm so excited to present mom's homemade biscuits.  Remember:   Practice makes perfect!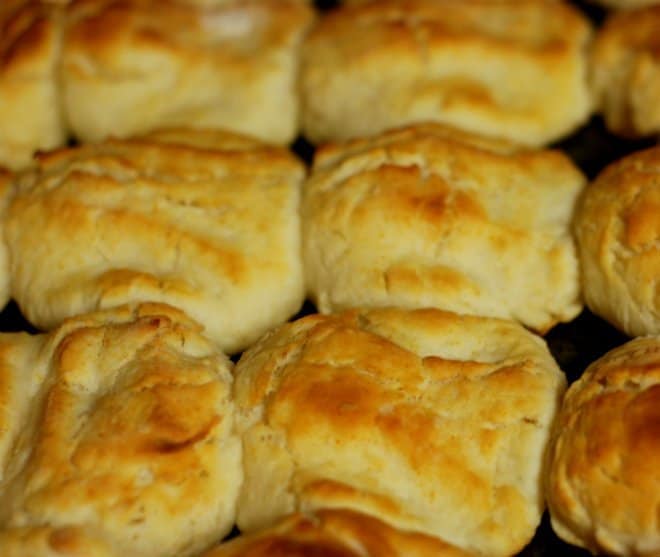 Mom's Homemade Biscuits

Ingredients
2 Cups Self Rising Flour
½ Cup Crisco Shortening
1 Cup Milk (or buttermilk)
Instructions
Preheat oven to 500 and grease a baking pan.
Place flour in a large bowl. Mix in shortening with your fingers or a pastry blender until blended well. If using a pastry blender, mix until mixture resembles small peas. Add milk, a little at time, and mix until just blended, kneading a few times. (Don't overwork the dough or the biscuits will be tough). You want a soft dough and all of the flour will not be used.
Wash hands with cold water, dry and sprinkle hands with flour. According to mom, cold water keeps the dough from sticking to the fingers.
Pinch off dough, roll and place on baking pan. Pat with three fingers to get that perfect indention. Bake at 500 for approximately 10 minutes.
Print Friendly