This post, Easy DIY Christmas Countdown, contains affiliate links. If you click a link and make a purchase, I may receive a small commision with no additional cost to you.
Welcome to Day 3 of the Fourth Annual 12 Days of Christmas Series!
We have teamed up with 50 plus bloggers to bring you oodles of DIY Ideas and Recipes to make your holiday season merrier. There are 12 different posts in the series and we have spread them out over a four week period with three posts per week. Now is the time to subscribe!
GO HERE for the complete list of Dates and Topics plus a collection of most popular holiday ideas including ornaments, games, recipes and more from all 50 plus talented bloggers!
It's Day 3 and we are sharing DIY Christmas Countdown Calendar Ideas!
When my kids were little, I had an Advent Christmas Tree that I purchased from Avon. The little tree lit up,  turned round and round and had little drawers with mini ornaments. Each day, beginning on December 1st, the kids would open the numbered drawer, remove the ornament and place it on the tree. I still have that old tree. It no longer twirls around and a couple of the ornaments are missing, but we still love it.
A few days ago I had a slumber party with the grandkids while their parents toured Biltmore, all decked out in her holiday splendor. The grandkids always enjoy a good craft project so we decided to make a DIY Advent Calendar.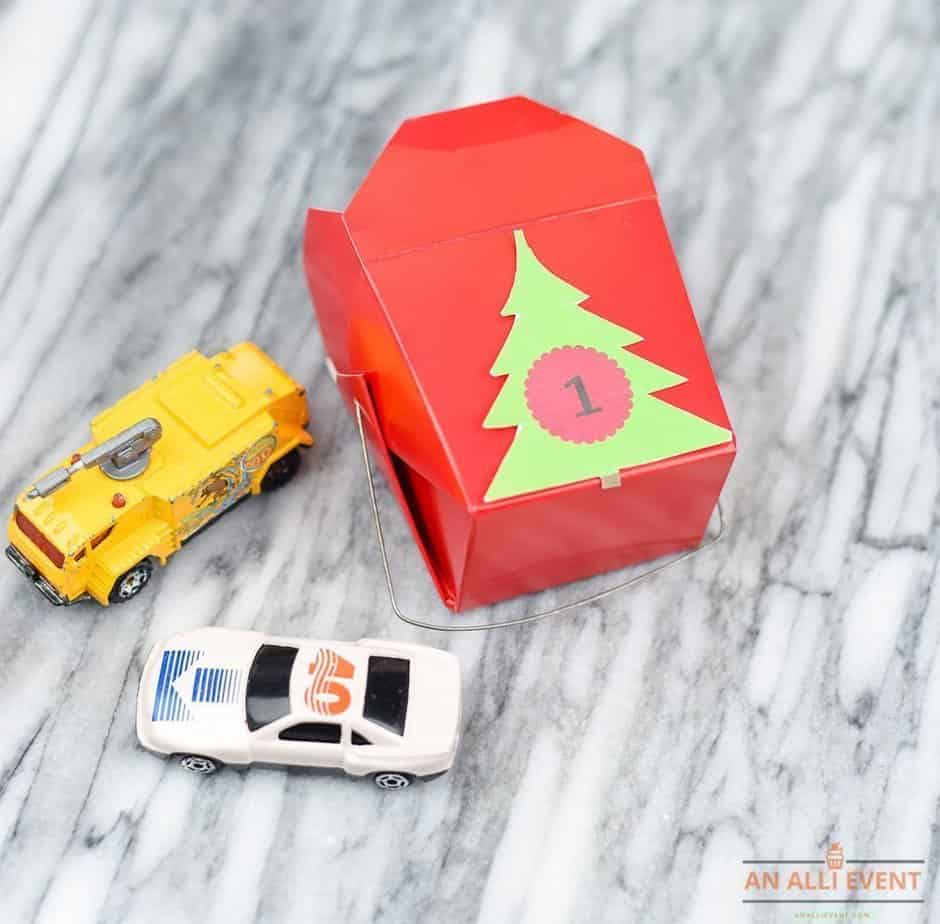 DIY Christmas Countdown
This DIY Christmas Countdown is a fun project for the younger grandkids. All you need is small Chinese takeout boxes and my free printable numbered Christmas trees. You'll also need small toys to fill the boxes, but the kids or grandkids can't help you with that part.
I purchased my Chinese takeout boxes from Amazon, but you can get them at any hobby store. You get 24 in the package so it's perfect for my DIY Christmas Countdown project.
Print out these free Christmas trees and let the kids cut them out. Christmas-Tree-Countdown
My sweet husband ended up cutting out all the trees because the grandkids had rather glue the trees than cut them out. I guess it's a boy thing. My husband asked me why I chose a tree with all the different angles instead of a plain triangle. I just laughed and laughed.
My trees were a tad bigger than the boxes so I ended up cutting the trunk of the tree off. Again, it's all good and sometimes you have to make changes as you go along.
Help the kids glue the trees onto the boxes with Elmer's glue (kid friendly).
After filling the boxes will small toys, I like to place them in a basket so that every day the kids have to dig through the basket until they find the correct date. Or, I could place them in the shape of a Christmas tree on a small table.
Here are some ideas for non-candy fillers.
Money
Mini Cars
Legos
Coupons
Outdoor Chalk
Crayons
Earrings
Hair Ties
Charms
Trading Cards
Scroll down for many more DIY Christmas Countdown Calendar Ideas for your holiday season!