Please help me welcome Vicky Giang to the blog today! Vicky is sharing her Easy Roasted Chicken with Garlic and Butter recipe and I can tell it's going to be a keeper at my house.
I'm looking forward to trying this recipe soon. It's so easy to make and looks delicious. You'll want to try it too. I promise!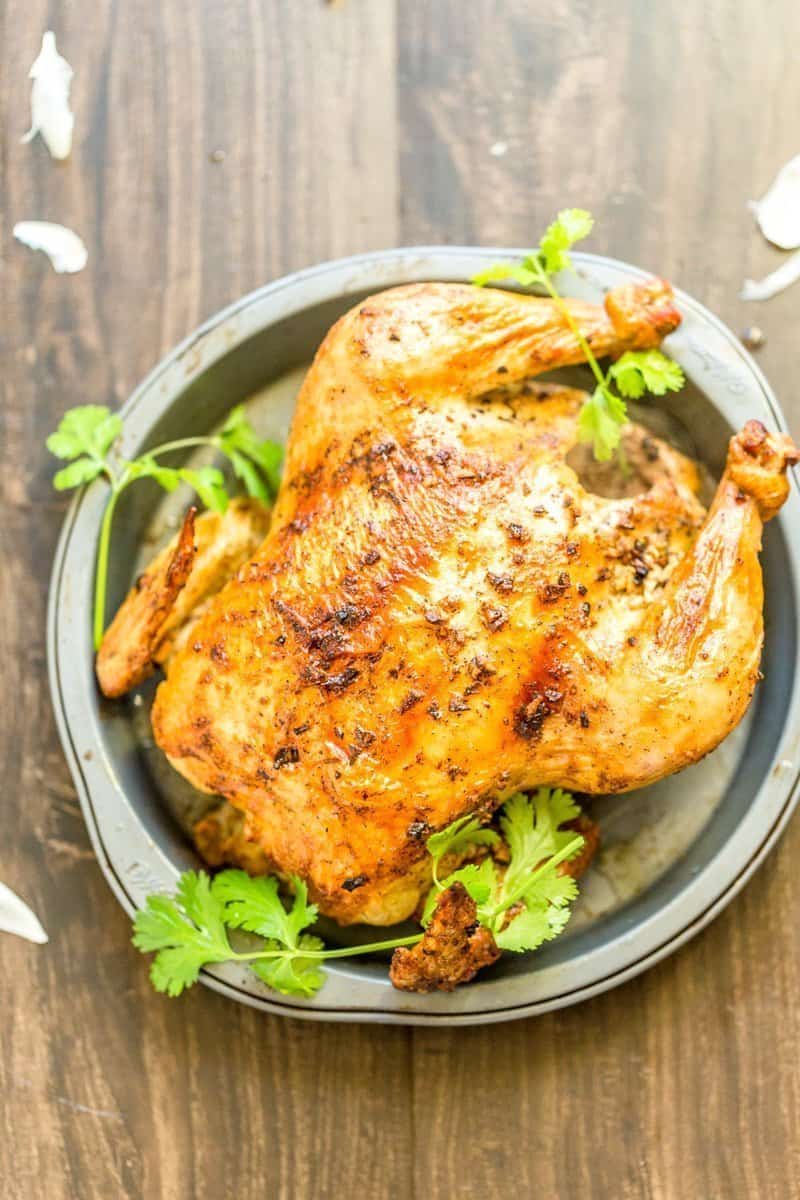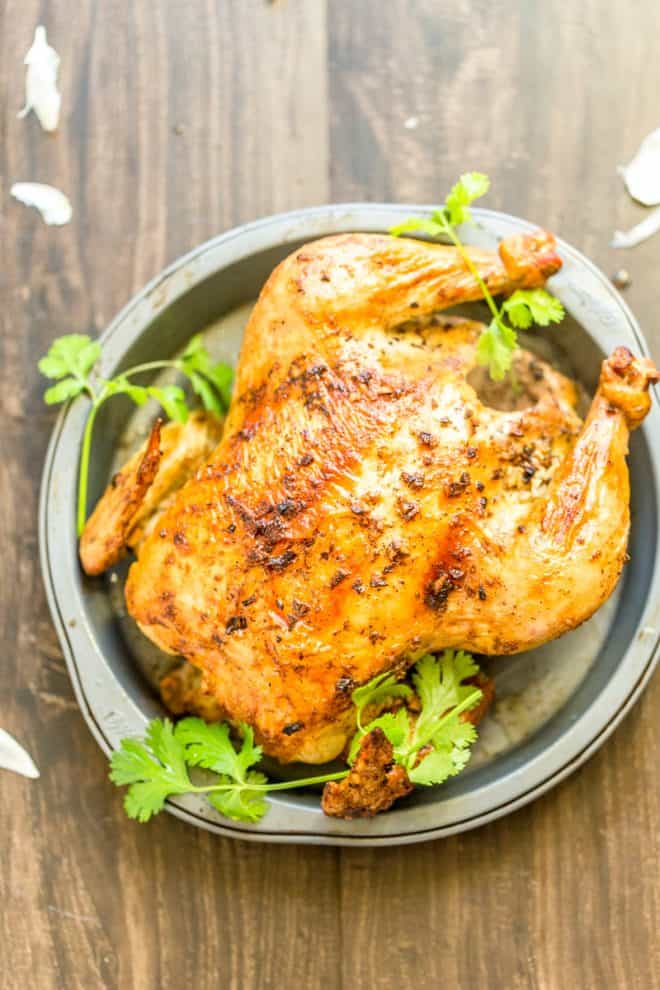 One of the tastiest and simplest ways to roast a chicken is with butter, garlic, and seasonings. It takes a minimal amount of time to prepare. Once you do the prep, just put the bird in the oven and allow it to cook while you go about making your favorite side dishes.

For this recipe, I recommend using a whole roasting chicken, not a fryer. A 3 to 4-pound bird will serve 4 to 6 people nicely.
I like to serve roasted garlic butter chicken with jasmine rice and lightly steamed green vegetables. You can place the rice on a large platter and put the chicken, with all of the garlicky juices, right on top of the rice. Arrange asparagus or any green vegetable around the chicken and rice. This makes a nice one platter main course that can be served family-style.
Easy Roasted Chicken with Garlic and Butter


Roasted Chicken with Garlic and Butter
Ingredients
1 whole roasting chicken (3 to 4 pounds)
2 TBS unsalted butter at room temperature
5 or 6 garlic cloves, pressed or minced
1 tsp sea salt
1 tsp ground black pepper
Instructions
Place the oven rack directly in the middle of the oven. Preheat the oven to 425º F.
Remove giblets from the bird's cavity. You can save these to make stock with, along with the roasted chicken bones. Give the chicken a quick rinse with cold water and dry with paper towels.
Mix together the butter, garlic, salt, and pepper until it is a soft paste. Using your hands to rub the inside and the outside of the chicken completely with this mixture.
Place the seasoned chicken on a rack inside a roasting pan, breast side up. If you have some butcher's twine on hand, tie a knot around the leg tips to hold them together. Put this in the hot oven and roast for approximately 1 hour and 10 minutes or until the internal temperature reaches 165º F. A good rule of thumb is to roast 18 minutes for every pound of chicken.
Remove chicken onto a clean cutting board. Place a tent of aluminum foil over the warm bird. Let rest for about 15 to 20 minutes. This allows the juices to be reabsorbed.
Slice the legs, thighs, and wings off at the joints. Remove the breast meat from the bone and slice into equal size pieces. Serve on a large platter over rice with your favorite vegetables. Pour some of the pan drippings over the chicken and rice for rich garlic flavor.
I'm in love with this Easy Roasted Chicken recipe. It includes all my favorite flavors and I'm looking forward to topping Jasmine Rice with this flavorful entree. I know my husband will enjoy this Easy Roasted Chicken as well. I'm calling dibs on leftovers!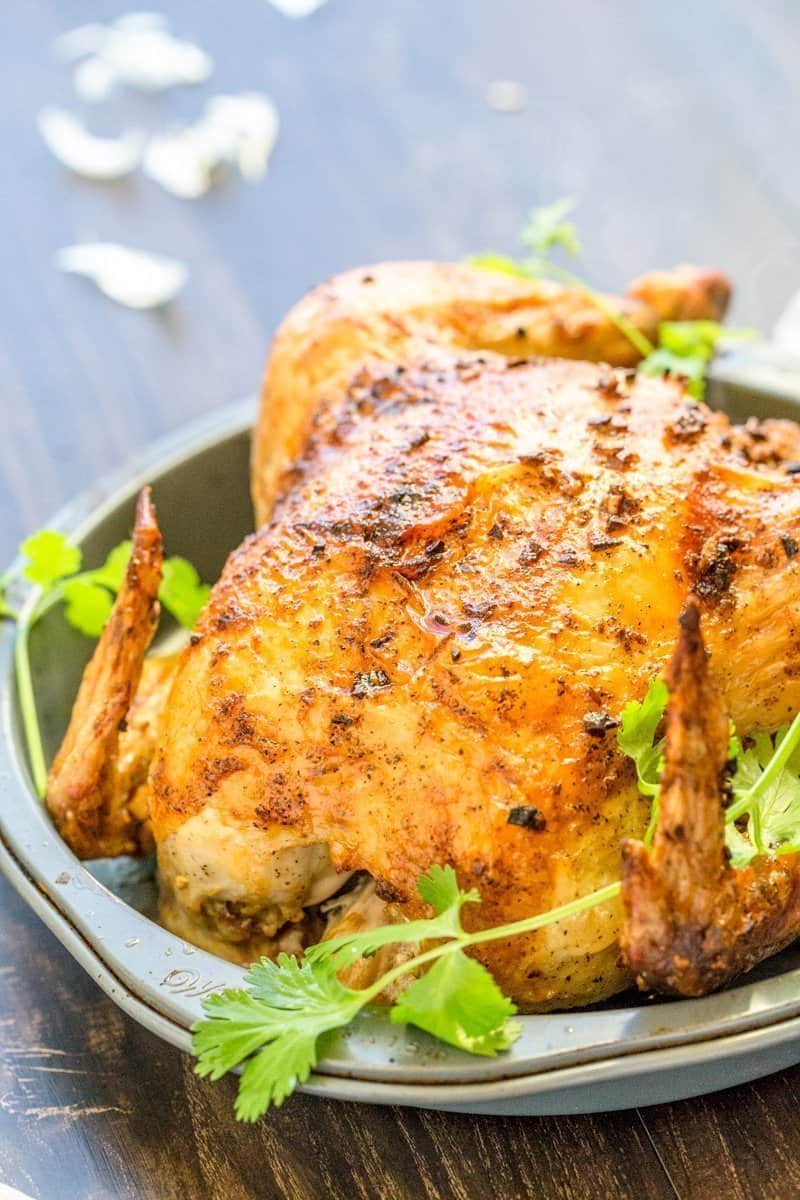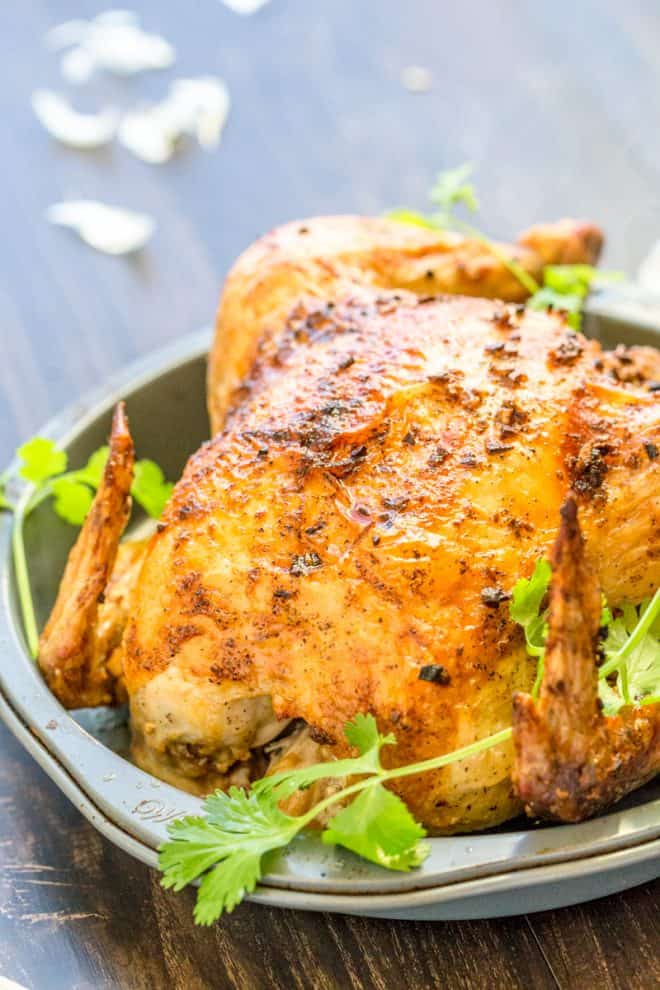 Thanks, Vicky, for contributing your recipe and for the lovely photos. Be sure and visit Vicky for more amazing recipes!
Victoria is a home cooking mom and a blogger behind How Daily. She loves to share her recipes and culinary tips from her diversified experience of multi-culture. She's most interested in cooking and creating authentic and original taste from traditional recipes.