Thank you to At Home stores for partnering with me for my Fall Home Tour. #MyReason
Welcome to my fall home tour! Come on in. I've got a buffet table filled with sweets and coffee is brewing in the kitchen. I wouldn't be a good southern hostess if I didn't have my buffet table loaded down with goodies. But we'll get to that in a little while.
I've never done a fall home tour before, but I love decorating for fall! I inherited the decorating gene from my mom. She decorated seasonally and always came up with the best decor ideas.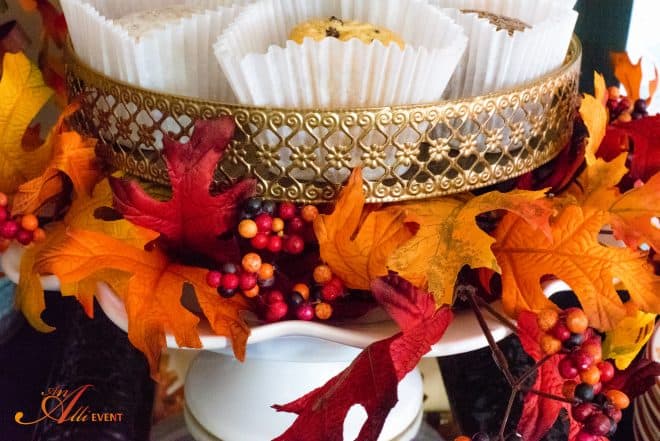 When it comes to a decorating style, I tend to fall in the eclectic category.
I'm a little bit country, a little bit rock and roll, and a little bit glam, so my home reflects me. 🙂 And I always believe that less is more and frugal is the name of the game.
Let the Fall Home Tour Begin
My color scheme is navy, mustard, and touches of gold. It goes well with my existing furniture/decor. Who knew my color scheme would be trending as the top Pantone colors for fall?
My inspiration piece for my fall decor is this glass pumpkin that I found while browsing the aisles of At Home. It has all the colors of my existing decor, plus it's a little bit different. I like different.
Front Porch Decor
My summer flowers finally bit the dust, so I cleaned up my planters and added a fall touch including colorful Ornamental Kale, Sedum and Sky Rocket Fountain Grass. This particular fountain grass grows to about 2 feet tall. It's perfect to showcase in planters.
Remember to plant the taller plants in the back, the medium sized flowers in the middle and the short stuff (kale) in the front.
I went with a pretty orange wreath with tiny pinecones when it came to adding a touch of fall decor to my front door. I tend to keep my porch simple. It's easier to keep clean and to change up for the next big holiday.
Come on in!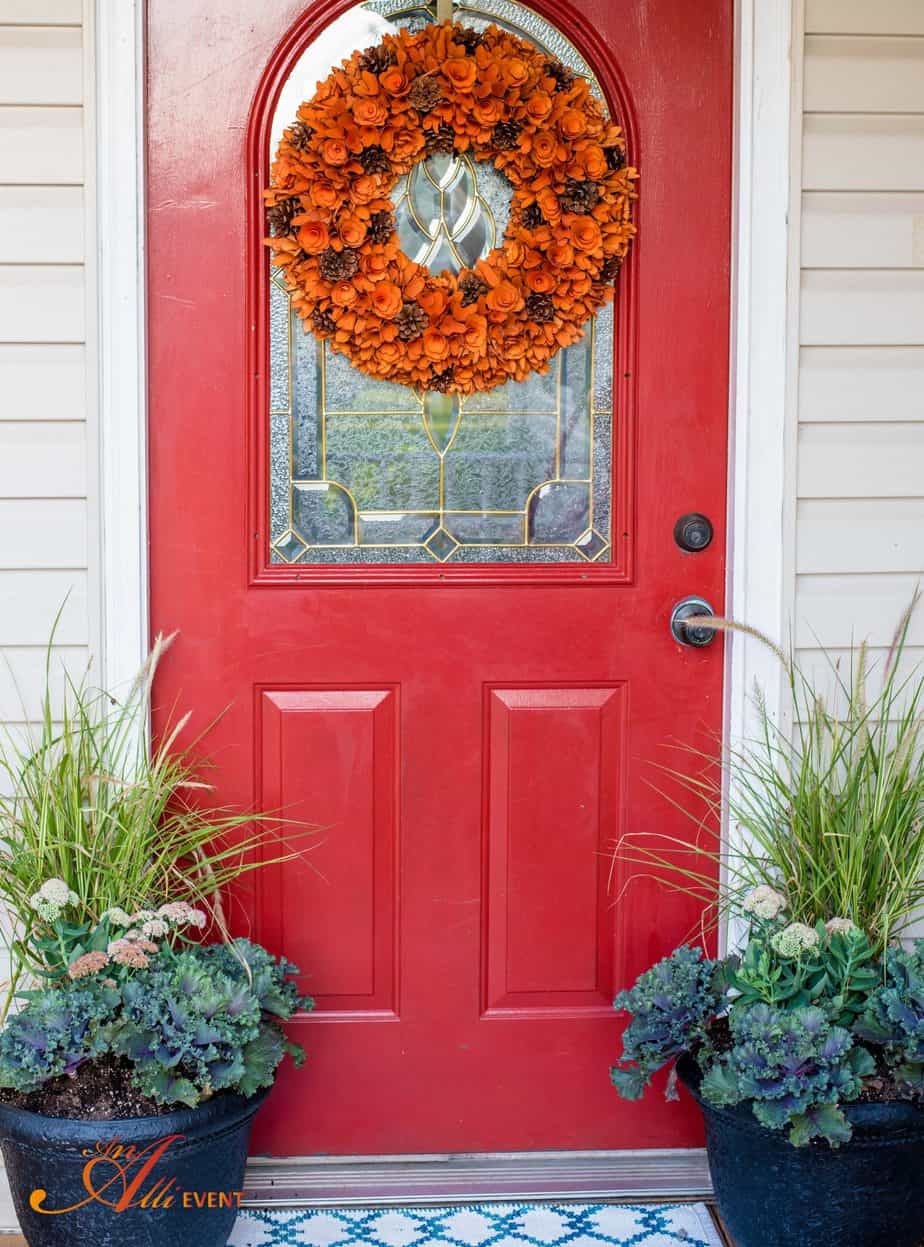 Dining Room Table
My mom's biscuit bowl is the focal point of my dining room table. These bowls are also referred to as dough bowls. It's a great way to remember my mom and it's so pretty.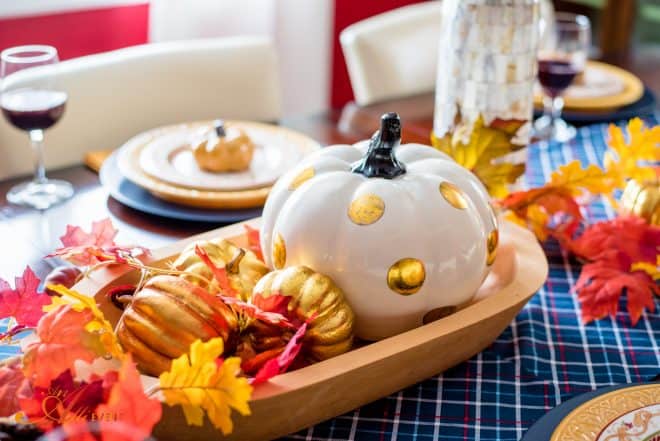 The large glass jar filled with pumpkins also belonged to my mom. Precious memories!
This stunning vase from At Home is a beautiful way to display a bouquet of wild flowers. You call them weeds, I call them flowers. They just say fall to me and it reminds me of all the times my kids would bring me a fist full of flowers just because they love me.
The table runner on the dining room table is actually a yard of fabric, cut into two pieces length-wise. Cut the fabric right down the middle, turn under the edges and iron them. I can use this fabric again and again.
I place the centerpiece on the part where the two pieces of fabric meets and no one can tell it's two runners instead of one.
Pet Peeve: When I see a dining table dressed up for fall, I can't stand to see empty glasses. Care for some grape juice? Ha!
Plain gold charger plates are cheap. Navy chargers are hard to find and are not so cheap. To save money, I painted the rims of my gold chargers navy. Use a small foam roller and you'll have like-new charger plates in no time.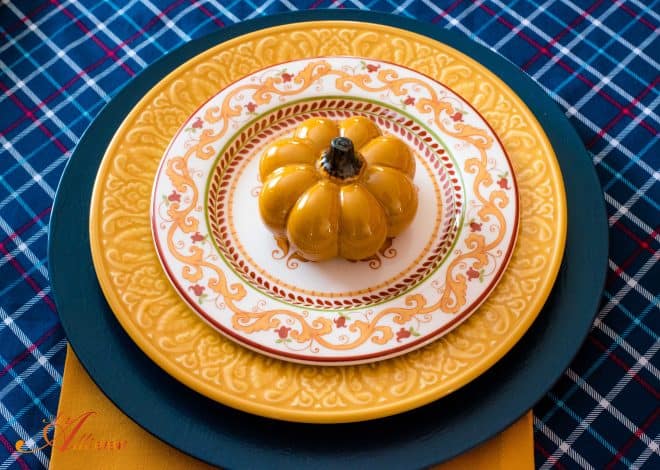 The mustard colored napkins are tucked under the plate like a little envelope. It's a little different and I like the look.
Great Room
My great room is where you'll always find the family when we're not gathered around the dining room table. I like that it has a cozy, glam look.
Many forts have been built in this room over the years with blankets and pillows. As you can see, I have a thing for pillows and throws and At Home Stores has a huge selection at incredible prices.
When the grandkids come over for a slumber party, we just throw the pillows on the floor and get comfy.
Bookcase/Cubes
I jazzed up my display cubbies with repurposed pumpkins. Last fall they were white with orange polka dots. This time around, I spray painted them white and once they were dry, I dipped them in bowls of paint. I love how they turned out.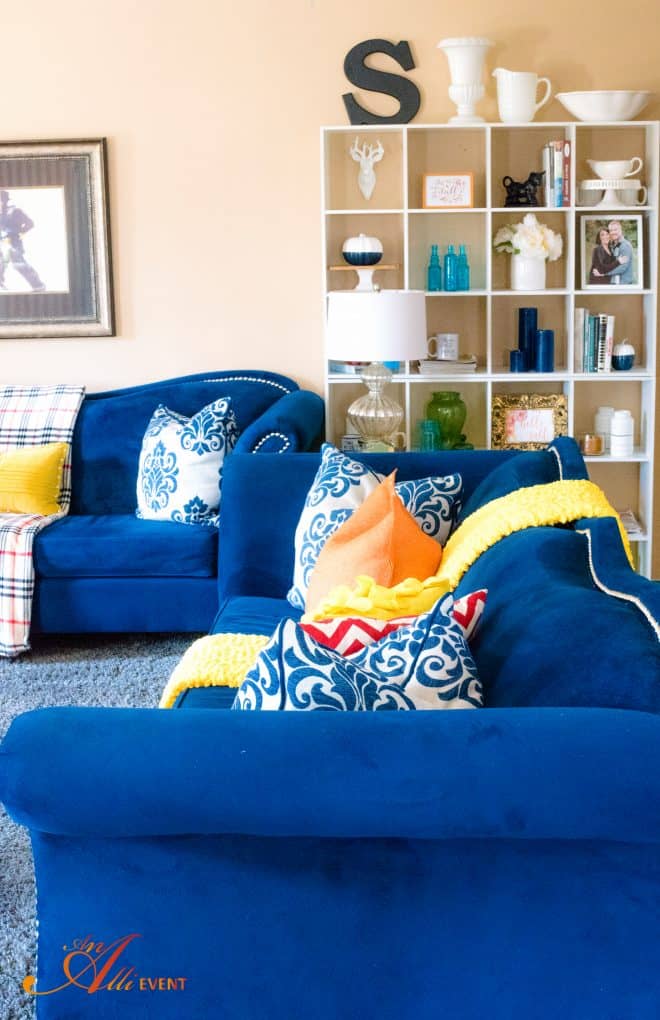 Helpful Hint: Bookcase cubbies are a great way to add extra storage. My home is older (aka not much storage) and I try to find storage wherever I can. I have a large collection of cake plates and some of them made their way into my bookcase.
White is my primary color and I added touches of navy, red, etc. Vary the heights and don't overdo things.
Free fall printables from some of my favorite blogs are a great (and free) way to add a touch of fall color and quotes to your decor.
Coffee Table
My husband thinks the coffee table is exclusively his and its only purpose is to hold the TV remotes. And his glass of iced tea. No, a coffee table is so much more. Don't you agree? I told him that I was going to teach him how to style a round coffee table. That look he gave me was priceless.
My round coffee table is made from reclaimed wood. Seems like everything in my living room is rectangle or square, so a round table mixes things up a bit. I really love that it lets up and down, so it can be used for cozy, intimate dinners.
During summer months, I keep a large bouquet of freshly picked hydrangeas, a nautical tray, and a collection of seashells on my coffee table. Once fall arrives, I'm ready for a change.
How to Style a Round Coffee Table for Fall
For me, a tray is a must and At Home has the perfect tray for my round table. An owl magnifying glass adds a little bling. The candles, candle holders, tray and pumpkin all were purchased from At Home. Their prices can't be beat!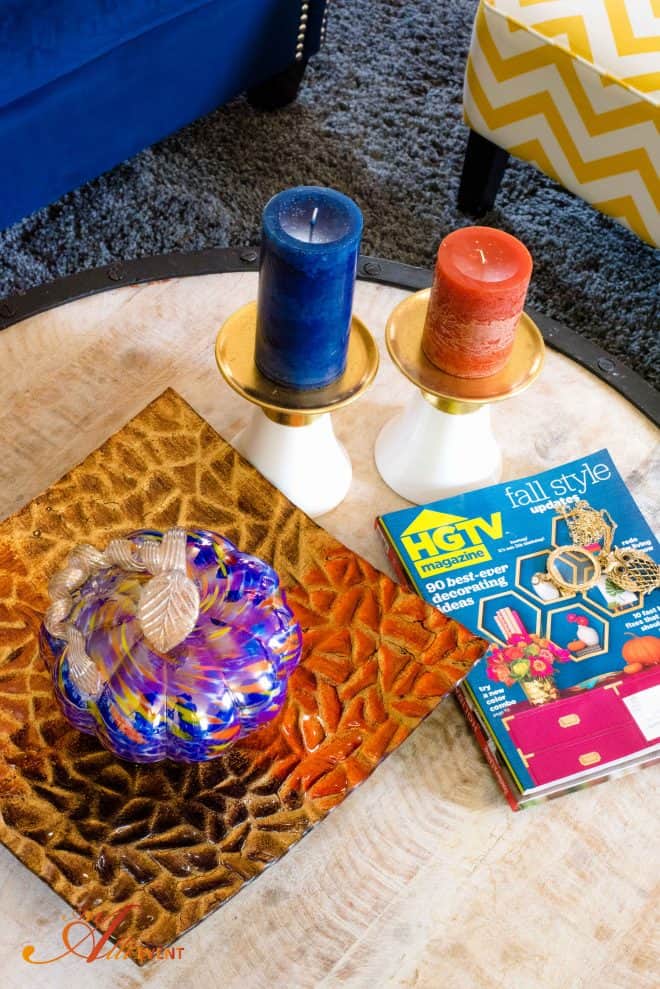 Buffet Decor
My buffet is actually in the great room simply because it won't fit in the dining room with the two china cabinets.
I have a family photo wall above the buffet and I always style the buffet according to the season.
Would you like a fall-inspired cookie? Coffee? Caramel Apple? I've added a sprinkle of cinnamon to the coffee and the cookies are delish!
Here's a closeup of the cookies. (That's a photo of me in the background).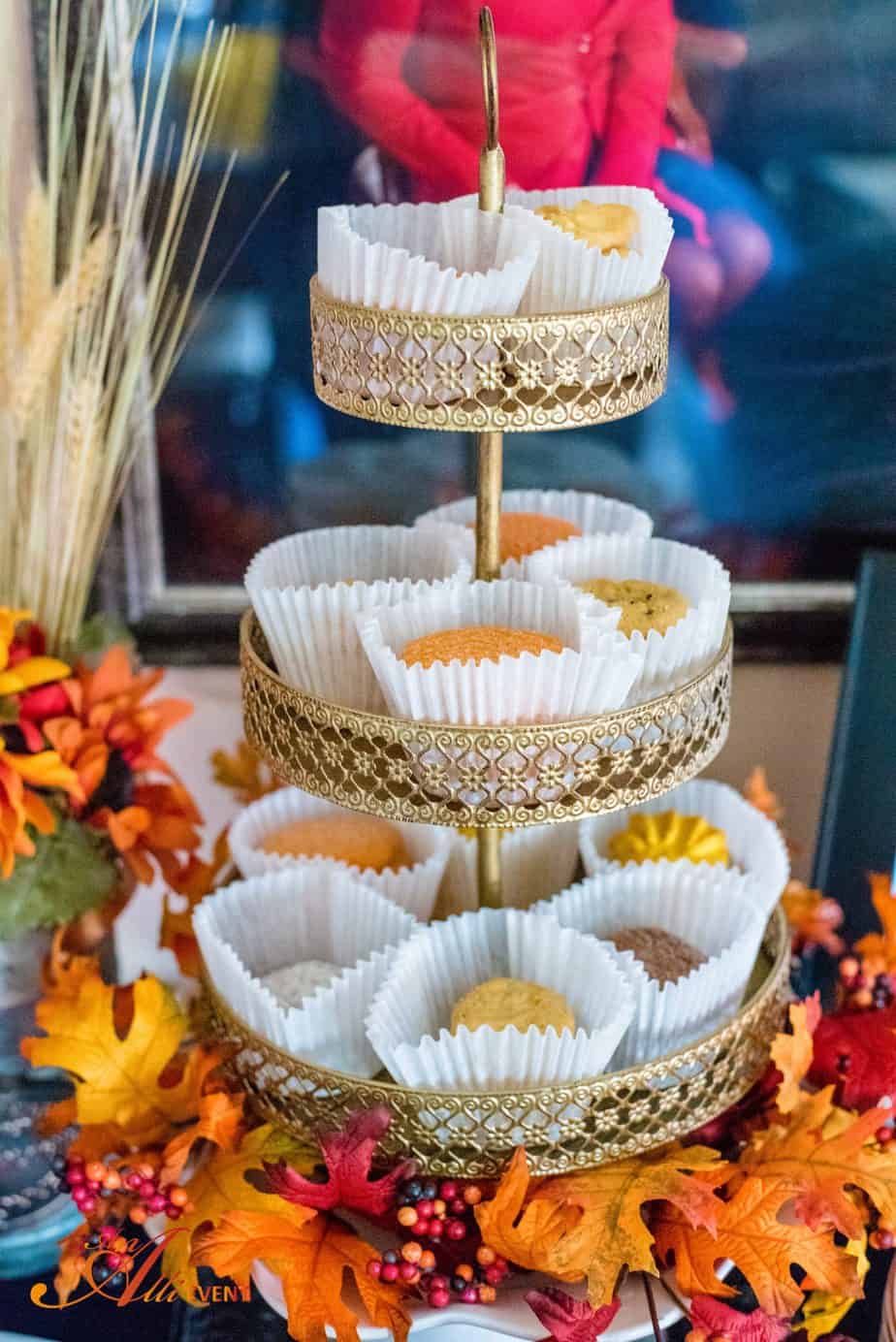 This gorgeous navy table runner is a big favorite of mine. Don't you love the gold accents? It's another great find from At Home.
When I'm hosting a dinner party, I usually arrange the desserts on my buffet. It's also a great place to add a touch of seasonal decor.
My tiered tray isn't quite tall enough on its own, so I added another cake plate to boost the height a little. Then I anchored the whole thing with a mirror. Fall leaves and berries are tucked in between the cake plate and tiered tray to add another kiss of fall.
Thanks for Stopping by My Fall Home Tour
I'm so glad you stopped by my fall home tour today. Decorating for fall shouldn't be stressful. Remember to stick with your style, don't compare your decorating skills to others and visit At Home for inspiration and great prices.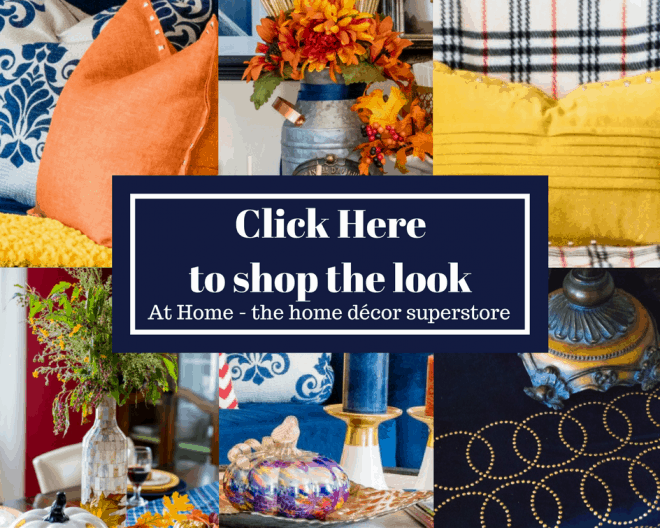 How do you decorate for fall?