How to Make a Guest Bedroom Beautiful on a Budget is sponsored by NECTAR. All opinions are my own.
My daughter's former bedroom has been empty ever since she flew the nest. Empty is not really the right word. It's been filled with blogging/photography stuff.
At one time, I dreamed of turning this room into an office/craft room. In reality, it's become a catchall for my business. Once I organized all my photography gear and blogging props, I could almost see the light at the end of the rainbow.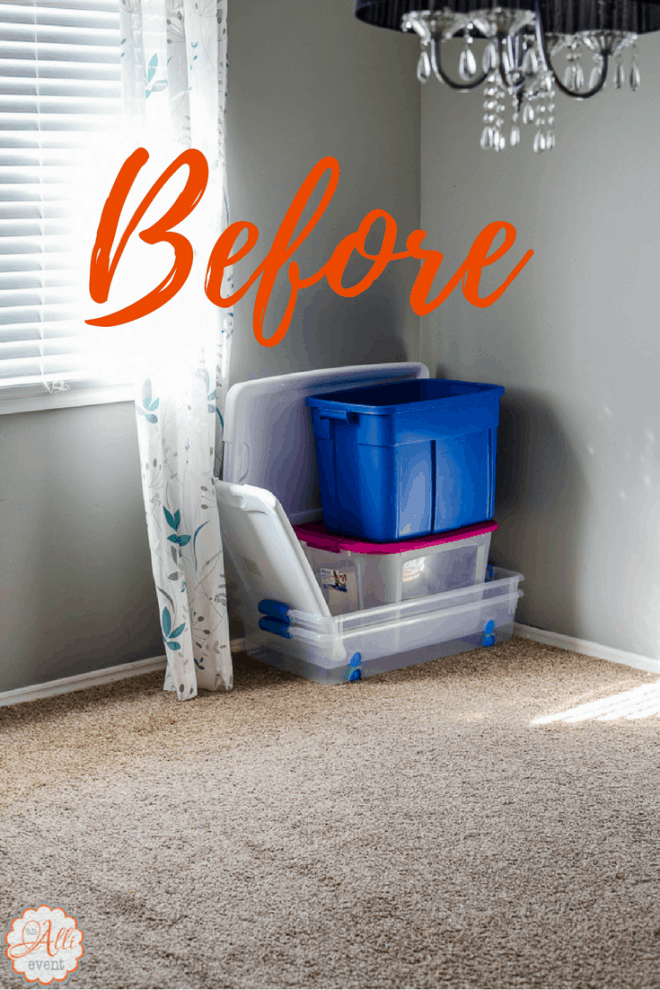 Here's the deal. When, one by one, my kids got married, I gave them their bedroom furniture so they'd at least have something to start married life with. When they were in college, their rooms stayed as is, but once they flew the coop, their bedroom furniture went with them. Am I nice or what?
My youngest daughter and I had redecorated her room a while back and I completely forgot to blog about it. So, she had brand new everything to start married life. And I was left with an empty room that quickly filled with blogging props and a huge treadmill that takes up way too much space.
Earlier I mentioned that I had grand illusions of turning the space into an office but soon realized that I need wide open spaces when I work (also known as the sofa in the great room). I don't like the idea of being in a back bedroom. So, I decided to turn it into a guest room for the grandkids since I already have a guest room for adults.
My color scheme for this makeover is blues and salmon. The room is not huge (remember the giant treadmill) so I opted for a full bed. I grew up sleeping in a full bed shared with my younger sister and I turned out just fine.
Today, I'm focusing on the bed. I'll show you the rest of the room when it's completed. Navy is a favorite color of mine and when I saw this navy headboard, I had to have it. Plus, it's inexpensive and I don't want to bust the budget on the remodel.
For me, the most important aspect of a bed is the comfort. It doesn't matter how good a bed looks, if the mattress is not comfortable, my guests will not get a good night's sleep. Enter my new favorite mattress.
Guest Bedroom Mattress
You don't have to spend a fortune to get an amazing mattress. NECTAR eliminates the middleman and markups by selling directly to you. This mattress is designed for every sleeper and the best part is the full comfort guarantee and forever warranty.
Sometimes, when we make a purchase, we just want to sleep on it a day or two before fully committing. NECTAR gives you a full year – 365 days – to decide if you want to keep the mattress. If you return it, you get a full refund. How's that for customer service?
When my NECTAR memory foam mattress arrived, I was beyond impressed with the over-the-top packaging. It was in a huge blue bag. Underneath the blue bag, the next layer of packing reminds me of a huge duffle bag, complete with handles.
Then, there are two layers of thick plastic so that the mattress is in perfect condition. There's even a tool provided so that you can open the plastic without damaging the mattress.
NECTAR is a semi-firm mattress and is covered with a lush, foam memory wrap. It also has a special breathing removable cover.
A study proves that NECTAR sleepers actually fall asleep 20% faster than people who sleep on regular mattresses. Does that mean the grandkids will not want to stay up all night when we have a sleepover? I sure hope so!
Comforter
I found this colorful comforter for less than half off! It has all my favorite colors and adds just the pop this room needs.
Bedside Tables
Nightstands can be really expensive. Because of the size of the room, I decided to use tray tables. Plus, it's a guest bedroom so it won't be used as often as a regular bedroom.
Tray Tables are just the right size for a small lamp and a few books. The lamp was a steal at only $5.99!
There you have it, a guest bedroom on a tight budget! I'm so glad I finally organized this junk room. I may let the boys have my master bedroom and sleep here myself. Y'all, this mattress is amazing!
Be sure and check out NECTAR and their amazing warranty.