My blogger friend, Cindy, over at Little Miss Celebration, always has the coolest things on her blog!  Last week she shared her Groovy Candy Coated Oreos and I fell in love with her beautiful pictures as I took a step back in time and remembered when we used to say groovy and far out, man!
I immediately ordered the molds from Amazon.  I got caught up in looking at all the varieties of candy molds and I finally had to just stop before I became a hoarder.
I knew the oreos would be a hit because everything Cindy makes is a hit.  What I didn't know is if I would be able to make them.  You may or may not know that I don't have a whole lot of patience.
I've used Candiquik for years, so that part was a no-brainer.  But the painting was kinda time consuming since I had never done such intricate painting with chocolate.  (I'm more of a painter of big spaces, like walls.)
If I had been able to find the paint brushes that I bought, it would have been much easier, but I only had one small paint brush and had to keep cleaning it between the colors.
Finally, I just stopped with the intricate painting and just filled the molds 2/3's full of Candiquik, popped in the oreo, smashed it down, placed it in the fridge for 30 minutes to harden, popped them out of the molds and they were pretty enough.
You can buy the molds for any occasion!  And once you get the hang of it, it goes pretty smoothly.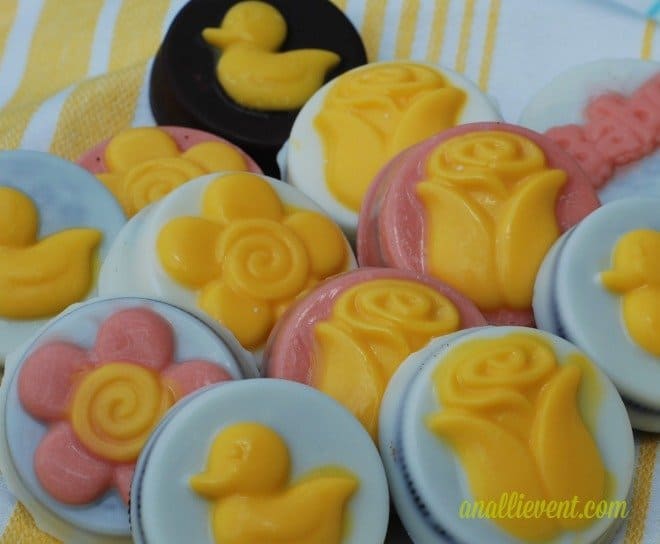 My favorite candy molds were the little ducks – perfect for a baby shower!
Was mine as pretty as Cindy's?  No!  Were they a hit?  Yes, they were!  Just ask my grandchildren AND my grown up children!
I do believe that practice makes perfect.  I'll keep on practicing!  And I'll keep on buying the molds because I have found a new hobby.  And I'm gonna find that pack of paint brushes I've hidden from myself!
You can find Cindy's Candy Coated Oreos and all the details here!  And while you're there, check out some of her other recipes and projects!  She's really got it going on!
What new projects/recipes have you tried this week?
Peace out!  Catch you on the flip side!  Be there or be square!  (70's Lingo)