Why does everyone automatically think that a pastor's wife can sing?  I can't sing.  Period.  Not a lick. (Where did that expression come from?)  I didn't say that I don't sing, just that I can't.  And I didn't say that I don't love music.  I do.  And I can hear a wrong note from a mile away.  I know pitchy when I hear it, dog. Yep, I can tell when it's flat, forced, nasally or off-key.
But, alas, I'm the only one in the family that can't sing.  True Story:  When my children were mere babes and I would be rocking them to sleep, I would start singing and the more I sang, the louder they cried.
Daughter #1 is the leader of the Praise Band at church.  She also plays guitar and piano.  Daughter #3 (the photographer that abandoned me and forced me to learn how to take my own photos for my blog) also sings in the band, plays piano and does Youtube videos.  Daughter #2 can sing, too!
And then there's me.  I can hear a song from long ago, 60's, 70's, etc. and I remember every word.  And when I'm talking to someone or listening to my hubby's sermon, a word will be spoken and a corresponding song will pop into my mind.  Am I the only one who does that?
For example, a few nights ago, my hubby was announcing a future project concerning paving a parking lot. Immediately, in my mind, I was singing "they paved paradise and put in a parking lot."  Only it wasn't in my mind as I realized a girl in the seat behind me was bursting forth with laughter. This was at church, mind you.  But it happens everywhere.
My children tell me that sometimes, when the moon is in the seventh house and Jupiter aligns with Mars,  I harmonize with them.  Who knew?  Not me.  They teasingly say that they are forming a band with me and calling it Accidental Harmony.  Yeah, cute.  Real, real cute.
Some time back, at one of our Girlfriends Unlimited events, we had karaoke night.  The GAB (Girlfriends Advisory Board) thought it would be so cool if we announced that I would sing if we sold a certain number of tickets.  Of course, the event was immediately sold out.  Who wouldn't want to see the pastor's wife make a complete and utter fool of herself?
I was more than a tad nervous.  I can speak in front of a packed auditorium, but to sing, give me a break.  So I reached back in the archives and pulled out Old Time Rock & Roll by Bob Seger and the Silver Bullet Band.  Oh, yes, I did!  I showed up to rehearse it with daughter #1.  I ran through it once.  I didn't have to look at that screen.  I knew every word.  She said I was good to go.
The night of, I volunteered to go first.  I just wanted to get it over with so I could enjoy the rest of the evening. There was not a drop of saliva in my mouth.  My hands were shaking and my knees were knocking.  I asked God to help me sing a rock song.  Can I do that?
And suddenly, that spotlight was glaring at me and I was blinded by the light.  For a brief moment I forgot where I was. And then I remembered.  I was in the 70's.  I was Bob Seger.  I was taking those old records off the shelf.  I was daring that sold-out crowd of frenzied women to try and take me to a disco.  I challenged them to call me a relic, call me what they will, or to say I was old fashioned or over the hill.  I reminisced about the days of old, with that old time rock and roll.   I was jumping.  I was spinning (or was that my head).  I was playing air guitar!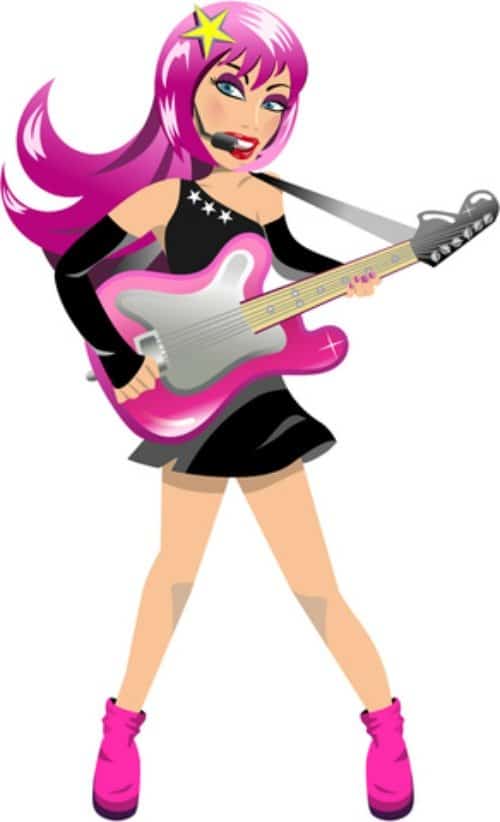 And then, much too quickly and to my dismay, it was all over.  I stepped away from the spotlight and came tumbling back down to reality, oops there goes gravity.  But for one night, I owned that make-shift stage.  I was a rock star!
When all was said and done, daughter #1 (an accomplished musician) said that she was impressed and that I was the best act of the night!  Maybe she exaggerated a bit, but I believed every word!
I won't be going on tour or trying out for the Voice or X Factor anytime soon, but, for once in my life, I stayed on key, all by myself.  And that, my friend, is a major accomplishment.  Oh, wait, a Stevie Wonder song, For Once in my Life, just popped into my head.  I told you!  I have a song for that . . .
Print Friendly