Smashed Fried Okra is tender on the inside and crunchy on the outside – just the way I like it.
Okra – it's one of those southern foods that you love, hate or have to ask someone, "What is okra?" There is no middle ground!
Okra is a green flowering plant. It belongs in the same plant family as cotton and hibiscus. The seed pods are edible and are one of my favorite summertime foods.
My husband despises it in any shape or form. I happen to be in love with okra. I've never liked harvesting it by cutting it from the stalk. It itches so badly!
But, I adore okra sliced, dipped in seasoned cornmeal mix and fried crispy brown. I also happen to like it boiled in a pot of freshly picked peas. I know it's slimy, but hey, I like it. Period.
Smashed Fried Okra
Have you ever tried smashed fried okra! It's whole okra pods, smashed with a meat mallet, dipped in buttermilk, seasoned cornmeal and fried. Of course, I have to try it!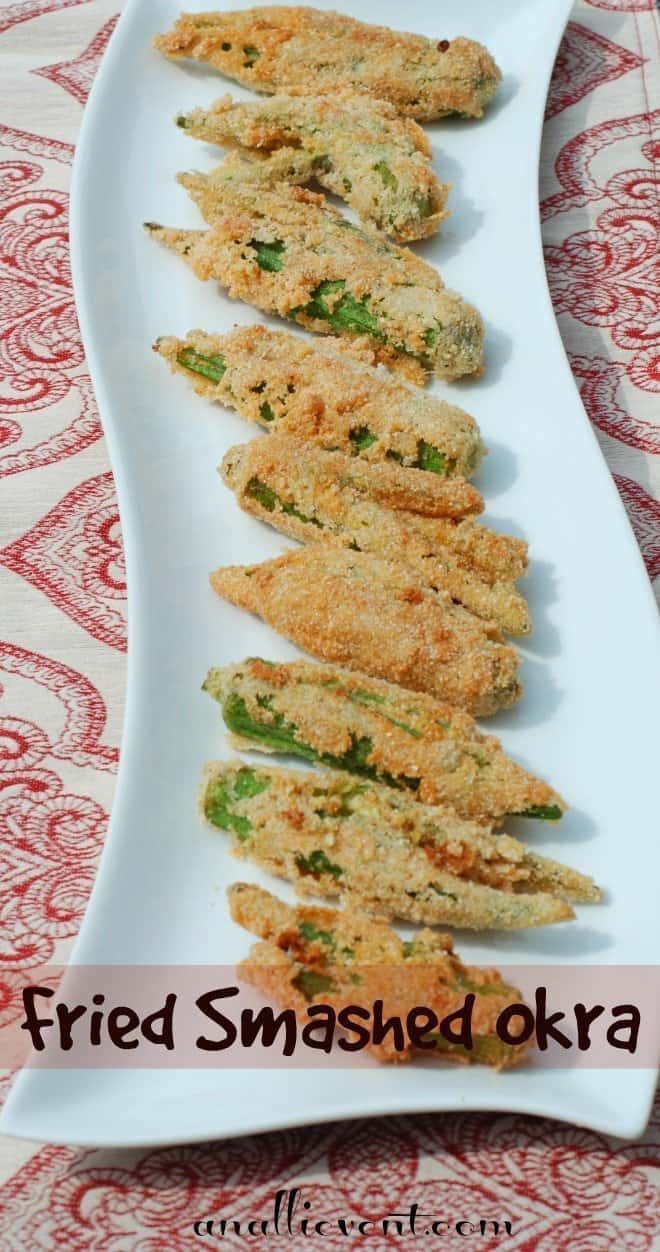 My Children "Borrowed" My Meat Mallet
I haven't seen my meat mallet since my kids were small. I caught them outside making mud pies with my meat mallet. So I improvised by using my small hammer wrapped up in a freezer bag. Don't judge me. It worked beautifully!
When I added the Kosher salt and pepper, I also sprinkled in a little cayenne pepper and garlic powder to give it a little extra kick. I'm a little extra kick kind of person!
Was it a hit or a miss?
I insisted that my husband take one bite – just one! He said it was OK and would be better if it didn't have seeds in it. (Note to hubby: Then it wouldn't be okra, would it?)
My daughter declared that it was high-end upscale restaurant quality and would be amazing served as an appetizer with homemade ranch dressing or a spicy dip!
It's definitely a keeper. (If it's restaurant quality, does that make me a chef???)
I absolutely loved it! I'll never slice okra again! Well, maybe every once in a while. What a time saver that I had never thought of!
It's crunchy, spicy, and a little soft in the middle. It's the perfect appetizer or side dish and I'll definitely make it again. And again. And again.
It was a big hit and my husband needs to learn to eat his veggies! 🙂
I found the original recipe over at Southern Living. I added my own twist, like additional spices and I'm in love with this okra.
Yield: 6 servings
Smashed Fried Okra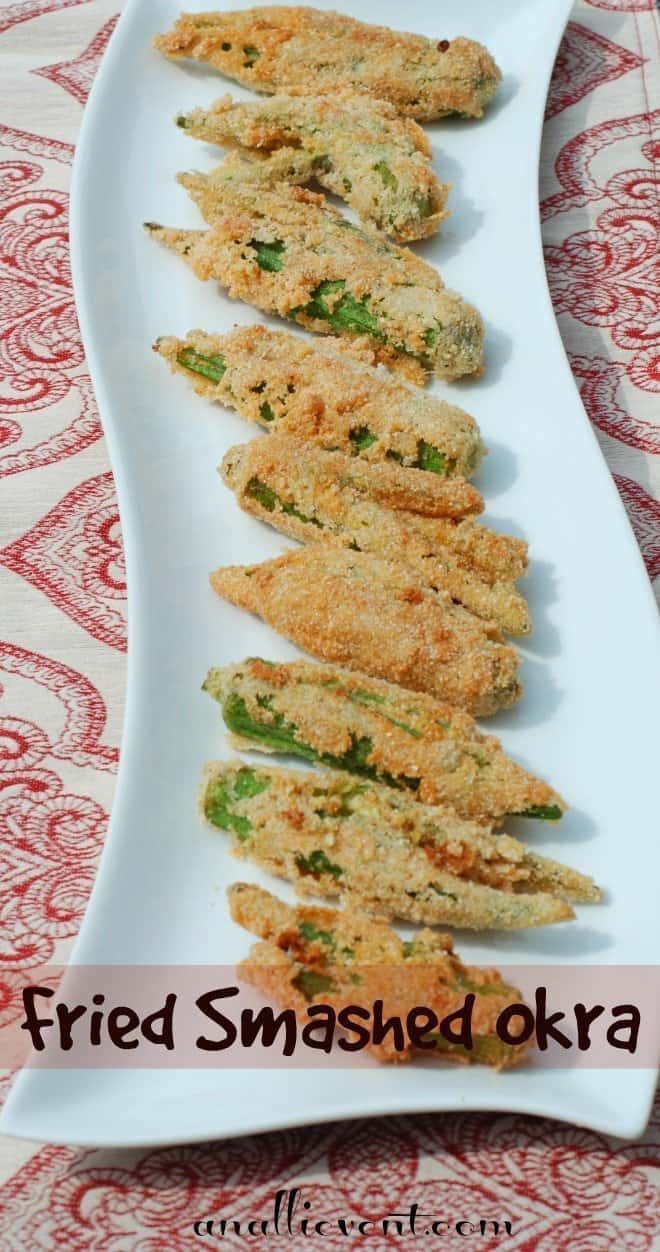 Smashed Okra is a twist on regular fried okra. It's crunchy on the outside and tender on the inside.
Ingredients
1 pound fresh okra (small pods)
1-1/2 cups buttermilk
2 cups cornmeal
Kosher salt
Freshly ground pepper
Garlic powder
Cayenne pepper
Canola or peanut oil for frying
Instructions
Use a meat mallet to smash okra, starting at the tip of the pod and working down. Be careful not to smash it to pieces. Sprinkle the okra lightly with salt, pepper, garlic, and cayenne pepper.
Place cornmeal in a shallow dish. Add buttermilk to another dish. Dip okra in buttermilk and dredge in cornmeal, shaking off excess.
In a large skillet or dutch oven, add 2 inches oil. Heat to 350º. Fry okra in batches, 2-3 minutes or until brown and crispy, turning once.
Remove okra and drain on paper towels before serving.
Nutrition Information
Yield
6
Serving Size
1
Amount Per Serving
Calories

212
Total Fat

4g
Saturated Fat

1g
Trans Fat

0g
Unsaturated Fat

3g
Cholesterol

2mg
Sodium

233mg
Carbohydrates

38g
Fiber

5g
Sugar

5g
Protein

7g
Do you eat okra? If so, how do you like your's cooked?