This post is sponsored by Tree Classics. All opinions are my own. 
It's beginning to look a lot like Christmas at my house! Yes, I'm that person who decorates for Christmas before Thanksgiving. Christmas is my favorite season and I like to enjoy the decor as long as possible.
One of my favorite Christmas memories is watching holiday movies with the family. We turn off all the lights except for the twinkling lights on the Christmas tree. To this day, I like to snuggle up on the sofa with a soft blanket, a cup of hot cocoa (don't forget the marshmallows) and popcorn while watching my favorite Christmas movie. It's the simple things in life that mean the most to me.
Speaking of Christmas trees, my new Christmas tree from Tree Classics arrived a few days ago. So, come along for the ride while I unbox my new tree, complete with prelit LED Christmas lights.
Why LED Christmas Lights?
In the past, all my trees were lit with incandescent lighting. Here are a few reasons I'm excited about the change to LED Christmas lights:
More Energy Efficient
Durable (they can withstand much more punishment than incandescent)
Heat – LED Christmas Lights don't produce the heat that incandescent lights produce. Plus, LED lights remain cool to the touch. That's a good thing when the grandkids love to gather around the tree.
Better for the Environment
Let's Put Up the Tree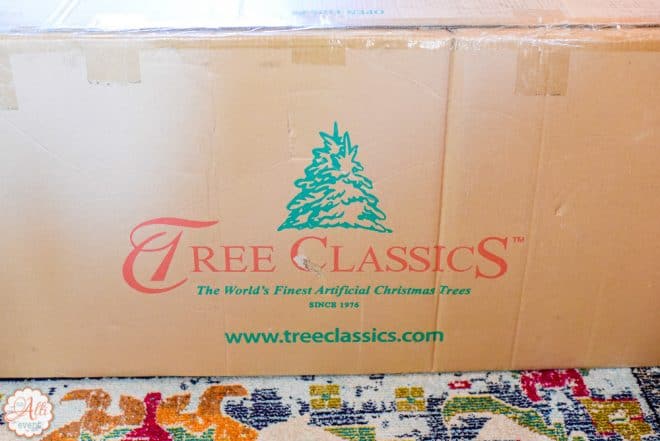 I'm doing the happy dance because this Nobel Fir is the most amazing tree! You can find one just like it here. This tree is super easy to put up and I didn't even break a nail! That's a biggie for me.
The tree arrived well-wrapped and my sweet husband helped with the unboxing.
My new tree is gorgeous, but the feature I like the best is the ability to change the lights from clear to colored or both. Yes, you can set the lights to change back and forth from clear to colored. The grandkids are going to love this!
Christmas Tree Decorations
My tree is decorated with two sets of Merry and Bright Vintage Ornaments and one set of Classic Red Finials.
The ornaments are beautiful and remind me of my mom's ornaments when I was a little girl. Decorations also include my personal collection of vintage Santa ornaments.
I've got a thing for beautiful Christmas tree skirts. The skirt completes the tree kind of like a statement necklace completes an outfit. I'm in love with this 60″ Quilted Noel Tree Skirt and it finishes my tree nicely.
After Dark Photos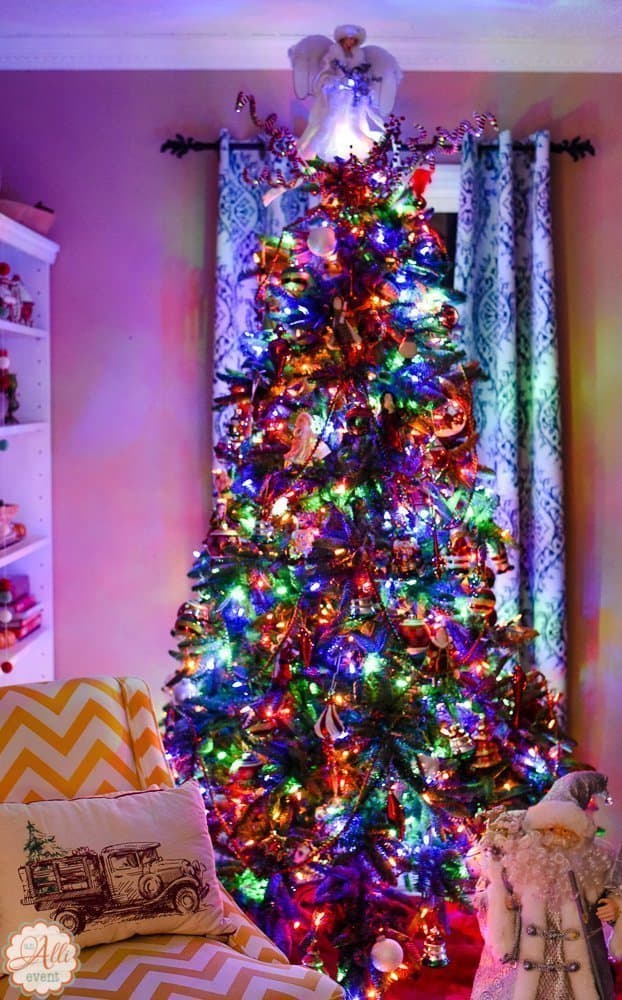 Have you ever tried to take photos of your Christmas tree at night and was disappointed at how they turned out? I've been there! If you have a DSLR camera, here are a few tips to help you out.
Shoot in manual mode.
Turn off the overhead lights.
Don't use a flash.
Use a tripod (or table – something stable to hold your camera).
Shoot with a wide-open aperture (low number).
Lower the shutter speed.
Crank up the ISO.
My camera happens to be amazing when shooting in low-light situations and the best way to get a good photo is to keep practicing.
If you want to take some photos of the kids in front of the tree with the lights blurred in the background, it's easier than you think. The term is bokeh and it simply means your photo has a shallow depth of field and anything you don't focus on will be blurry.
For these two photos, I used my Nikon 50 mm f/1.8. Be sure and set the aperture as low as possible (lets more light in). My shutter speed is set at 1/125, the aperture is at f/1.8 and the ISO is set at 1600.
Now that my tree is up and decorated, it's time to get the rest of my Christmas decor up. The tree is the main event and the rest of my Christmas decor has a supporting role because I don't like to go overboard.
To prove I don't take all my photos at night, here's one taken during the daytime.
Kids' Tablescape
I entertain often during the holidays, so I always create a special Rudolf the Red-Nosed Reindeer table for the kids. They love it and it's so easy to put together. These pieces have been collected over time and the children always get a kick out of their special table.
When the grandkids stop by for breakfast, their special table is waiting for them, along with their favorite breakfast treats.
I'm so glad you stopped by! If you're in the market for a new Christmas tree or decorations, you'll want to visit Tree Classics.
Be sure and stop by Edith & Evelyn and French Garden House for more Christmas After Dark photos and Christmas decor inspiration! You'll be glad you did!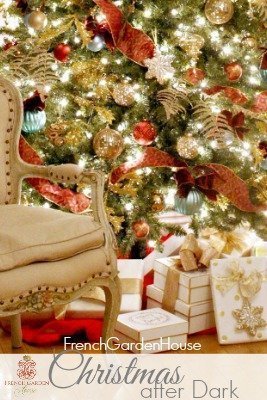 So, when do you decorate for Christmas?