This shop has been compensated by Collective Bias, Inc. and its advertiser. All opinions are mine alone. #SamsClubMag #CollectiveBias
My daughter's wedding is fast approaching (yikes!) and I want to look my best when I walk down the aisle and especially in all the pictures that will eventually be splashed all over social media.  Hold on while I do a few crunches and squats. 🙂 
Lately, I've been on the hunt for holiday desserts that taste rich and calorie laden, but are lower in fat and calories. Yes, it's possible to breeze right through the holidays and enjoy lightened-up favorites like my Light Butterscotch Pumpkin Mousse and never miss the calories at all.
I'm A-OK with an occasional holiday indulgence of sinfully rich and decadent desserts, but I have to be careful not to overindulge. Normally, I would prepare the full-fat version of Butterscotch Mousse, but after reading an article in this month's edition of Healthy Living Made Simple Magazine, I realized how easy it is to make a few better-for-me substitutions and the end result is actually better than my original recipe.  I promise!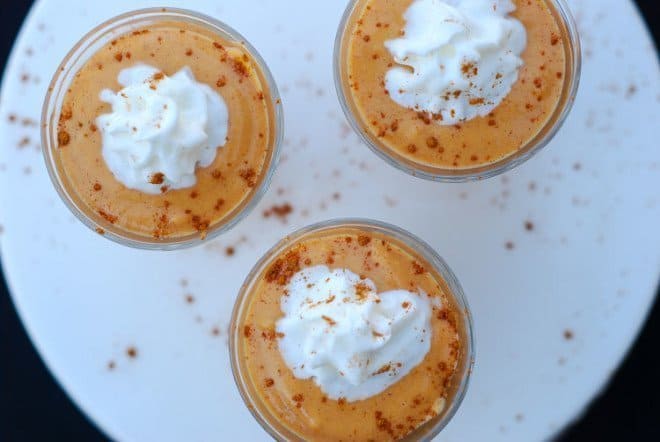 I combine almond milk and sugar-free butterscotch pudding in a bowl and blend for three minutes. Then I fold in the pumpkin puree, pumpkin pie spice and fat-free whipped topping.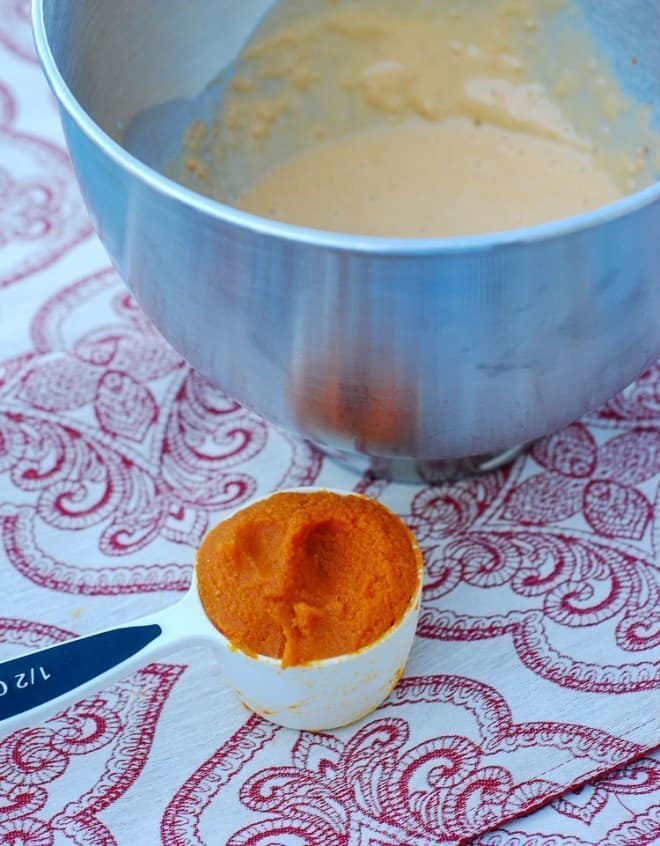 My Light Butterscotch Pumpkin Mousse is topped with whipped topping and a sprinkling of cinnamon. Let's eat!
Light Butterscotch Pumpkin Mousse
Ingredients
1-1/2 cups almond milk
1 package sugar-free butterscotch pudding
½ cup pumpkin puree
½ tsp. pumpkin pie spice
1 cup fat-free whipped topping
Instructions
Mix almond milk and butterscotch pudding for 3 minutes. Fold in pumpkin puree and pumpkin pie spice. Gently fold in ½ cup fat-free whipped topping.
Transfer to individual serving dishes and refrigerate for 30 minutes or until ready to serve.
Top with fat-free whipped topping.
One of the facts I learned from Sam's Club's
Healthy Living Made Simple Magazine
is that
"canned pumpkin has a similar profile to that of fresh pumpkin. However, canned pumpkin has significantly higher fiber and vitamin A by volume thanks to its concentration levels as a result of the canning process."  
That's good to know because I don't do for-real pumpkins.
I've been a member of Sam's Club for many years. I stop by often for food items (including pumpkin puree), party supplies, decor and just to browse around and see what's new.  You may not know it, but Sam's Club offers a whole lot more than party supplies.  It's the one-stop health and wellness destination for everything you need including free health screenings.  
The nutritional tips and tricks I've learned will keep me on track during the holidays. I'll walk down that aisle in May looking confident and ready for my close-up.
You can find more great content by visiting HLMS.com.  And be sure and try my Light Butterscotch Pumpkin Mousse whenever you need a great holiday dessert.  It's scrumptious and no one has to know that it's lower in fat and calories.
Print Friendly