Linda, my cousin, and I have been the best of friends ever since I can remember.  We grew up together – well, almost. She grew up in Atlanta and I grew up in Rochelle, GA – about 2 hours and 20 minutes apart.
My family would often visit Linda's family and catch a Braves baseball game back when Chief Noc-A-Homa resided behind center field and sent up smoke signals when Hank Aaron hit a homer!  Those were the days!
Linda would visit during the summer and we'd pick wild plums and ride bikes when we were little girls.  When we became teens, all our talk changed to boys, clothes and working on our tan.
In between visits, we'd write letters.  One time I didn't have a stamp (I was 10) so I sent Linda a COD letter and enclosed the six cents inside the envelope.  She still has that letter with the money tucked inside.
We're all grown up now, kinda.  After all these years, we're still the best of friends and while we don't really talk about boys and tans, we do talk about clothes, makeup and we brag on our grandkids. Lately, we've been talking about her upcoming wedding.  She's been divorced for years and we're beyond excited as she starts a new chapter in her life journey.
Oh, yeah, we talk about food a lot, too. Linda has been telling me about her awesome Sweet & Spicy Mango Salsa that she's been piling on top of grilled salmon AND grilled chicken.  I finally talked her into sending me the recipe and a photo so I could try it and share it with you.
Linda's Sweet & Spicy Mango Salsa
Ingredients
1 small red onion, finely chopped
1 small red pepper, seeded and diced
1 firm mango, peeled and cut into ½" cubes
2 teaspoons grated ginger
1 red chile, seeded and diced
1 clove garlic, crushed
2 teaspoons sesame oil
2 teaspoons olive oil
Juice of 1 lime
1 Tablespoon shredded mint
Instructions
Place all ingredients in a bowl and stir to combine.
Mango has long been one of my favorite summertime flavors, so as soon as I received the recipe via text, I was off to the grocery store to stock up on the ingredients.  Linda's right!  It's delicious and also pairs nicely with baked tortilla chips.
I took a few photos of the finished product so you could see how colorful and pretty it is.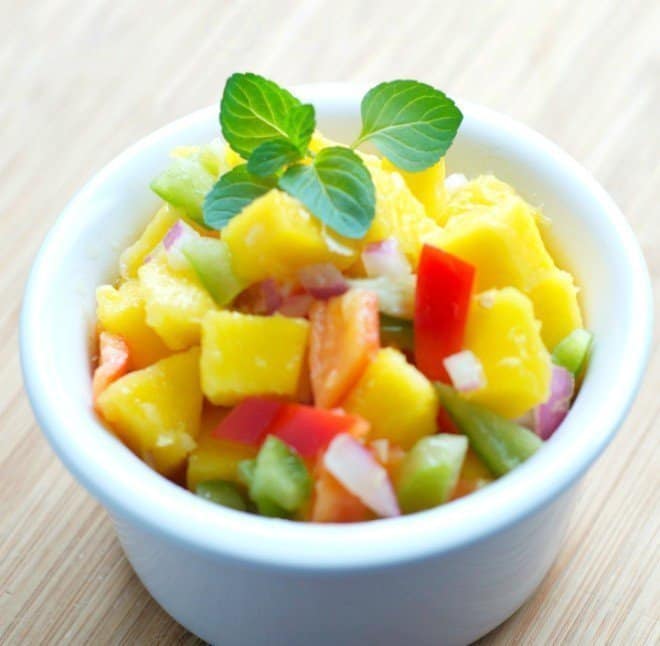 After making this Mango Salsa for the first time, I realized that I'll have to double (or triple) this recipe because my family went crazy over this stuff.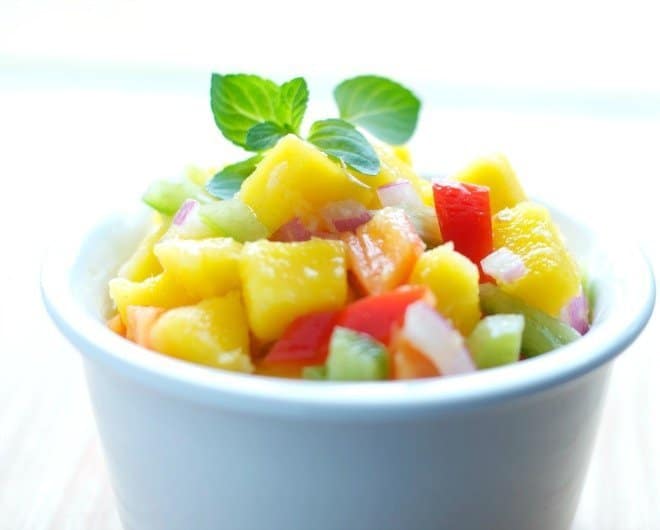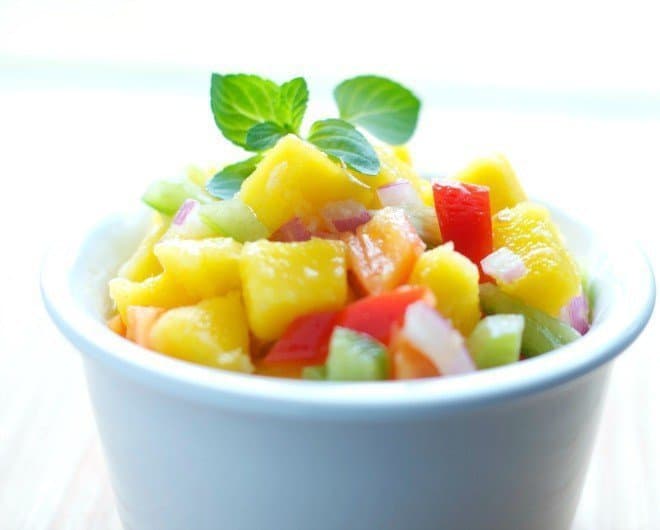 If you enjoy the taste of Mango, be sure and try my Mango-Peach Cupcakes and Mango Buttermilk Smoothie.
What's your favorite summertime flavor?
Print Friendly