Linda's Sweet and Spicy Mango Salsa is the perfect salsa for salmon, chicken and more. The color is vibrant and the flavor has hints of sweet and spicy.
Linda, my cousin, and I have been the best of friends ever since I can remember. We grew up together – well, almost. She grew up in Atlanta and I grew up in Rochelle – about 2 hours and 20 minutes apart.
My family would often visit Linda's family and catch a Braves baseball game back when Chief Noc-A-Homa resided behind center field and sent up smoke signals when Hank Aaron hit a homer! Those were the days!
Linda would visit me during the summer months when we were growing up. We'd pick wild plums and ride bikes. When we became teens, all our talks changed to boys, clothes and working on our tan.
In between visits, we'd write letters. One time I didn't have a stamp (I was 10) so I sent Linda a COD letter and enclosed the six cents inside the envelope. She still has that letter with the money tucked inside.
We're all grown up now, kinda. After all these years, we're still the best of friends and while we don't really talk about boys and tans, we do talk about clothes, makeup and we brag on our grandkids.
Lately, we've been talking about her upcoming wedding. She's been divorced for years and we're beyond excited as she starts a new chapter in her life journey.
Oh, yeah, we talk about food a lot, too. Linda has been telling me about her awesome Sweet & Spicy Mango Salsa that she's been piling on top of grilled salmon AND grilled chicken. She finally sent me the recipe so I could share it with you!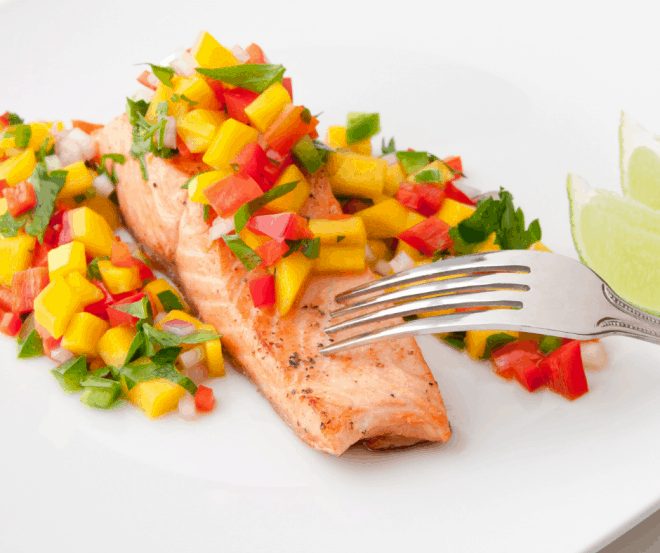 Linda's Sweet and Spicy Mango Salsa
This homemade salsa is ready in just a few minutes. Just mix all the ingredients together and you're good to go.
How to Tell If a Mango Is Ripe
Texture – A ripe mango will give slightly when lightly squeezed. An unripe mango will be hard and an overripe mango will be mushy and wrinkled.
Smell – Oftentimes, a ripe mango will usually have a sweet aroma near the stem end. That's a good thing. Avoid mangos with a sour smell.
When it comes to Mangos, you can't go by color because different varieties will be red, yellow or green.
How to Cube a Fresh Mango
The easiest way to cube a fresh mango is with a mango slicer.


If you don't have a slicer, you can do the old fashioned way like me.
There's a big pit in the middle of the mango so slice the mango vertically on either side of the pit. Stay as close to the pit as possible. Score the fruit, being careful not to cut through the peel. Flip the peel back and remove the scored fruit.
Yield: 4 Servings
Sweet and Spicy Mango Salsa
Sweet and Spicy Mango Salsa is easy to make and makes a great topping for salmon or chicken. Mango salsa pairs perfectly with tortilla chips.
Ingredients
1 small red onion, finely chopped
1 small red pepper, seeded and diced
2 teaspoons grated ginger
1 firm mango, peeled and cut into 1/2" cubes
1 red chile, seeded and diced
1 clove garlic, crushed
2 teaspoons sesame oil
2 teaspoons olive oil
Juice of 1 lime
1 Tablespoon shredded mint
Instructions
Place all ingredients in a bowl and stir to combine. Store in the refrigerator.
Nutrition Information
Yield
4
Serving Size
1
Amount Per Serving
Calories

129
Total Fat

5g
Saturated Fat

1g
Trans Fat

0g
Unsaturated Fat

4g
Cholesterol

0mg
Sodium

5mg
Carbohydrates

22g
Fiber

2g
Sugar

17g
Protein

2g
Mango has long been one of my favorite summertime flavors, so as soon as I received the recipe via text, I was off to the grocery store to stock up on the ingredients. Linda's right! It's delicious and also pairs nicely with baked tortilla chips.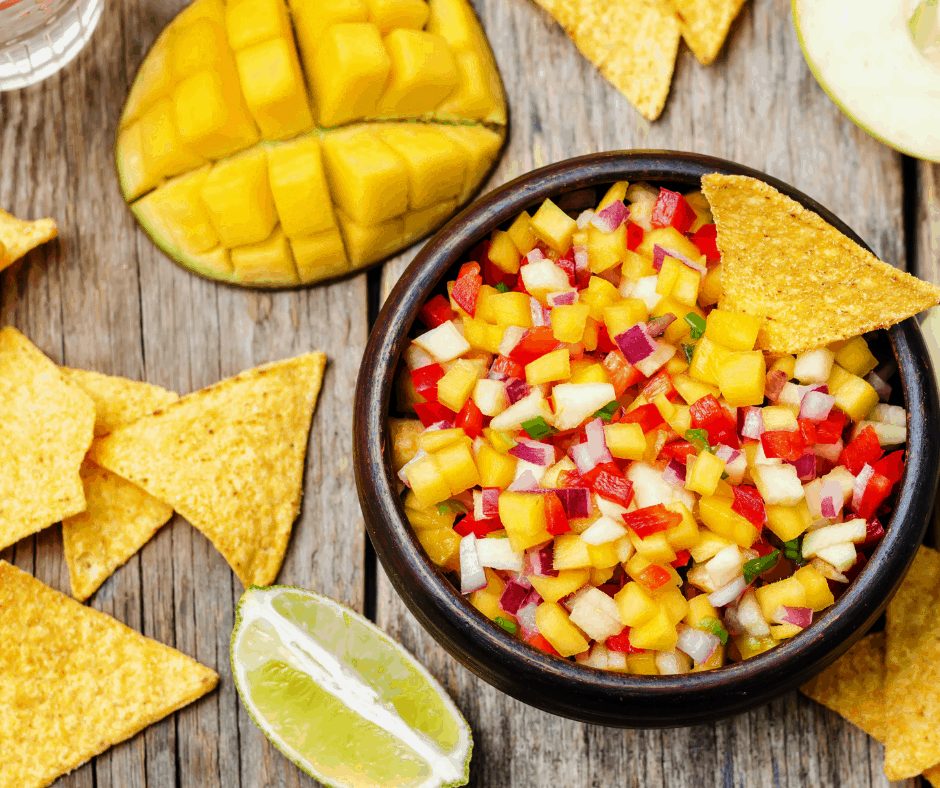 I can't get enough of this salsa! I made it again a few days ago and it was delicious as always!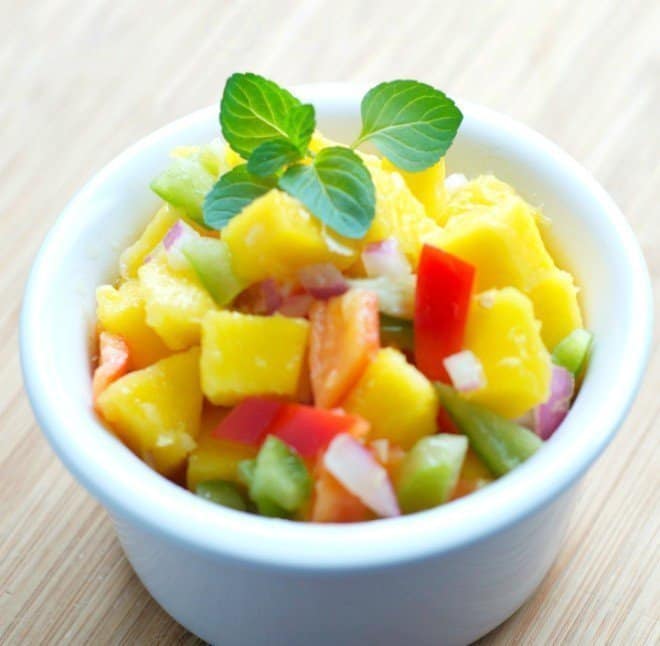 After making this Mango Salsa the first time, I realized that I'll have to double (or triple) this recipe because my family went crazy over this stuff. We eat way more than one serving each!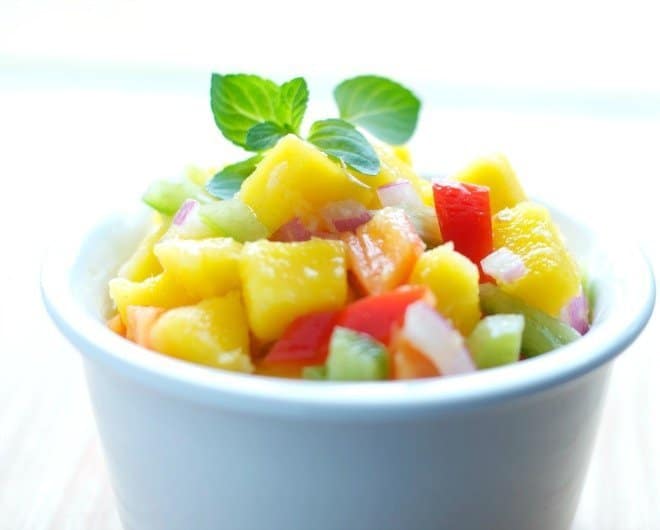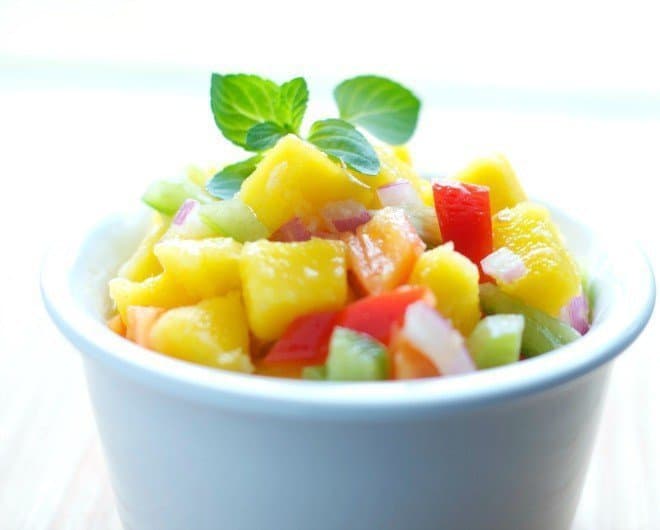 If you enjoy the taste of Mango, be sure and try my Mango-Peach Cupcakes and Mango Buttermilk Smoothie.
What's your favorite summertime flavor?