This shop, Lunch Ideas for Work, has been compensated by Collective Bias, Inc. and its advertiser. All opinions are mine alone. #NourishWhatMatters #CollectiveBias
Do you ever have a hard time coming up with lunch ideas for work?  I work from home and at one time I was pretty much eating a salad every single day.  Bor-ing!  Don't get me wrong, it was great for a while and then I started dreading lunch.  I guess it really is true that variety is the spice of life!
Because I didn't look forward to lunch, often times I would find myself staring into the fridge with a blank expression on my face wishing that something to eat for lunch would magically appear. Sometimes I would just work through the midday meal and that's not good, either.
Finally, I realized that enough was enough and I needed to shake things up a bit.  So I made a list of what I truly wanted for lunch.  You knew that was coming, right?  I'm the queen of list making!
Before heading to Target to stock up on lunch items, I listed my criteria:
Lunch needs to be options made with organic ingredients
Protein Packed Options
Full of Flavor
Easy to Prepare
With grocery list in hand, I headed straight to the frozen foods aisle and found a new, culinary-inspired LEAN CUISINE® MARKETPLACE Mushroom & Spring Pea Risotto.
Risotto for lunch? Yes, please! Lunch should be special, don't you think?  With so many Lean Cuisine options, I realized that lunch no longer had to be boring. Plus, at $2 each at Target, and a coupon for $1 off of 5, I saved money, too.
I decided to stop eating and working at the same time and to stop standing up and eating too fast. So I've set aside a lunch hour.
Lunch Ideas for Work
Here are a few more things I'm doing to make lunch special:
1. Step away from the workstation.
I've found that I work smarter after a nice lunch. Instead of the dreaded afternoon slump, I'm more alert. That means I have to step away from my workstation and take a break.
2. Create a simple, yet pretty, table setting.
I have a small table in front of a window in my great room. It's perfect for lunch for one (or two) and I can look out the window and see the beautiful sky and trees while I eat. No more paper plates for me.
3. Add a bowl of fruit or a veggie to complete the midday meal.
Strawberries and blueberries are my favorites, but apple wedges or a side of veggies are great options, too. Fruit and/or veggies pair perfecting with Lean Cuisine.
I also make sure I have my favorite beverage – sparkling water – with a slice of lemon for flavor and color.
Lunchtime is no longer boring. Yippee! I actually look forward to taking a break, looking out at the gorgeous view from my window and enjoying all the new innovations that Lean Cuisine offers, like higher protein, gluten-free, and organic options.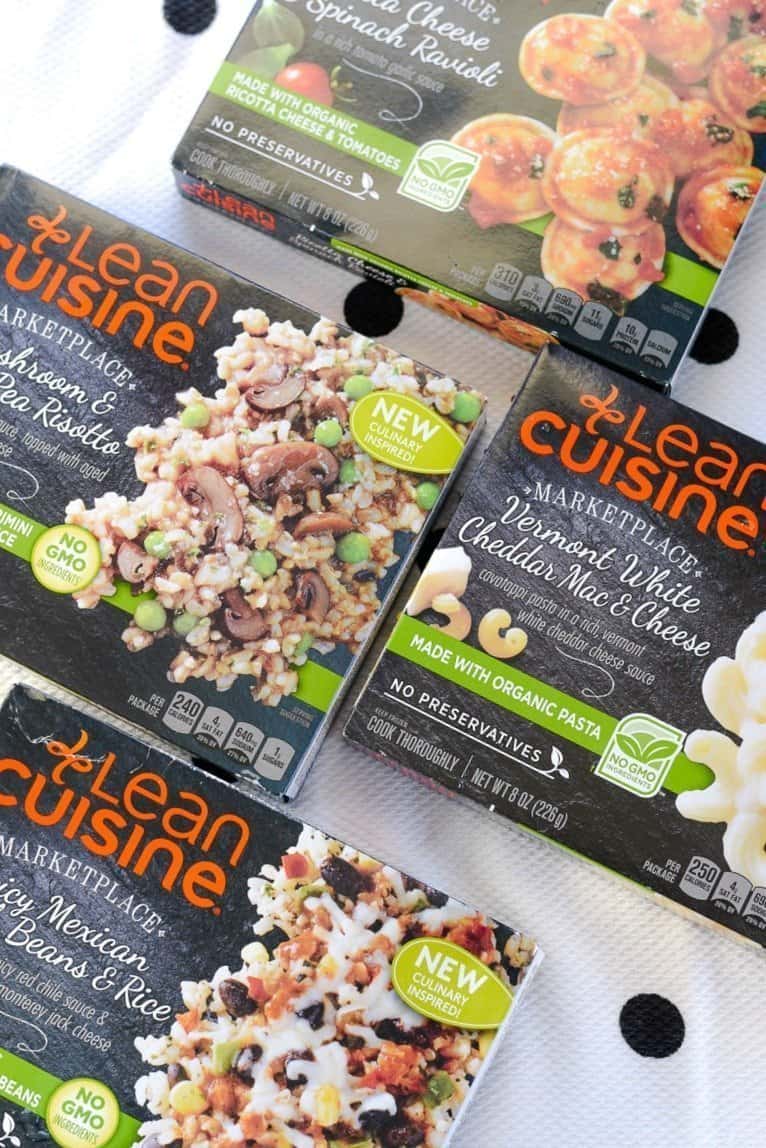 Here's another favorite of mine -LEAN CUISINE® MARKETPLACE Ricotta Cheese & Spinach Ravioli.
Which Lean Cuisine is your favorite?