MARVEL Avengers Dress-Up Viewing Party has been compensated by Collective Bias, Inc. and its advertiser. All opinions are mine alone. #AvengersUnite #CollectiveBias
Who loves MARVEL'S The Avengers: Age of Ultron?  I do!  My family hasn't missed a single Avengers movie and we all have our favorite superheroes.  Don't tell anyone, but mine is Black Widow because she's a girl and she's one tough cookie!  
To get caught up and to reacquaint myself with the previous Avenger movies,  I hosted a
MARVEL Avengers Dress-Up Viewing Party this past weekend!
It was a dark, rainy night – perfect weather for an Avengers movie marathon.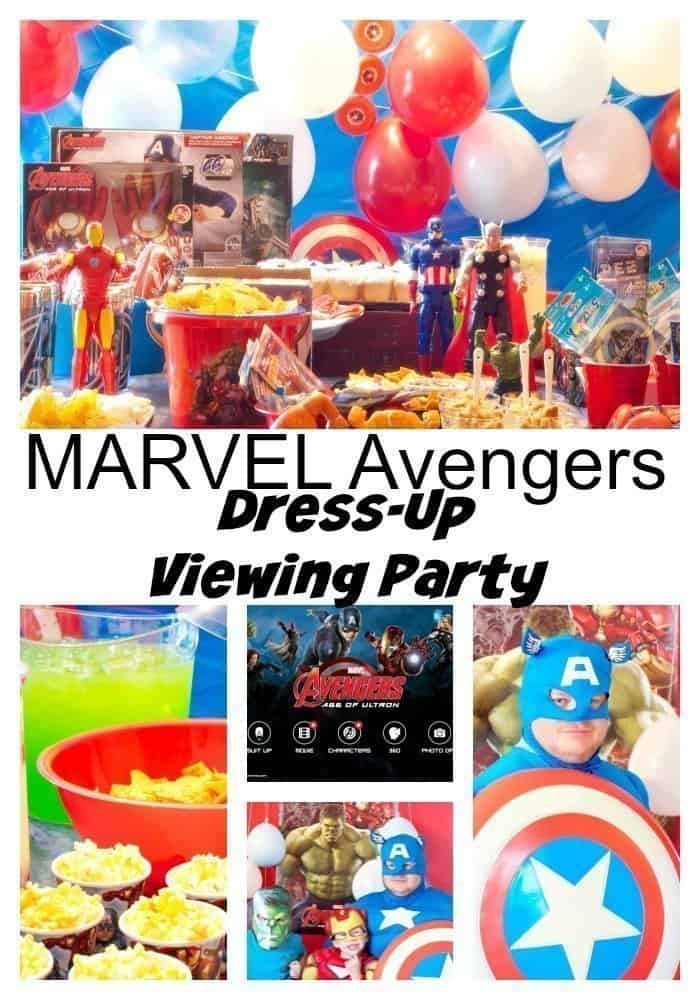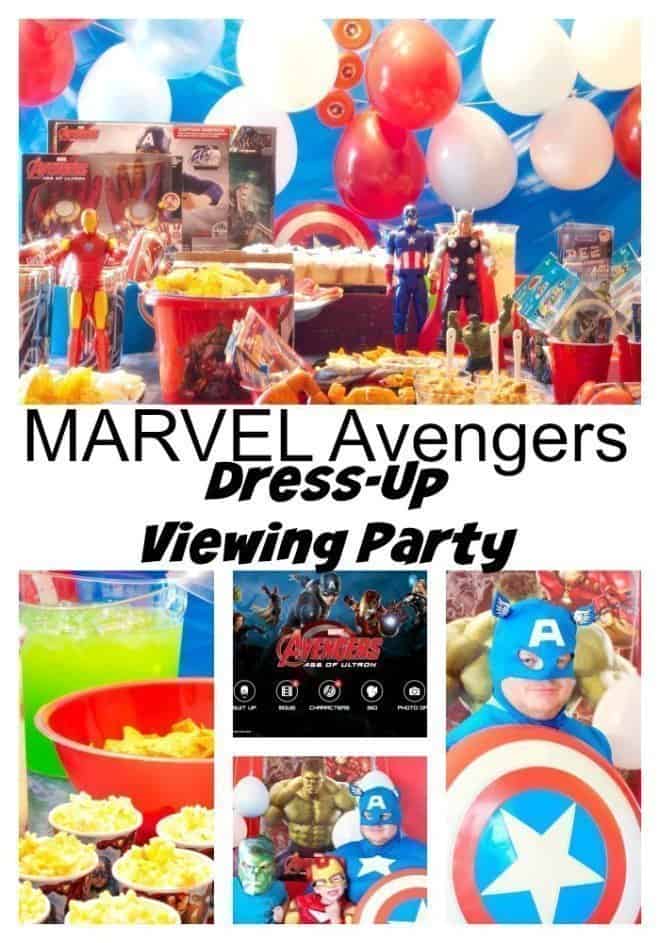 Just in case you don't remember the movies that came before MARVEL'S The Avengers: Age of Ultron, here you go!
Iron Man 1, 2 & 3
Captain America 1 & 2
Thor 1 & 2
The Incredible Hulk
The Avengers
Sometimes planning a party can be hard work, but I was excited to find every single item I needed for my Avengers Dress-Up Viewing Party at Walmart!  Not having to run all over town was such a relief! Be sure to check out the toy department, grocery area, party supplies, and the electronics.  I found the favors for the adults in the check-out area, but more about that later.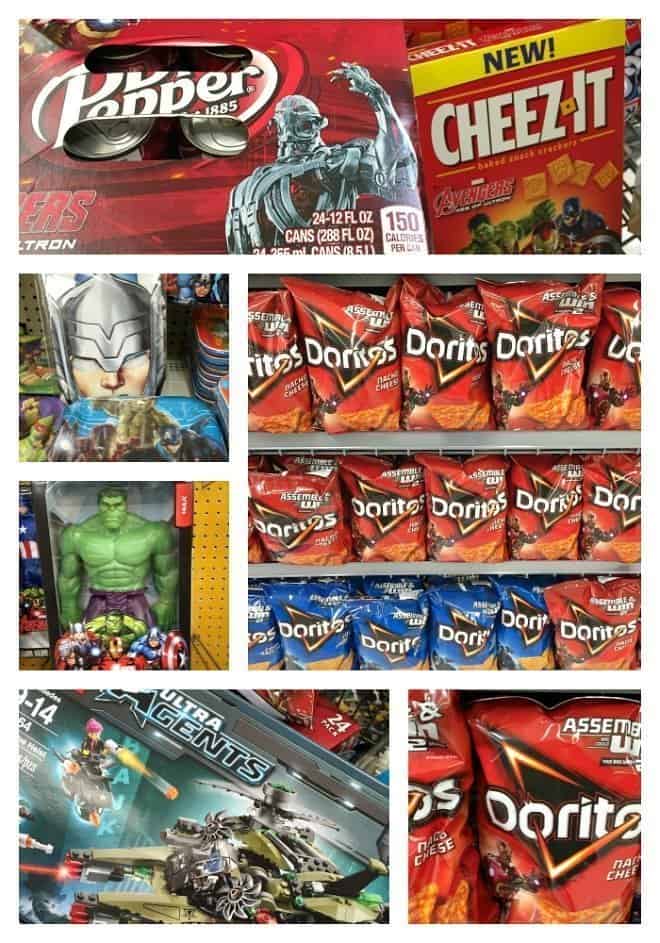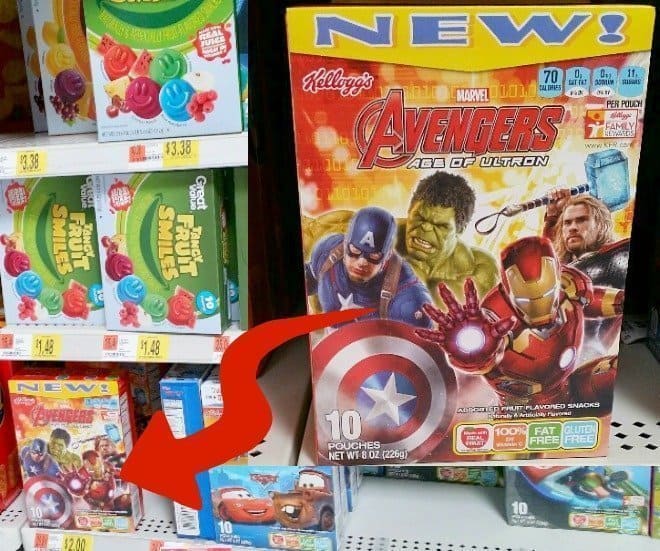 I had 2 food stations for the buffet and since my dress-up viewing party was casual, I made a balloon garland to add some texture and color to my backdrop.  You don't need helium for a balloon garland and it didn't take long to blow up the balloons.  I figured out how much twine I would need and how I wanted to space the balloons, then I tied the neck of the balloon with the twine, pulling one end of the twine all the way through each time.  The balloon garland added lots of color to the tablescape.
I planned my menu with The Avengers in mind.  Here's what I served:
"Pop"Arazzi Popcorn
Black Widow Blackberry Shortcake
Thor's Cupcapes
Avengers Cheez-It Antipasto Platter
Captain America PB&J Stars
Sugar Cookie Shields
Thor's Hammer (watermelon cubes with colorful picks)
Smashing Pistachio Pudding Parfait
Incredible Hulk Punch
Tony Stark's Wheels (mini powdered doughnuts)
The Avengers edition Doritos, Cherry Dr. Pepper & Fruit Snacks
Here are a few close-ups of the food!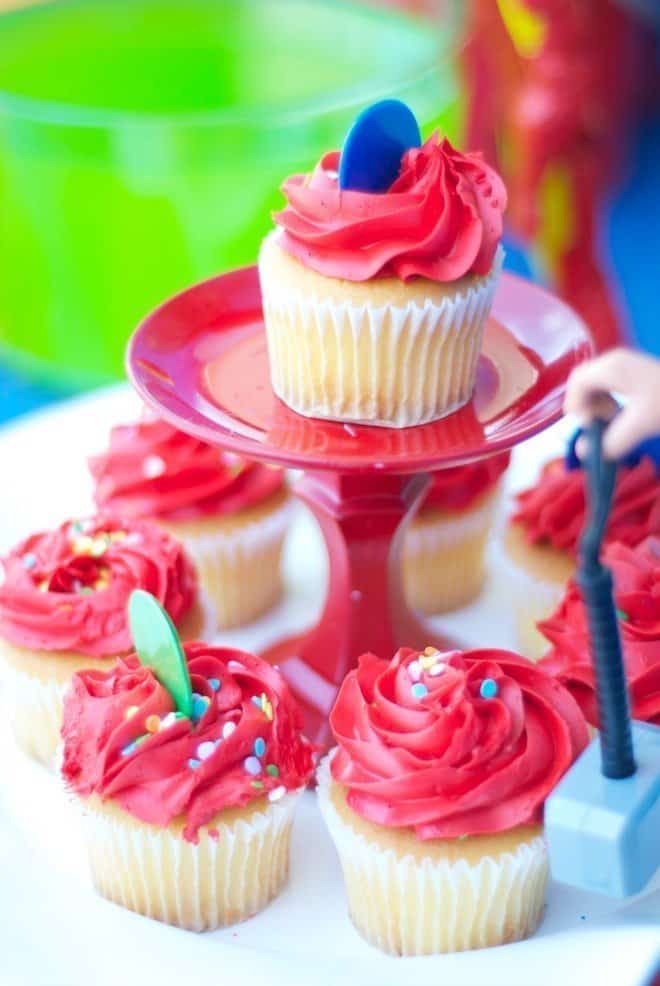 Smashing Pistachio Pudding
My easy Smashing Pistachio Pudding representing The Hulk was the hit of the night!  Who knew something so simple to make would be the favorite?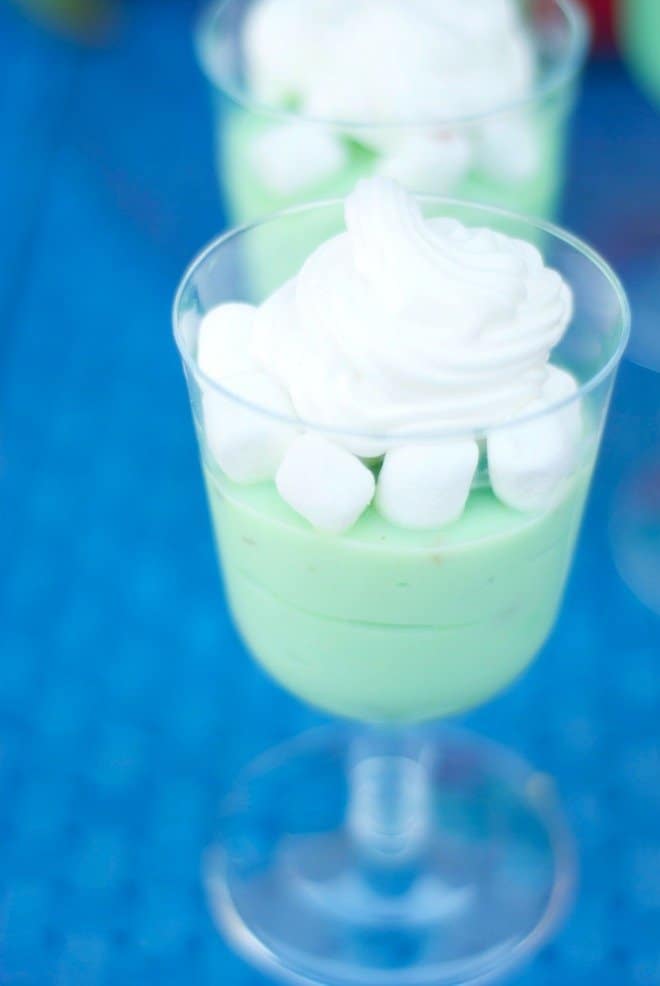 Smashing Pistachio Pudding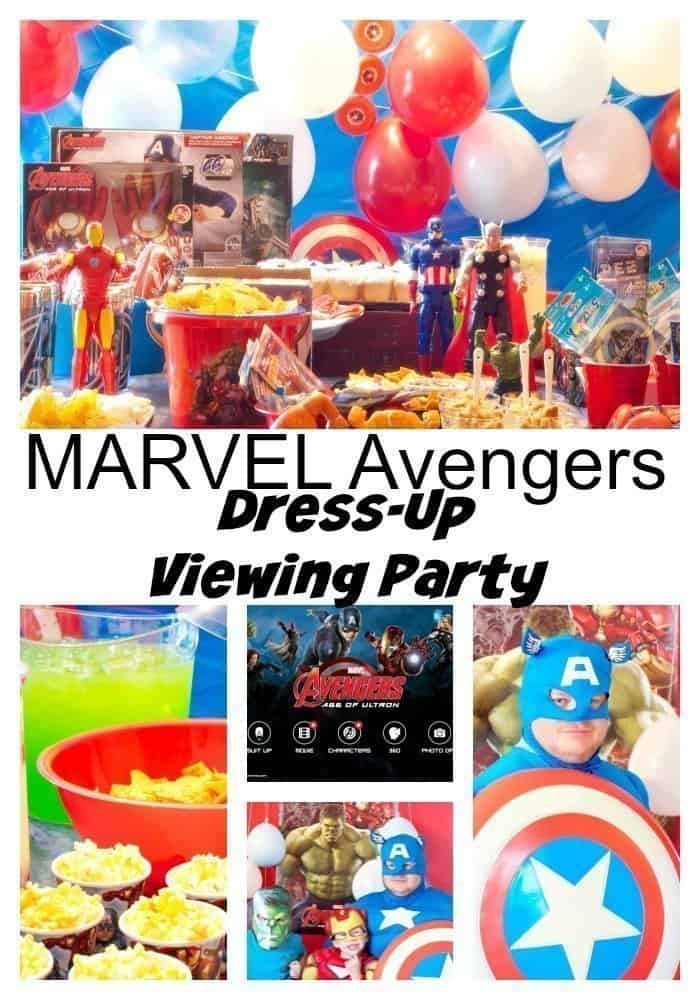 Ingredients
2 packages instant pistachio pudding mix (3.4 oz. each)
Milk
Mini marshmallows
Frozen whipped topping, thawed
Instructions
Combine the pistachio pudding mix and milk according to the package directions for pudding.
Spoon pudding into individual glasses.
Top with mini marshmallows and whipped topping.
Store in refrigerator until time to serve.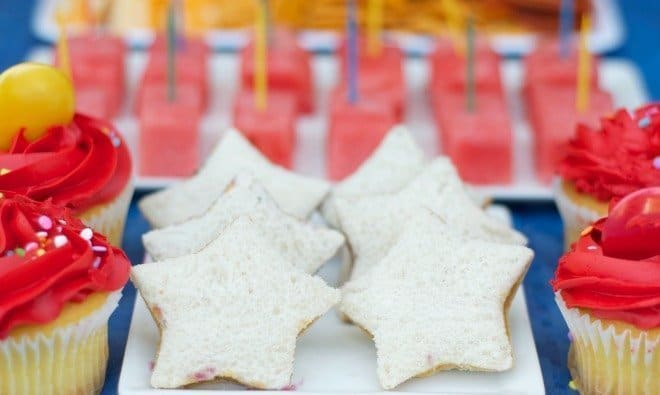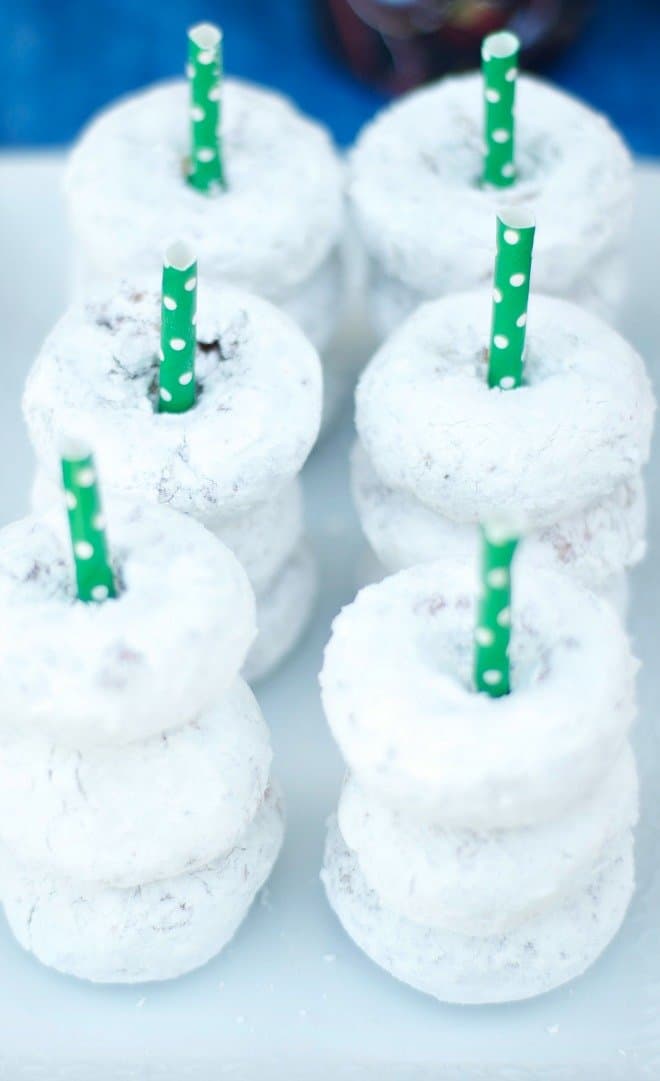 DIY Photo Booth
As my guests arrived, they were encouraged to whip out their camera phones and snap a few photos at my make-shift photo booth.  I taped a poster to the wall and added a few props, including The Hulk Smash Hands Fists, Iron Man's Laser Gloves, Captain America's Shield and assorted Avenger masks.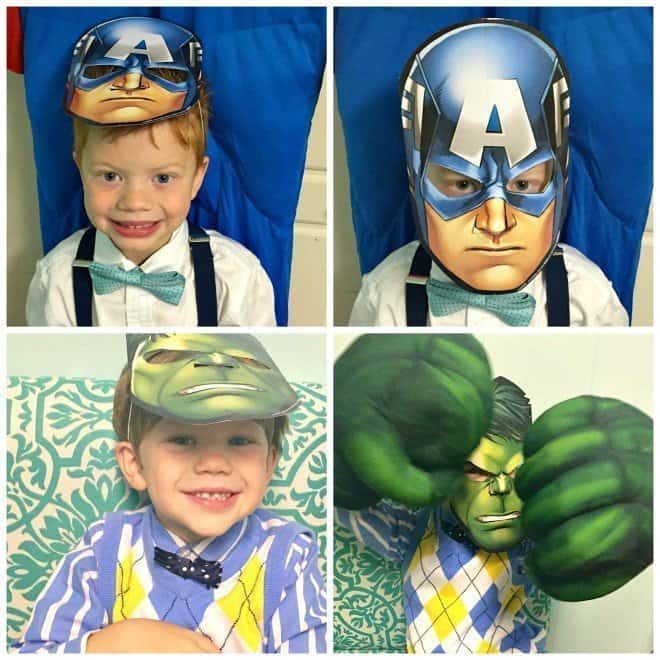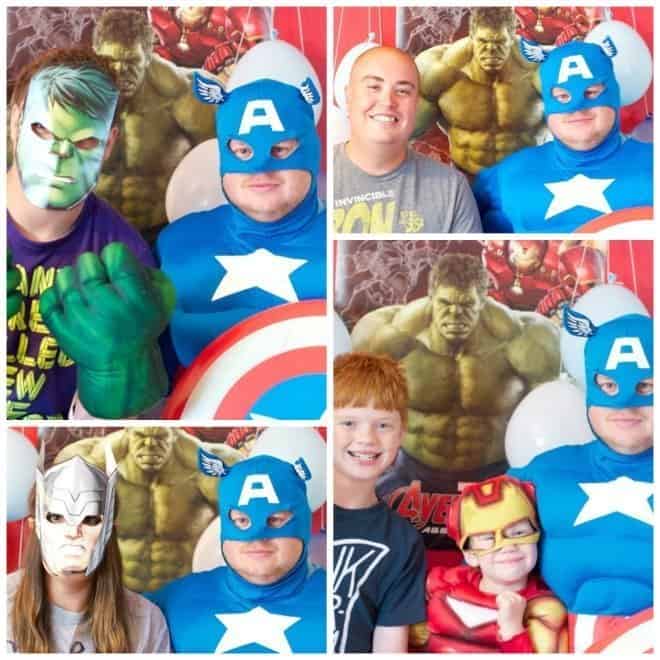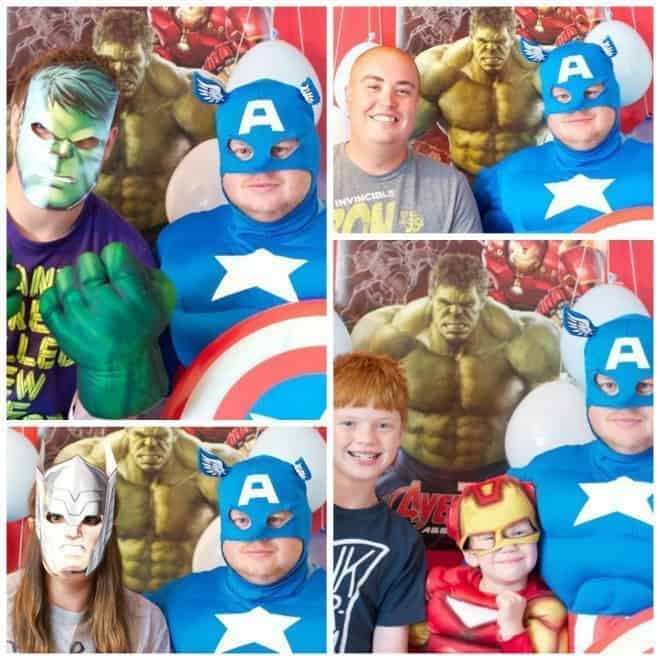 Once everyone had a plate of food, we made our way into the great room and settled in to watch The Avengers.  I had plenty of seating, but most of the kids preferred the floor.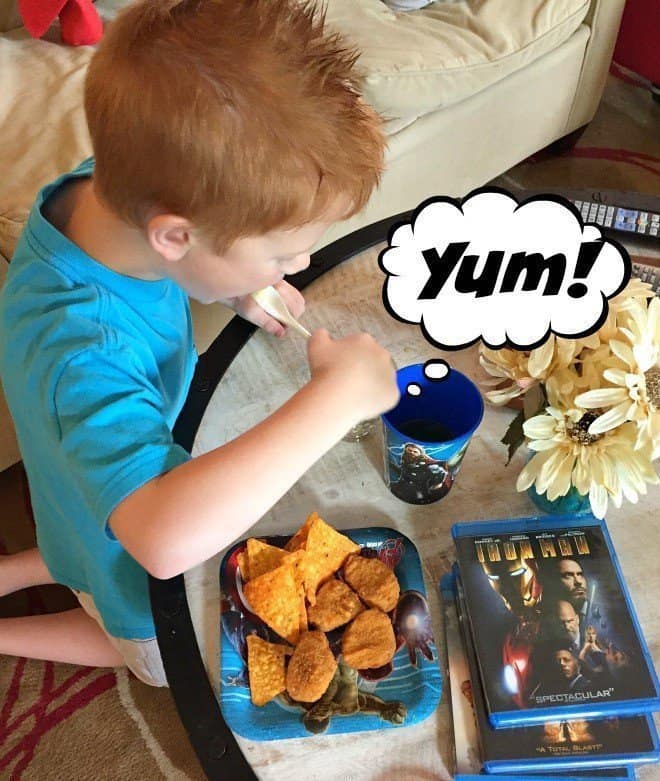 Besides watching the movie, I had an Avengers Lego building area.  The younger kids really enjoyed putting the Lego's together and pretending they were part of the movie.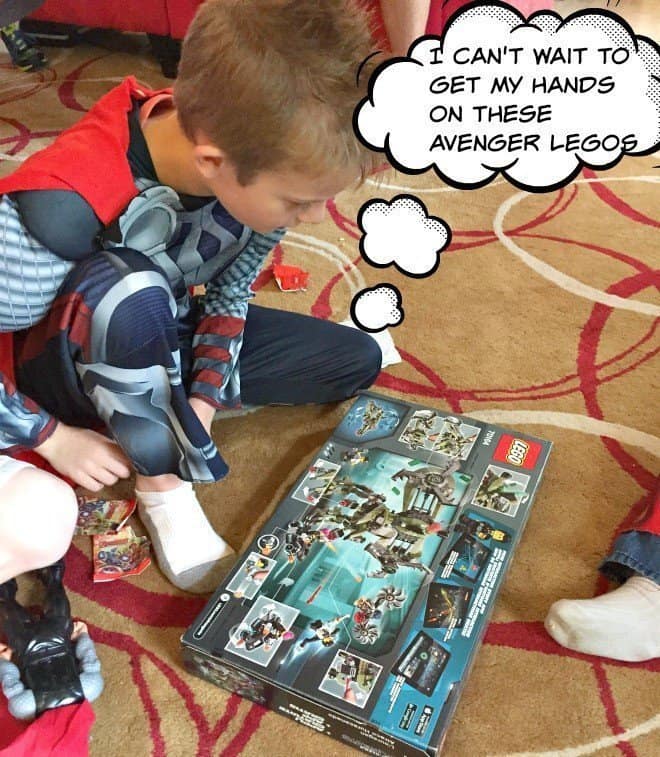 To make the night even more interesting, I awarded door prizes (Avenger movie DVD's and toys) throughout the evening.  It was a joy to watch the faces light up (kids & adults!) when prizes were won.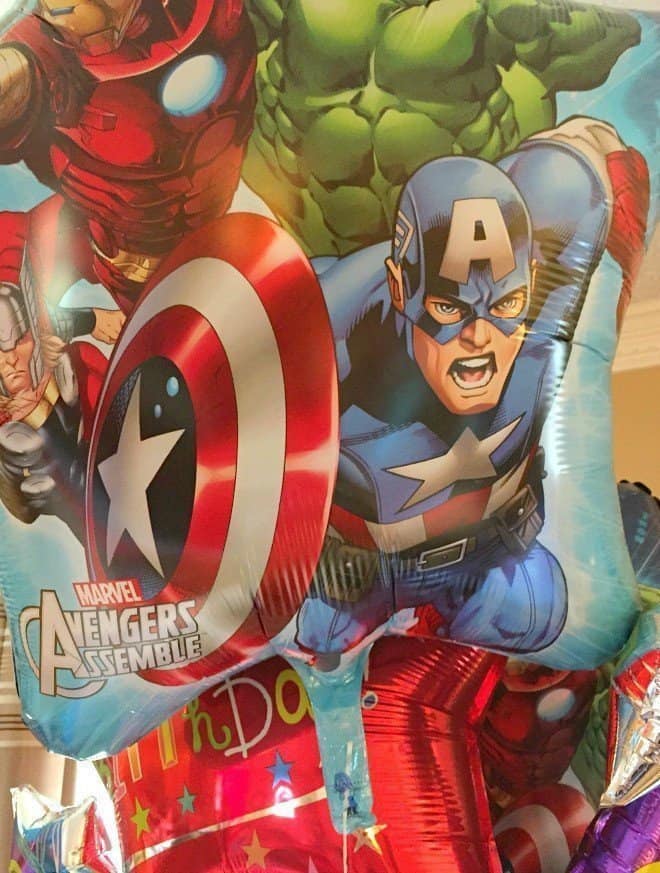 Party Favors
After an evening of fun, the adults went home with The Avengers travel coffee mugs and the children left with plastic cups filled to the brim with all things Avengers.  The adults were as excited as the kids when they realized they had a take-home favor, too! As one family was walking out the door, I overheard a little boy say, "Can we do this every week?"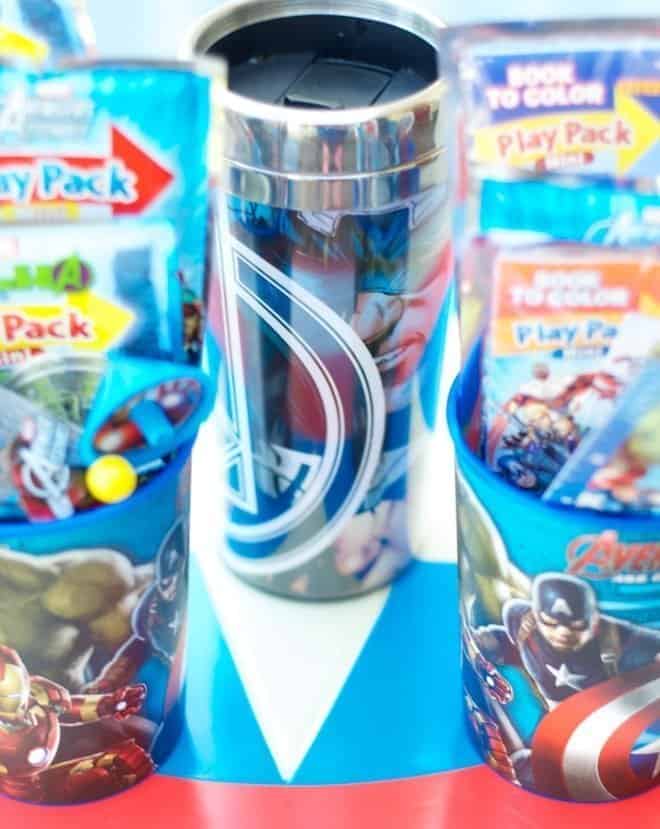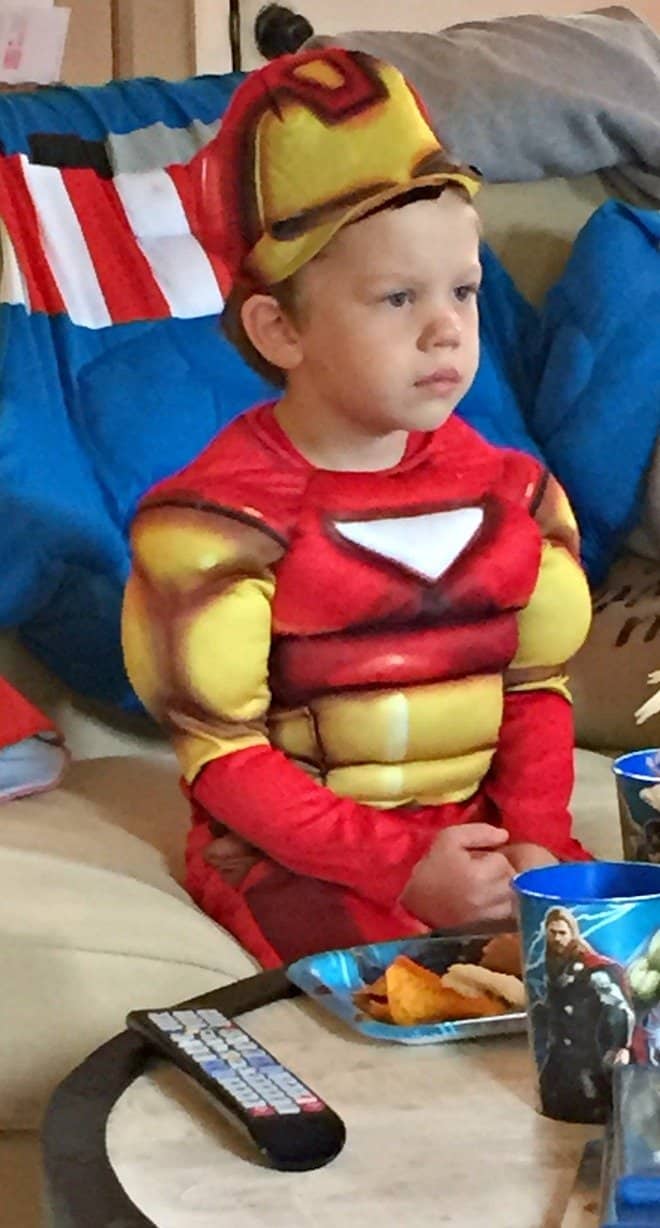 Signs of a Good Party
The Avenger movies were a big hit  √
The food disappeared √
The guests left entertained  and with big smiles on their faces √
Everyone is anxiously awaiting MARVEL'S The Avengers: Age of Ultron √
Have you downloaded the free Super Heroes Assemble app from iTunes or Google Play store? Here's a screenshot of mine.
Everyone had such a good time at my party. How are you planning to celebrate the new release of MARVEL'S The Avengers: Age of Ultron?