I've fallen in love with Mr. Grouper's Restaurant and Catering in Providenciales (Provo) Turks and Caicos. It's where the locals dine.
Actually, Mr. Grouper's delivers (dinner only) to Alexandra Resort (read the review here) and it's right up the street from our resort.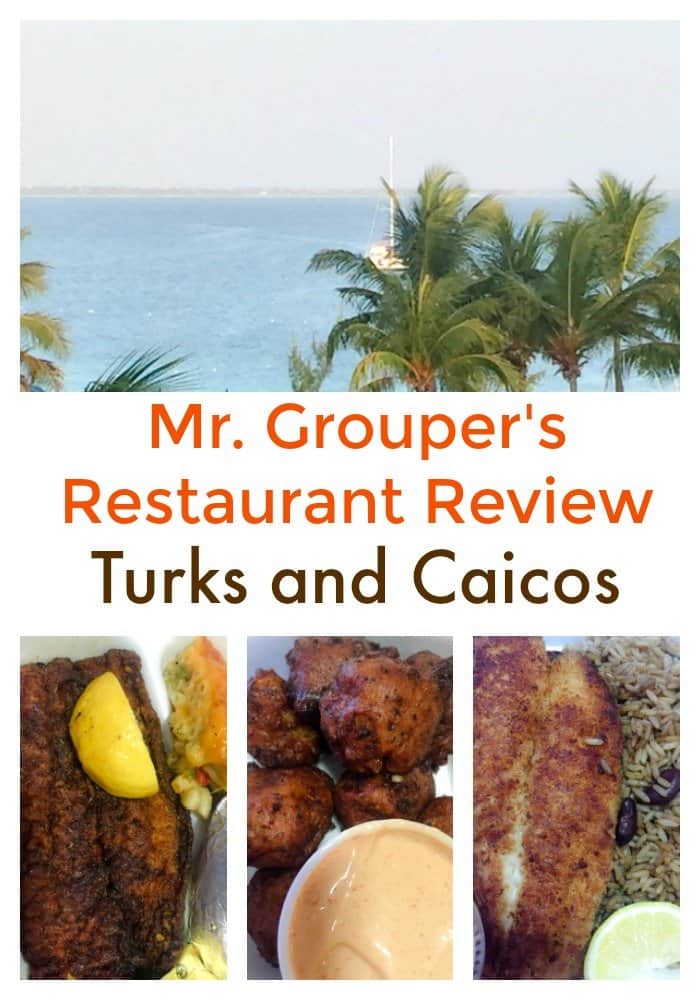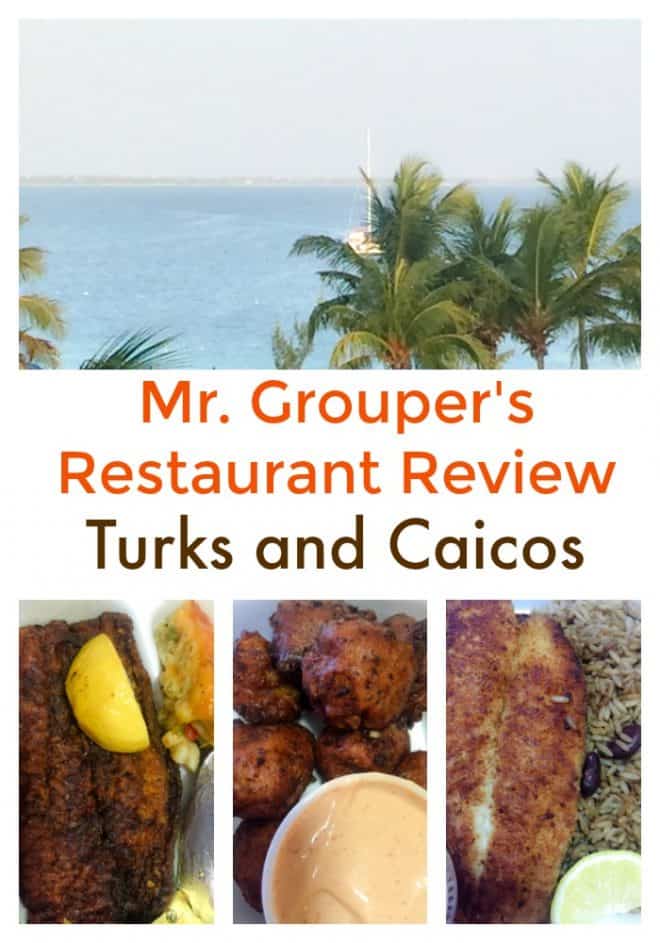 I just can't get enough of Mr. Grouper's Coconut Crusted Grouper with Mango Chutney Sauce. I've got to figure out the recipe and make it when I get home. I wonder if I can talk the owner into giving me his recipe. I'll try.
Mr. Grouper's serves Caribbean, Cajun/Creole, American and Italian food. From burgers to lobster and everything in between, all I can say is you've got to eat there if you're ever in Provo.
Fried Plantains is a big fave of mine. Mr. Grouper's knows how to do it. And instead of rice and beans, it's rice and peas here in Turks and Caicos. And they are delicious too.
My favorite appetizer at Mr. Grouper's is Turks Conch Fritters. Conch is pronounced konk and is a tropical marine mollusk in that big, beautiful spiral shell.  The conch fritters reminds me of a cross between a crab cake and a hushpuppy. Fresh conch is mixed with onion, garlic, bell pepper, celery and cilantro and deep fried, baby. The fritters are served with a spicy mayo and cocktail sauce. Yum.
My husband's favorite is the Jerk Chicken and the Blackened Grouper. The baked potato and coleslaw are delicious, too.
If you go, get the mac and cheese. I thought my daughter made the best mac and cheese in the world.  Sorry, Rebekah! You've got some competition out there.
More about Mr. Grouper's
Mr. Grouper's is open 10:00 – 10:30 pm Monday-Saturday and on Sunday's from 3:00 pm – 11:00 pm.
The prices are very reasonable when compared to other restaurants in the area. My Coconut Crusted Grouper with peas & rice and fried plantains is $21.00 and it's a large portion.
The whole fried grouper is $18.00 and all the seafood served at Mr. Grouper's is caught locally.
Regretfully, it's not lobster season, or I would have tried the Cracked Lobster Burger. Lobster season in Provo is August 1 – March 31. Looks like I'll have to come back then.
If you're ever in Provo, a visit to Mr. Grouper's is a must. It's voted the #3 restaurant on the island. It's #1 in my book. It's that good.
For more about Turks and Caicos, check out this review of Alexandra Resort.
Here's a review of Asú on the Beach.