Fire and Ice is an upscale waterfront restaurant located at Blue Haven Resort in Providenciales, Turks and Caicos. It features a contemporary Mediterranean menu and a beautiful view.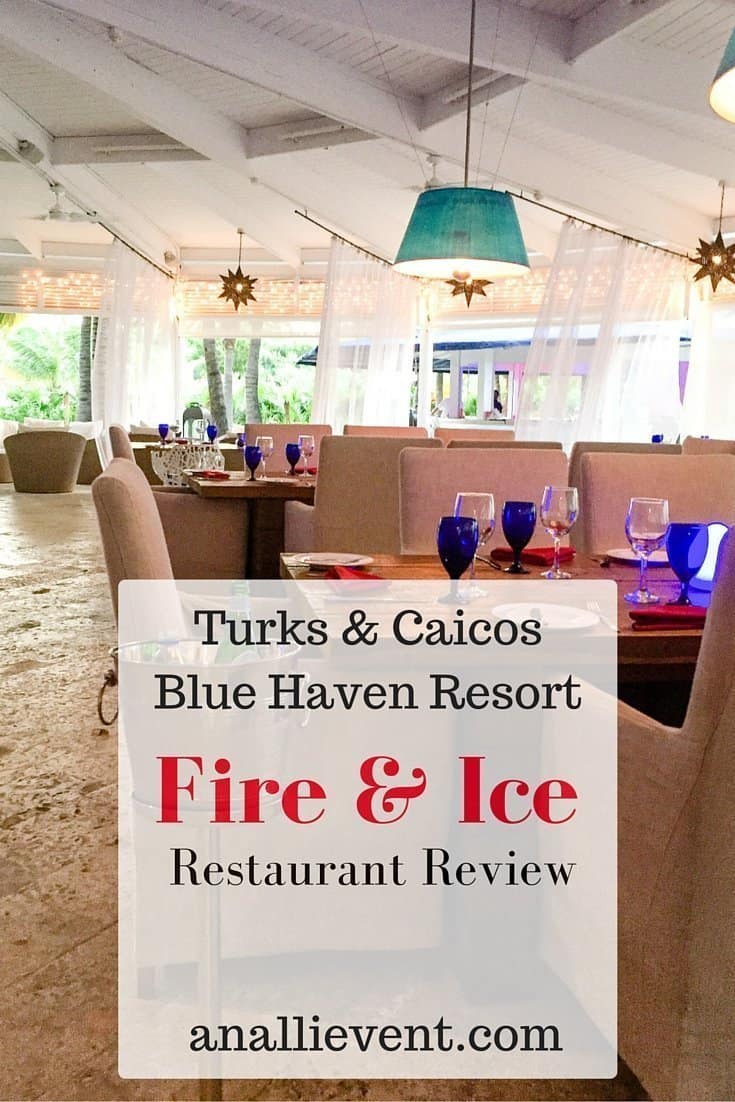 Popular dishes at Fire and Ice include cataplana, a three course meal that is meant to be shared with friends and family. The main course – seafood prepared in a copper pot – includes a generous selection of lobster, shrimp, mussels and fresh fish.
The ambiance at Fire and Ice is amazing. The trade winds are gently blowing the white gauzy curtains. The egg shaped lights on the table are funky. The salt and pepper shakers are cool too. Yes, I notice the little details.
Fire and Ice also offers tabletop charcoal grills. You have a choice of meats including wagyu beef flank steak, New Zealand lamb cutlets, mulard duck breast, and kurobuta pork tenderloin. The meats arrive at your table marinated and ready for you to grill. It also includes veggies and unlimited waffle fries.
We didn't go the BBQ route because I wasn't in the mood to cook my own dinner. And, we also didn't go with the cataplana option.
Fire and Ice Dining Experience
Just so you know, I like my bread served warm. The rolls are room temperature and weren't anything to write home about. The roasted garlic along side the rolls is delicious and I'm sure I smell like 10 gloves of garlic today. Maybe I'll have the beach all to myself.
My husband and I split an appetizer of Prawns with Horseradish and Cilantro Cocktail Sauce. The cocktail sauce is by far the best I've ever had. Don't tell anyone, but after the prawns were eaten, I used my lukewarm roll to sop up the remaining cocktail sauce.
What's the difference between a shrimp and a prawn?
Prawns and shrimp are decapod crustaceans and prawns are larger in size, and have larger legs with claws on three pairs. Shrimp are smaller, have shorter legs and have claws only on two pairs. I think shrimp and prawns taste the same.
After the bread and appetizer, we skipped over the soup and salad and went straight to the main event. I ordered the Wild Tiger Prawn Skewers flamed with rum with wild rice, asparagus and melted flavored butter.
The prawns are delicious, but I couldn't taste the rum flavor nor would I have guessed the prawns were flamed. They were perfectly cooked and tasted like grilled shrimp – I mean prawns.
The rice? It's just OK. My husband's rice had a better flavor.
My two spears of asparagus were tasty. I like asparagus with a crunch and it has the crunch.
My husband had the Grilled Seafood Parillada. It includes 1/2 of a giant tiger prawn, scallops, mussels, prawns, fish, rice and grilled vegetables. We couldn't find any grilled vegetables and finally decided that the tiny bits of carrots mixed in with the rice must be the veggies.
Final Thoughts about Fire and Ice
Due to being well sated, there is no room for dessert. I'll have to leave dessert for the next time we visit.
Finally, food is expensive on Turks and Caicos. Fire and Ice is considered elegant dining and is more expensive than most restaurants here. When all is said and done, I give Fire and Ice four out of five stars. My husband gives it 3-1/2 out of five.