My youngest daughter's wedding day is mere weeks away and our church recently hosted a navy and blush nautical themed bridal shower for her and her husband-to-be.
Since I'm the official decorator at our church, I was especially thrilled to be able to decorate for my daughter's shower. There was no way I was going to turn the decor over to amateurs. (Just kidding, kinda)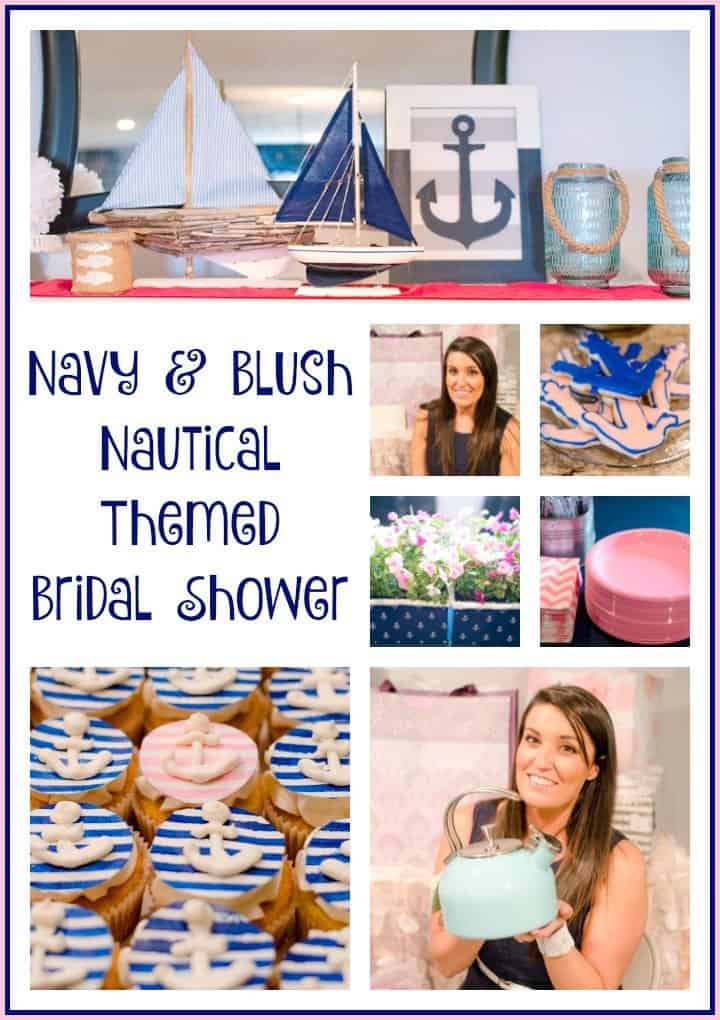 As you probably know by now, Caitlin's getting married on a yacht in Charleston, SC. She chose a nautical theme, but didn't want to go overboard (pun intended) with the nautical stuff.
Helpful Hint:  When choosing a theme for any party, there's a fine line between terrific and tacky.
Navy and blush are the dominating colors for my daughter's wedding, so my trusty sidekick, Darlene, and I kept that in mind when decorating. And because I'm always on a budget, I try to purchase decor that can be reused or repurposed.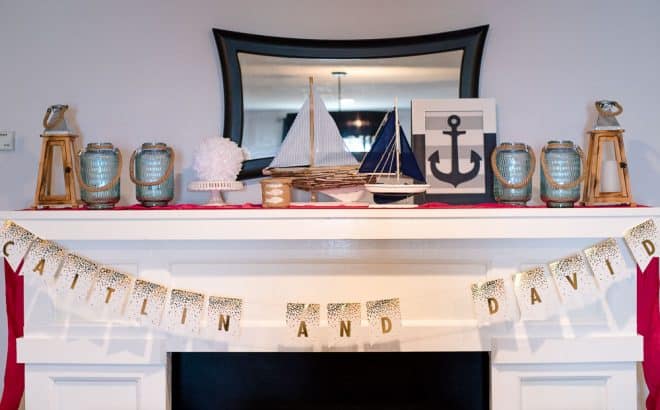 Darlene was my secretary for years and she's the type person who goes beyond the call of duty – in friendship and in her work ethics. She ironed all the tablecloths for the nautical themed bridal shower and freed up my time to do what I love best – decorate.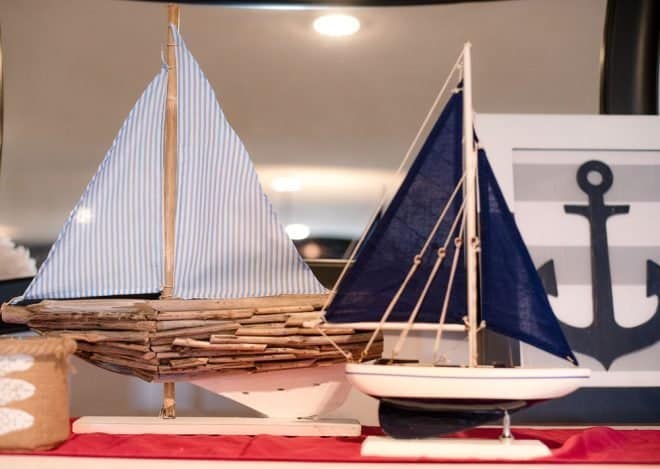 A few years ago my son-in-law built a faux fireplace to jazz up our fellowship hall a bit. I love our church kitchen/fellowship hall because I designed it and it came out so pretty. That sounds a little cocky, doesn't it? I meant to say that I put loads of love into it and just about everyone who visits thinks it was professionally designed. No, just little ole' me. 🙂
Anyway, I needed more places to decorate, so we have a huge mantle.  Most of the decor came from Marshall's, T. J. Maxx and my home.
The lighting was not the best for photography purposes. Sometimes you have to go with what you've got.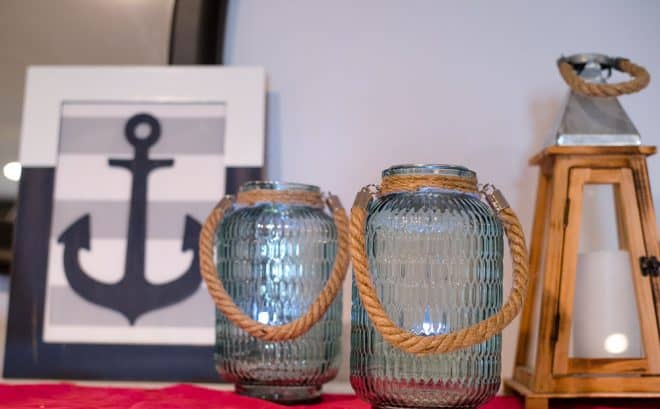 For the food table centerpieces, I wanted to incorporate the navy/blush theme without taking up too much space. You have to leave ample room for the food when you've got a crowd.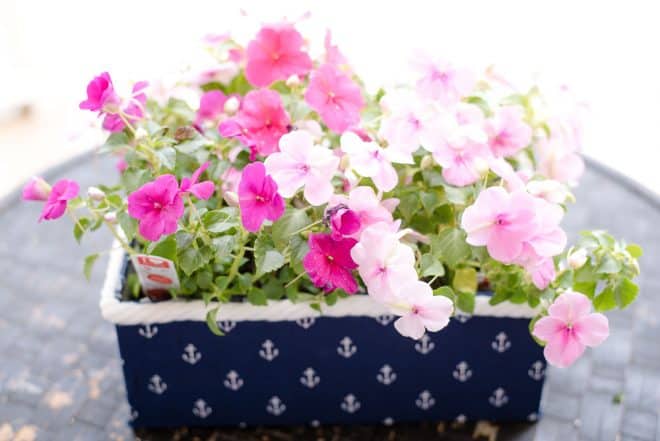 I bought a flat of pink Impatiens and covered boxes with navy and white nautical fabric using Mod Podge.  I measured the fabric with the box and made sure I allowed for a little overhang. Then I brushed each section with Mod Podge and attached the fabric. It didn't take long at all.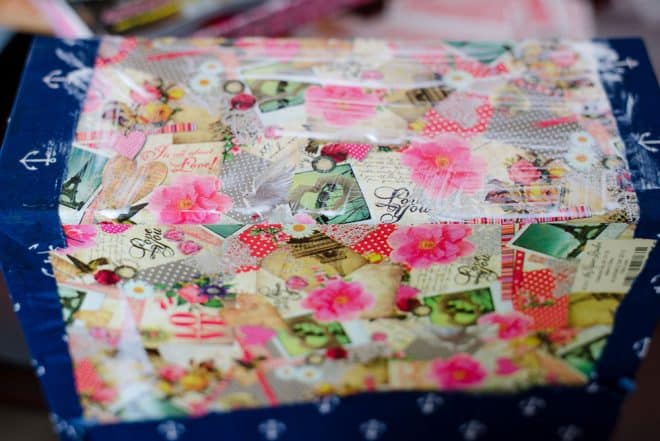 I hot glued white roping around the top and each box holds six small flower pots. You can also use shoeboxes. I had some boxes left over from Valentine's Day, so that's what I used.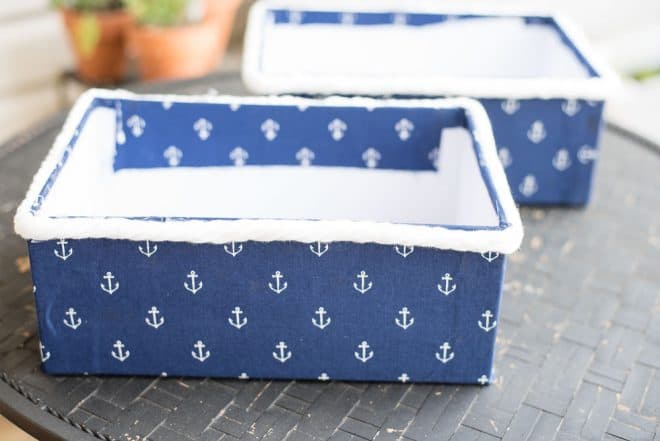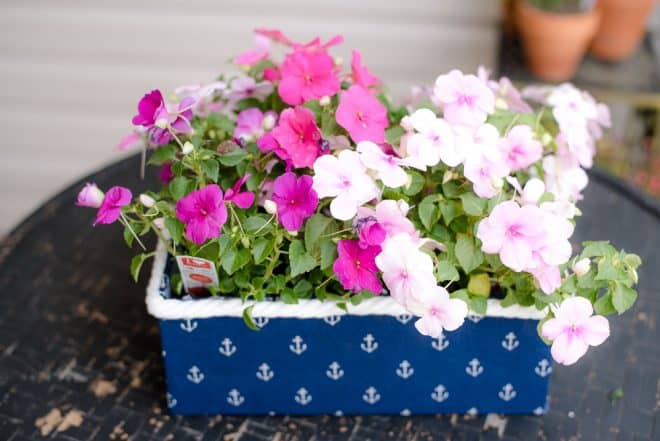 Helpful Hint:  After the shower, these flowers will be planted in a shaded area of my flower garden. This was an almost no-cost centerpiece and can be used for any theme. The fabric and flowers were the only thing I had to purchase and they didn't cost much at all.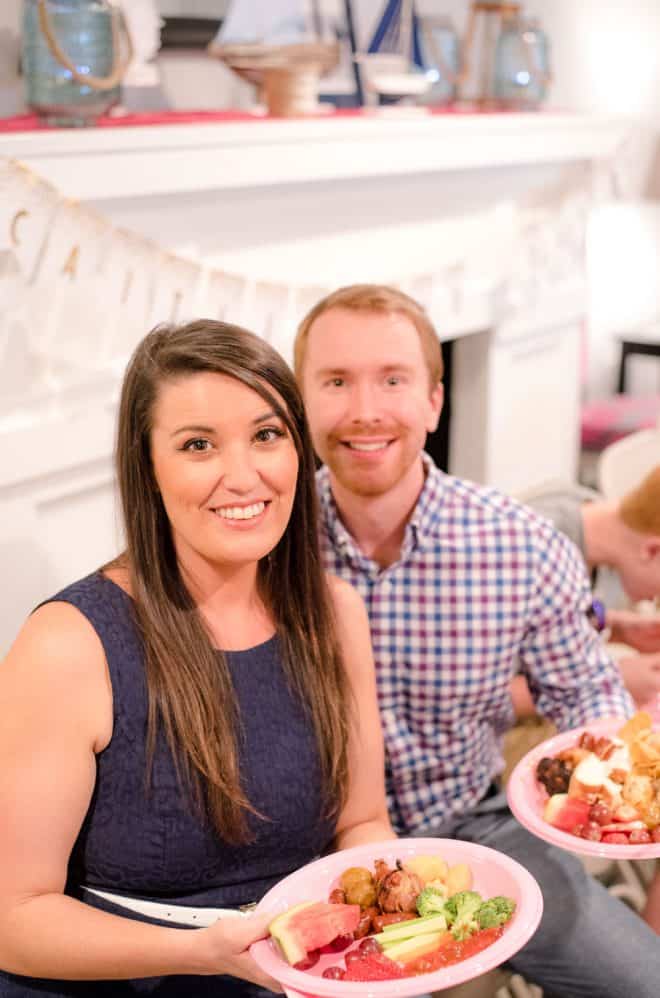 My favorite of all the decor is the blush pedal tablecloth for the gift table. I ordered it from Linen Tablecloth. It didn't have to be ironed and I fell in love the moment I placed it on the table. I'm already trying to think of an event where I can use it again. It would be pretty at a baby shower too.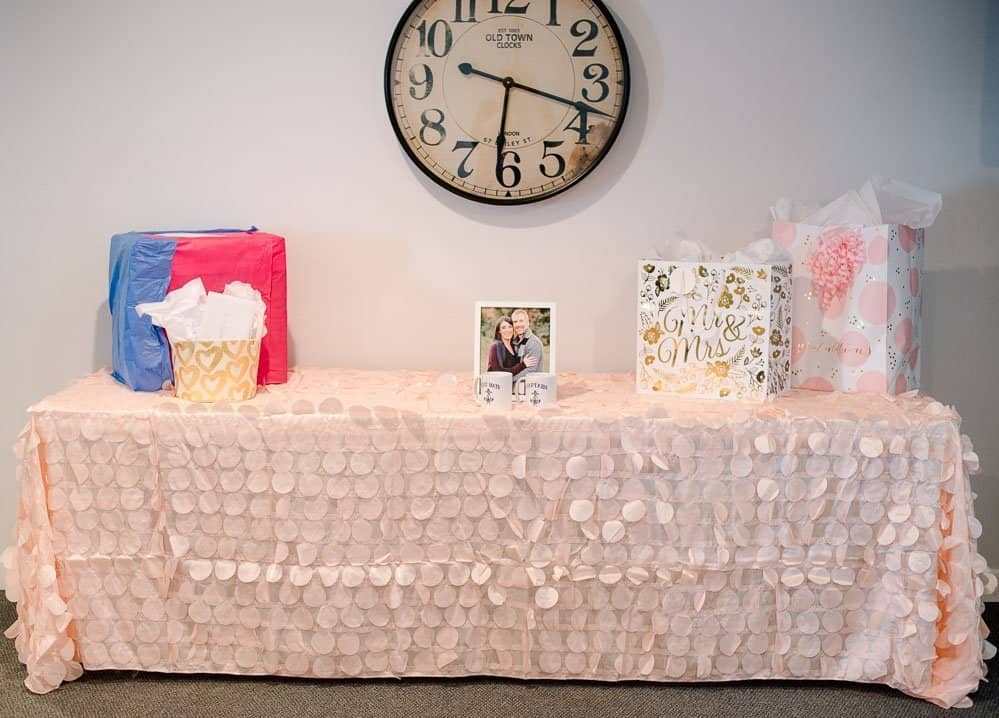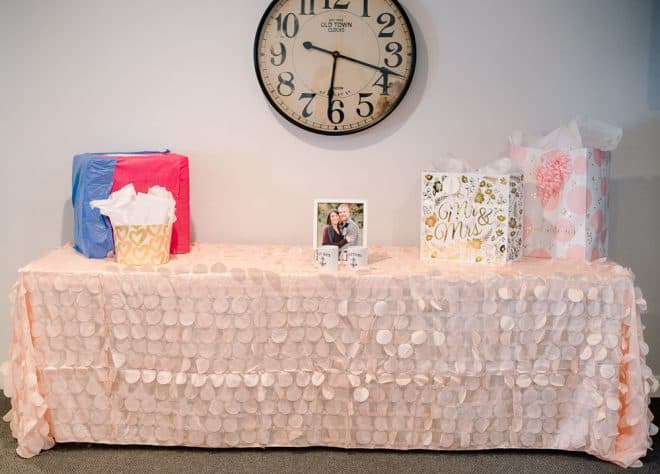 I had a bright idea to make cutout sugar cookies using anchor and heart cookie cutters I had on hand. Sugar cookies and I hated each other until I found the best sugar cookie recipe ever and this icing.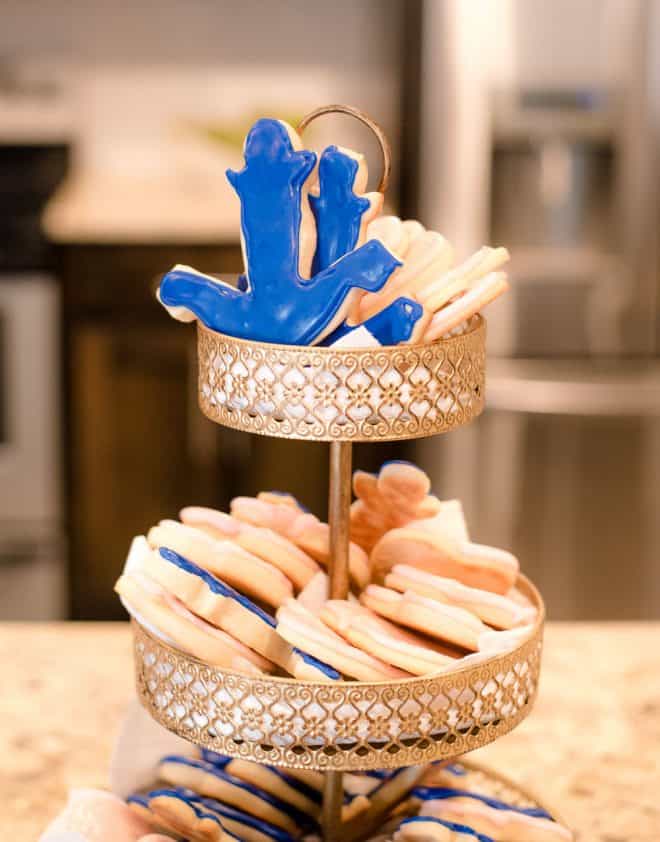 I learned a few things during my all-day-long-never-ending sugar cookie baking marathon.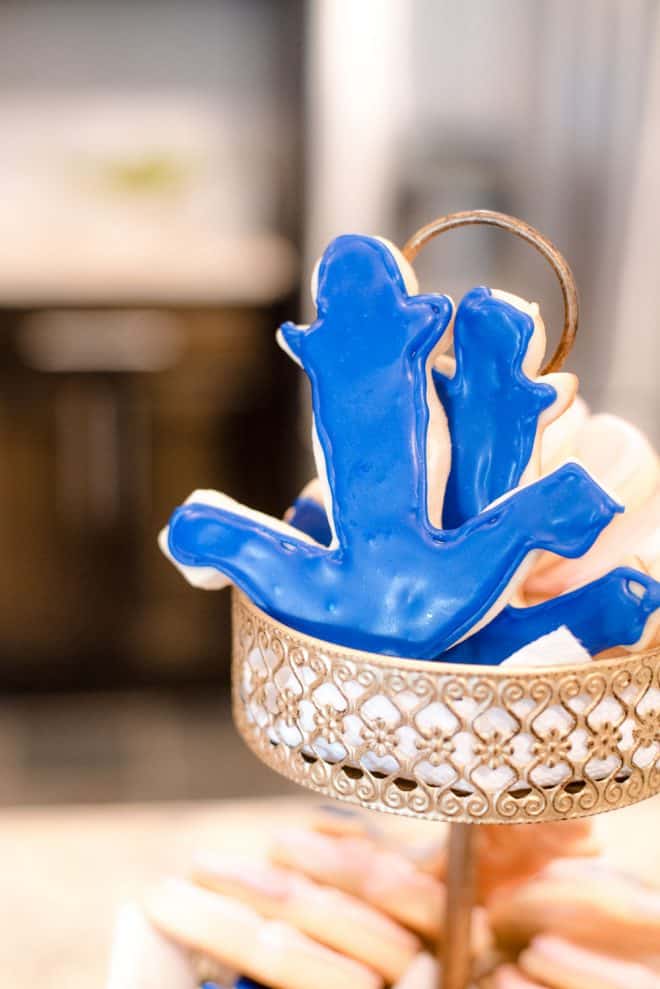 I now know why professionally iced sugar cookies are so expensive. It's WORK! I vow to never complain about how much decorated cookies cost.
I will never, ever, ever be a professional cookie decorator. But they were good enough and everyone loved them!
It takes FOREVER.
You have to let the butter and cream cheese come to room temp. Then you mix up the dough, let it rest in the fridge for one hour. Let it rest at room temp. for a few minutes because the dough is too hard to roll out. Roll and cut and re-roll and cut and bake and repeat over and over and over.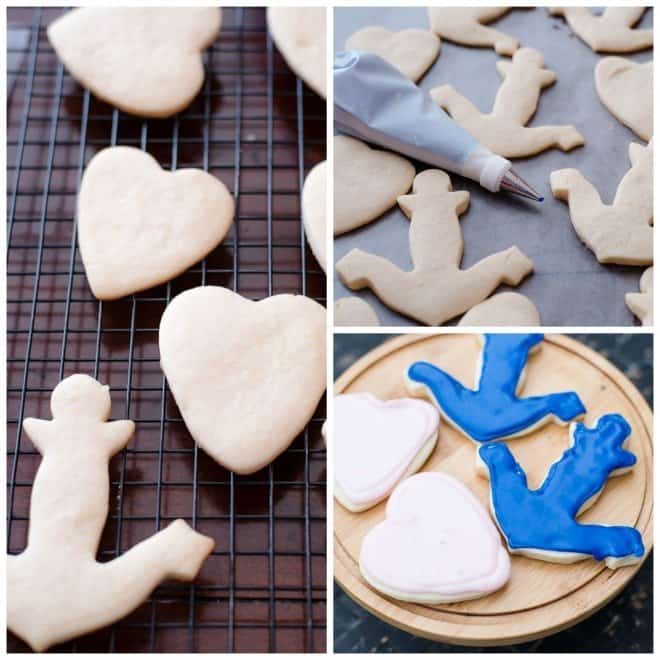 Then the cookies have to be completely cooled before icing them. Then you have to stop and go to a grandkid's baseball game and eat fries with ketchup because you asked for boiled peanuts and they didn't have any so your skinny son brings you back a large order of fries with a huge pile of ketchup on the side and you can't hurt his feelings.
Oh, and you have to make the icing, divide the icing, color the icing. Will I ever get this navy food coloring off my fingers? I have to admit the blush part was easy. One drop of red food coloring in half a recipe of icing equals a beautiful blush.
You should have seen my kitchen when I was done! There was navy food coloring on my glass tile backsplash. How in the world did that happen? Yes, I have a few bubbles. Pricking them with a toothpick did not work, thank you very much. But they are homemade with love. And that's that.
I have to add one more thing. The cookie dough was the best sugar cookie dough I've ever worked with. It didn't tear. It wan't sticky. It is perfect. The icing, too. So, there you have it – a nautical themed bridal shower fit for a beautiful bride.
Wait, there's more!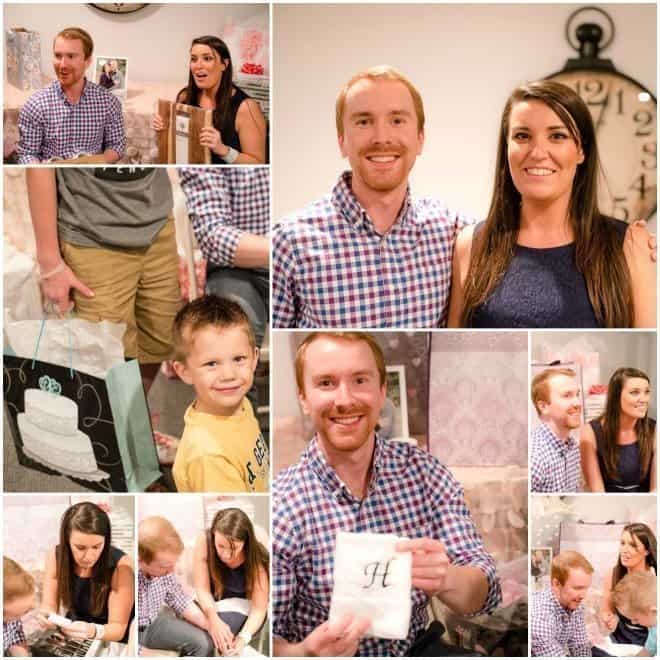 Check out the Kate Spade Tea Kettle and matching cake pans! Caitlin also received a KitchenAid – Artisan Designer Series Tilt-Head Stand Mixer Sea Glass. You think she'll trade with me and my basic white old-as-dirt-but-still-going-strong KitchenAid?
I have to give a special shoutout to Mica from Cake Creations for the beautiful nautical themed cupcakes. It sure is nice having a professional baker in our church.
P.S. – David asked my husband for Caitlin's hand in marriage at a nautical themed family cookout in May of 2015. My husband was on the deck manning the grill and David finally worked up the courage to ask. At that moment I walked out the back door. My husband told me what had just transpired and I immediately burst into happy tears. My baby's getting married!
Nautical Themed Cookout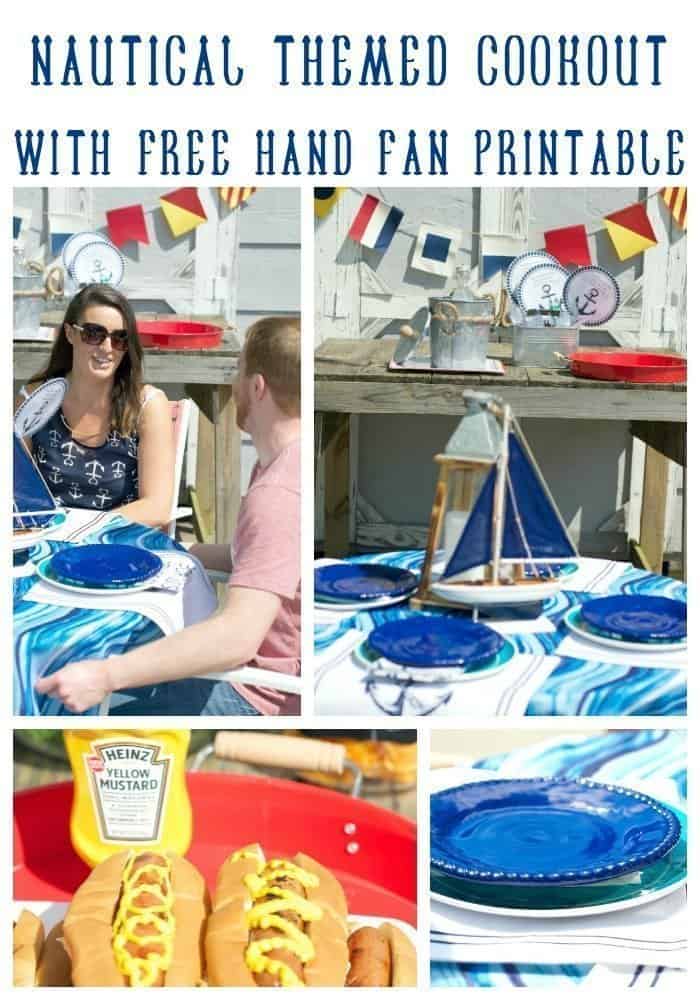 I also made my famous Slow Cooker Shredded Barbecue Pork Sliders for the Nautical Themed Bridal Shower.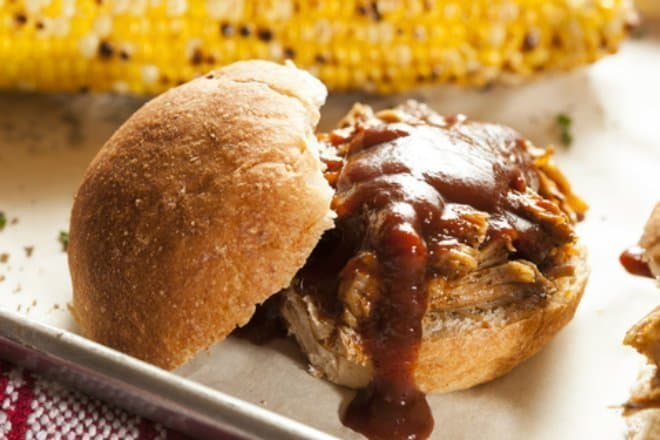 Are you planning on hosting any bridal showers in the near future?