My first dinner party was a disaster with a capital D! I was in my early 20's, a newlywed and didn't really know my way around the kitchen very well. I was a total klutz!
You can read the embarrassing details here. It's an oldie but goodie post that needs a photo redo. OMG!
That dinner was so traumatizing that I never wanted to entertain guests again. I needed to check into an entertaining rehab facility, but I couldn't find one. It was devastating!
Since that ill-fated day, I've finally perfected the dinner party and here's my 5 must-have tips for hosting a dinner party from start to finish.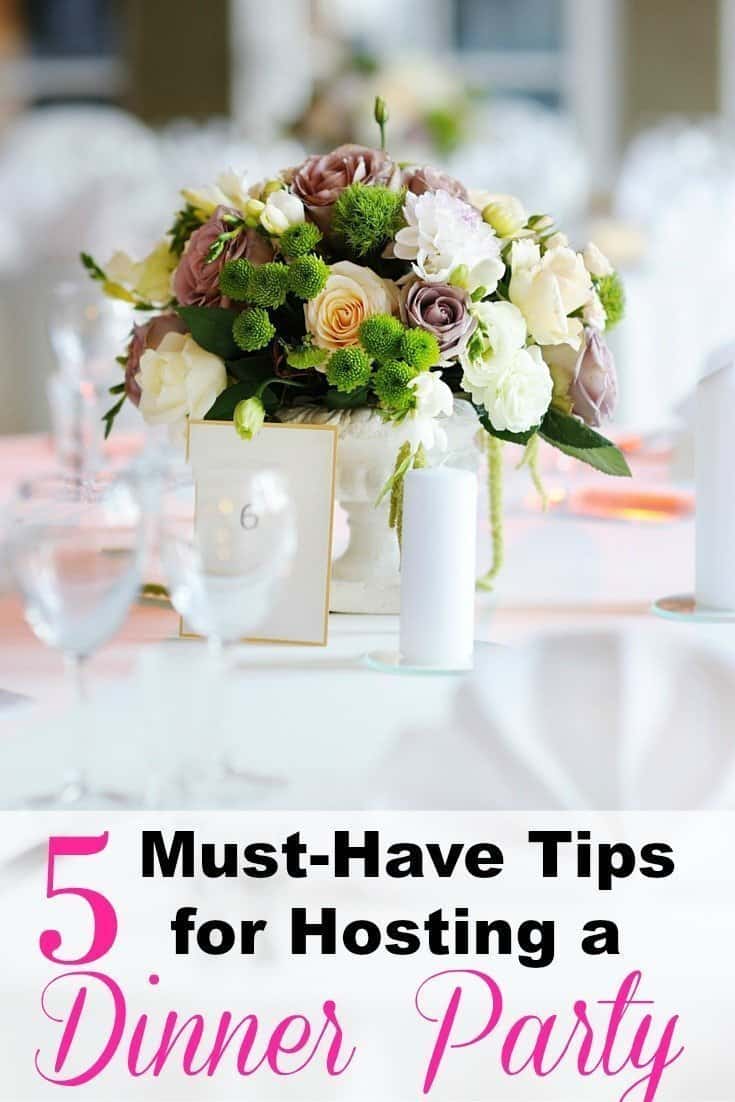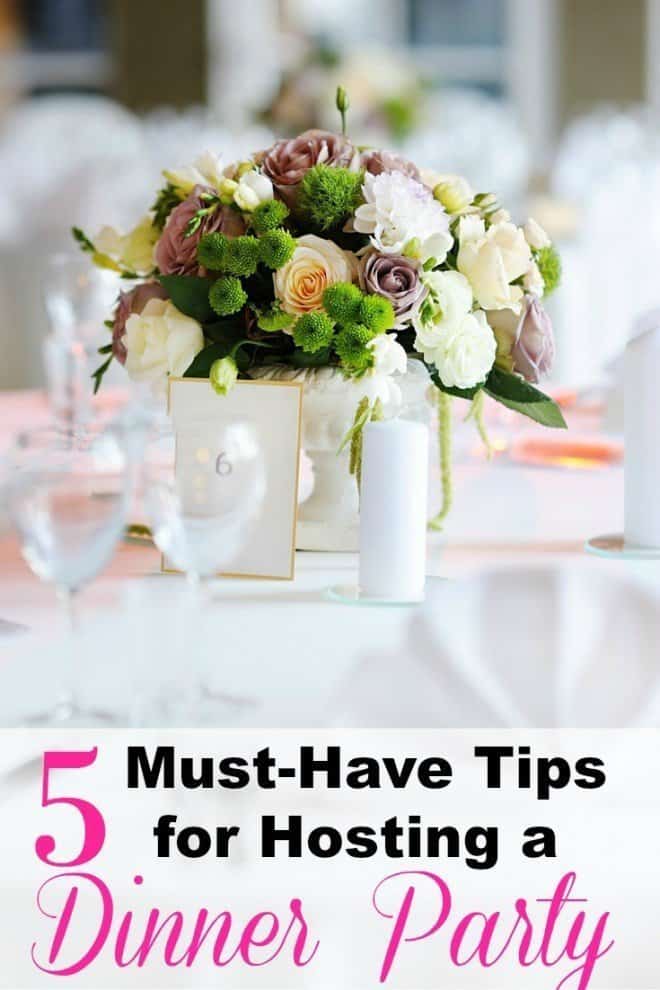 5 Must-Have Tips for Hosting a Dinner Party
1. Don't Half-kill Yourself by Over-doing the Cleaning.
There was a time when I thought I had to clean out the closets, wipe down the baseboards and power-wash the outside of the house before having people over to eat dinner.
I remember once when pain was running down my legs because I had overdone the cooking and cleaning when preparing for guests to come over. I was silently wishing they would leave so I could remove my makeup, throw on an old t-shirt, gulp down a couple of Tylenol and creep into bed. That, my friend, is ridiculous.
I'm not saying that your house should be a pigsty. Shut the door to your home office and bedroom. Clean the bathrooms the day before and make sure all the rooms your guests will be in are clean. Trust me, no one will notice if the baseboards haven't been scrubbed.
2. Use the KISS Method
Keep It Simple, Silly!  (I was going to say stupid but my mom taught me that it wasn't nice to call people stupid)
You know that one no-fail recipe you make that always gets rave reviews? Make that one. This is not the time to try Julia Child's Beef Bourguignon recipe. Trust me!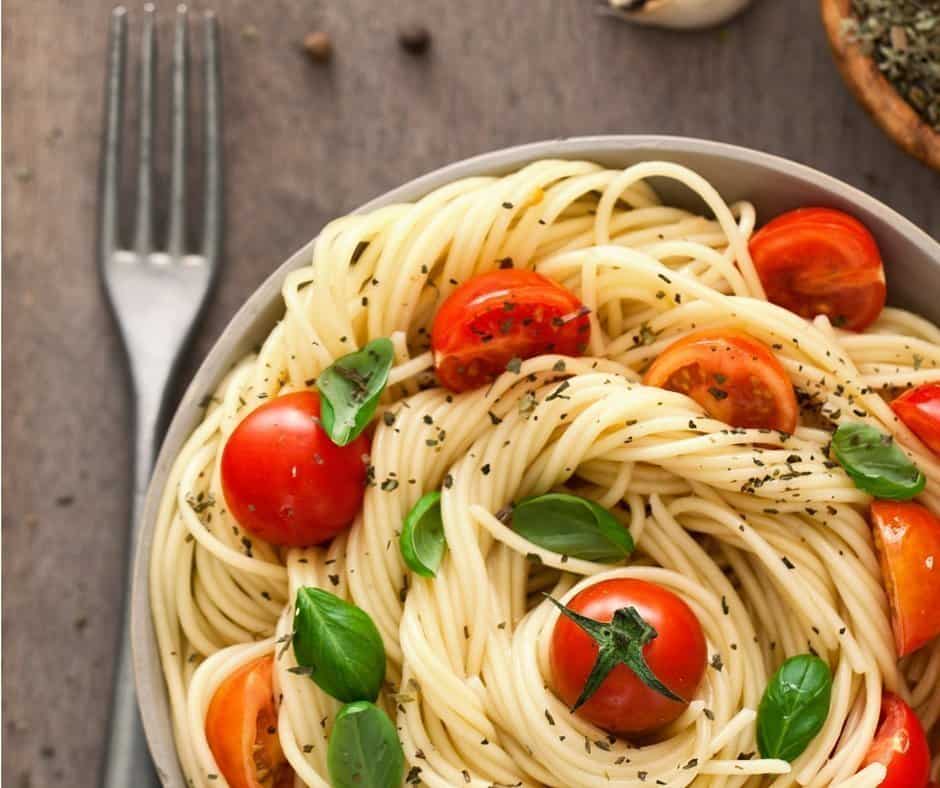 3. Stick to my Rule of Five
Main dish (usually a roasted meat like beef brisket or slow cooker barbecue ribs OR something cooked on the outside grill.)
Veggie (salad or a roasted veggie such as asparagus or broccoli)
Starch (stuffed potatoes, rice, etc.)
Bread (oops, bread is a starch, too, but you gotta have it)
Dessert
Helpful Hint: Sometimes I serve appetizers and sometimes I don't. It depends on the formality of the party. If it's really casual, we go straight to the meal. If the meal is going to be a while, offer appetizers.
It's a Do: Do offer guests a drink as soon as they arrive.
4. Make it Easy by Keeping it Semi-Homemade
Who says everything you serve has to be cooked from scratch? If you're not a baker, visit your favorite bakery and buy gourmet cupcakes. I've been known to buy frozen cheesecake from the grocery store. I pop it out of the container, place it on a pretty cake plate and create a Top Your Own Cheesecake Bar.
Buy frozen rolls (I LOVE Sister Schubert's yeast rolls). Pop them in the oven for 5-10 minutes. I like to brush them with olive oil first. After brushing with olive oil, you can sprinkle the rolls with dried or fresh chopped herbs to add flavor.
5. Relax and Have Fun
If you're tense, your guests will immediately pick up on it and they'll be awkward, too. Entertaining guests is all about catching up, laughing, story telling and having a good time. You want your guests to leave with great memories, a full tummy and excited about the next get together (at their house, of course, according to proper etiquette rules).
Helpful Hint: Table decor doesn't have to break the bank. Often times, I pick up a bouquet of grocery store flowers, arrange them in a pretty vase and that's it. I've also used a bowl of lemons, apples or oranges.
A good set of white dishes are always in style. I own dishes that have been passed down from my mom, grandma and aunt. Don't be afraid to mix and match.
Music: Don't forget to have music softly playing in the background.
How often do you host dinner parties? Any tips you'd like to share?
You may also like 5 Outdoor Entertaining Ideas. At this spring party, I used luggage tags as place cards.