Perfect Ice Cream Sundae is written by me on behalf of Mike & Ike. All opinions are entirely my own.
I'm counting down the days until we're headed to the beach for a week with the grandkids. This will be the first time my husband and I take the grandkids without their parents tagging along. So, I'm making a list and checking it twice. Plus, I'm dreaming up snack ideas including the Perfect Ice Cream Sundae without a whole lot of work.
Beach vacations are all about fun in the sun. That's why I make a list of everything I'll need for my beach bag. I made a printable list of essentials for my beach bag and a packing list. You can print my lists out for free >>> Packing-List-Beach-Trip

Protection from the Sun – Sunscreen, SPF Lip Balm, Sunglasses and Sun Hats
We call my daughter the sunscreen queen because no one ever gets a sunburn on her watch. That means I have to be extra diligent to slather that sunscreen on every 90 minutes (per her instructions) and they have to sit still for 10 minutes so it won't wash off the minute they jump into the water. I also include SPF lip balm to keep those little lips free from sunburn.
Beach Towels
Each grandson is responsible for grabbing their own beach towel when we head to the beach. I always grab a couple of extras.
Wet Wipes
I always have wet wipes with me to wipes those little hands before having a snack!
Clear Zip Bags
I'm a neat freak, so I always have clear zip bags in my beach bag to help keep sand and water away from my phone. I use gallon size bags to hold the sunscreen and lip balm. The smaller bags hold my phone, keys, etc.
Snacks
The grandkids' favorite summer snack is MIKE AND IKE Mega Mix Sour. We're thrilled that they have a brand new product release at Walmart, MIKE AND IKE Mega Mix Sour!
The grandkids and I enjoy the MIKE AND IKE Mega Mix Sour while taking a break from swimming. They also make the best topping for ice cream sundaes. I like MIKE AND IKE Mega Mix Sour because they are gluten-free and fat-free.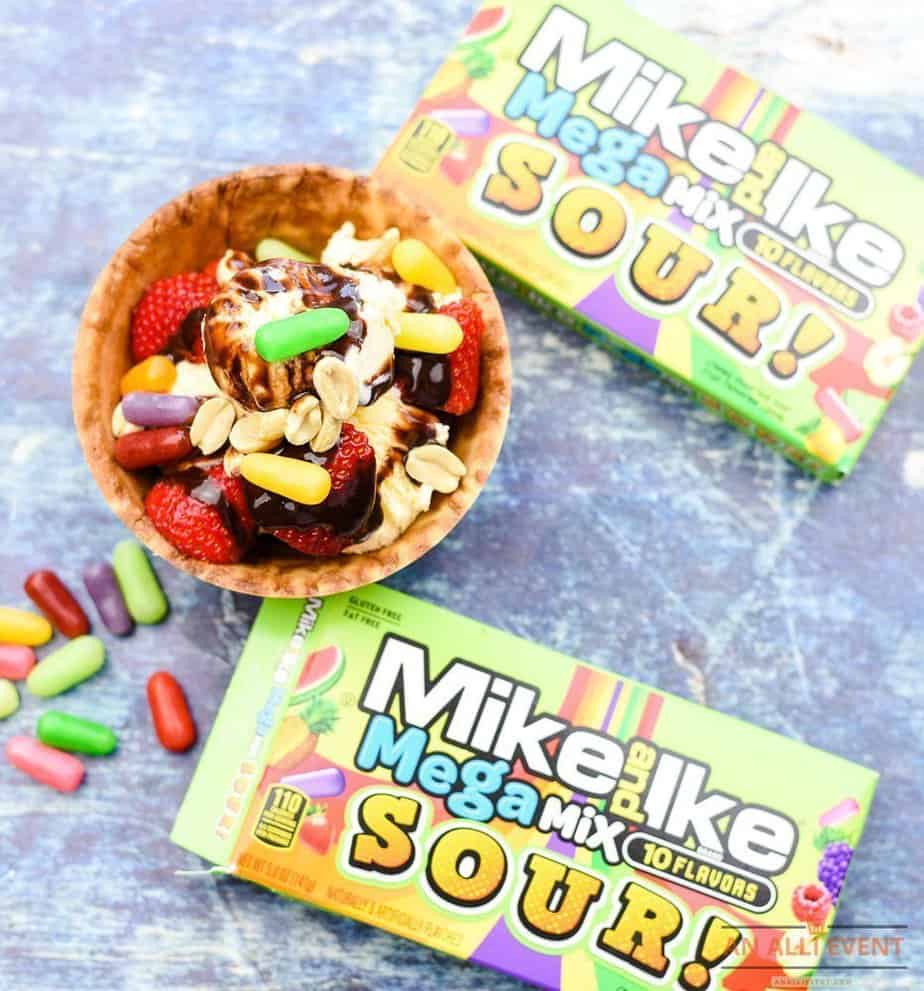 Helpful Hint: MIKE AND IKE Mega Mix Sour is sold exclusively at most Walmart stores!
Perfect Ice Cream Sundae
We always take a break from the sun in the afternoon and Ice Cream Sundaes really hit the spot. For me, the perfect ice cream toppings always include something sweet, something crunchy, something fruity, and something chocolatey.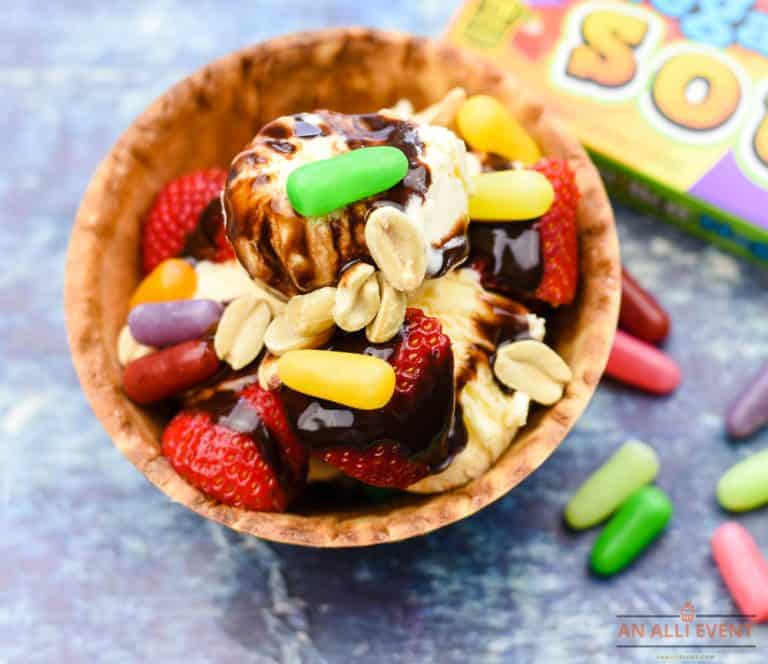 Yield: 1
Perfect Ice Cream Sundae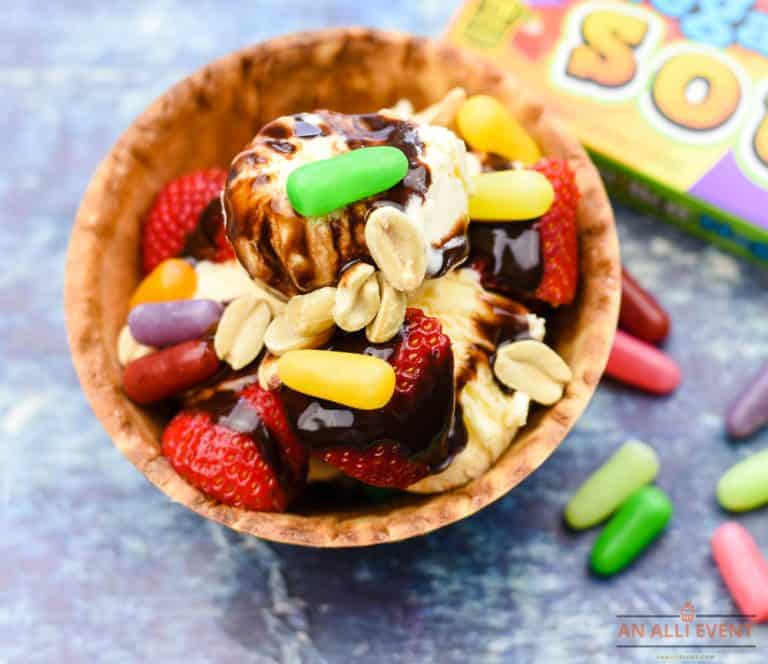 The grandkids love these Ice Cream Sundaes topped wth Mike and Ike candies. It's the perfect Ice Cream Sundae.
Ingredients
For Each Sundae
1 waffle bowl
1/2 cup Vanilla Ice Cream
5 oz. MIKE AND IKE Mega Mix Sour
1/2 cup Strawberries, sliced
1 oz. Salted Nuts
Drizzle Chocolate Syrup
Instructions
1. Place scoops of vanilla ice cream in waffle bowls. Top with sliced strawberries, MIKE AND IKE Mega Mix Sour, and salted nuts.
2. Add a drizzle of chocolate syrup.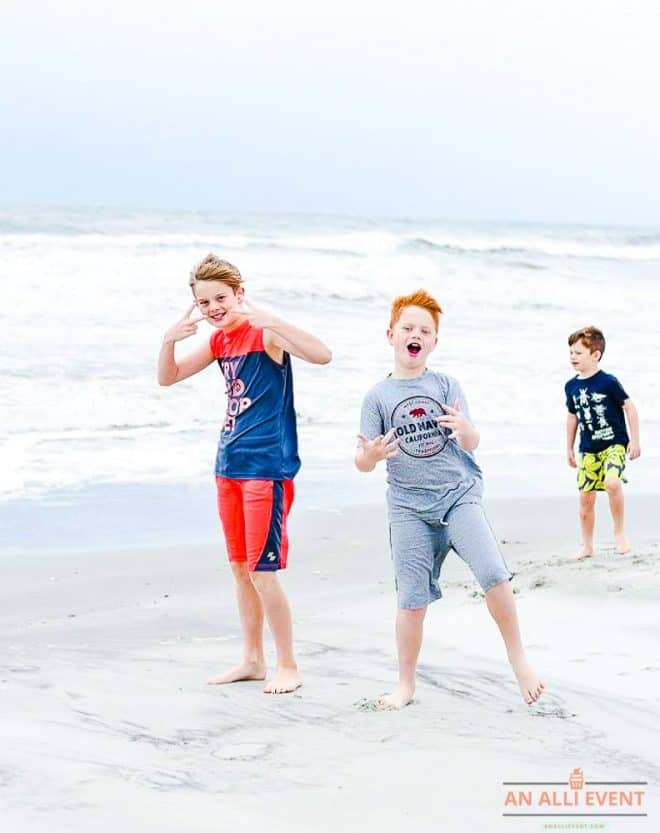 Whether you're planning a week at the beach, a day at the pool or an ice cream sundae bar, be sure to stop by Walmart and grab a few packs of MIKE AND IKE Mega Mix Sour.