This shop has been compensated by Acorn Influence, Inc. and its advertiser. All opinions are my own.
When my youngest daughter got married, she asked for my help when it came to picking out kitchen items for her bridal registry. The first thing I said was, "Make sure you add quality kitchen knives to your registry and you also need to know how to sharpen the knives."
As my daughter and I discussed kitchen knives, I thought back to when I was a newlywed. I didn't know one knife from the next and I had no idea that a dull knife in the kitchen is a big no-no. A dull knife requires more force to press through the food, plus a dull knife is more likely to slip than to cut. A sharp knife, however, slices right through the food and the knife does all the work.
If you're setting up your first kitchen or need to restock an old one, here are the basics you need when it comes to knives.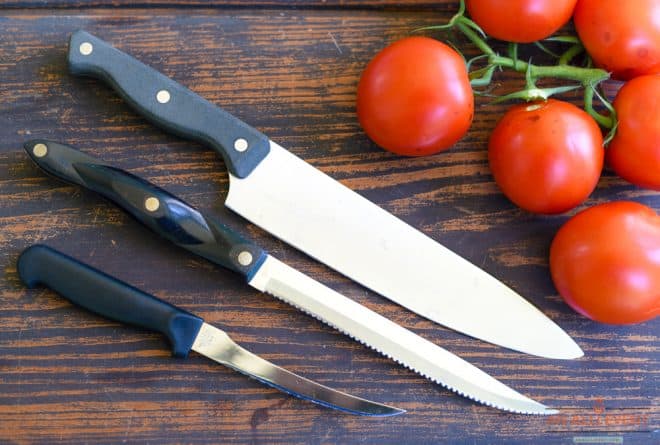 Chef Knife – A chef's knife is a multipurpose knife that is designed to perform many kitchen tasks such as mincing, slicing meat and chopping vegetables.
Serrated Knife – A serrated knife is the best knife for cutting bread.
Paring Knife – A paring knife is ideal for small intricate work such as peeling fruits and vegetables.
Once you have these three knives, you can always add to your kitchen knife collection later.
Sharpen Kitchen Knives Like A Pro
Now that you have the basic set of knives, keeping your knives sharp doesn't have to be scary when you use DMT Sharpening Stones. DMT Sharpening Stones are easy to use, plus they are made in the USA. DMT® is the leader when it comes to diamond sharpening. It's really simple to sharpen kitchen knives like a pro.
To keep my favorite knives sharp, I use DMT Diamond Whetstone and the Diamond Steel. These sharpening tools feature the most diamond per square inch in the industry and a proprietary process that ensures near-perfect consistency in grit size, engineered to be the flattest sharpeners on the market.
Diamond Whetstone
The Whetstone model features a signature polka-dot pattern. For the quickest, cleaning sharpening, there is no substitute. The directions on the packaging are easy to follow. Place the edge of a knife at optimal sharpening angle, stroke edge forward. Flip and repeat. It's that easy!
Diamond Steel™
Diamond Steel Sharpeners are so much better than traditional steels. These sharpeners feature a high-performance diamond surface that can sharpen a dull knife to its peak condition. They work well to hone and extend the utility of knife edges. I like that it has a hand guard for added safety.
To sharpen your kitchen knives with the Diamond Steel™, hold steel vertically on a cutting board. Stroke edge of knife downward, alternating sides of the blade.
Be sure and visit the DMT® website to see all their great products and learn how to use and care for these sharpening tools.
Now that you know which knives you need in the kitchen and how to sharpen them, you're ready to peel, dice and slice with sharp knives.