This shop has been compensated by Collective Bias, Inc. and its advertiser. All opinions are mine alone. #MVCheezIt #CollectiveBias
What woman spends Friday night watching college basketball, yelling at the refs and munching on Cheez-It Grooves white cheddar crackers and a Slam Dunk Cheez-It Cheeseball?  Me!  Maybe that's one of the reasons my husband and I are a match made in heaven!  We share a love of sports, especially basketball.  I've even had my photo taken with my favorite college basketball coach!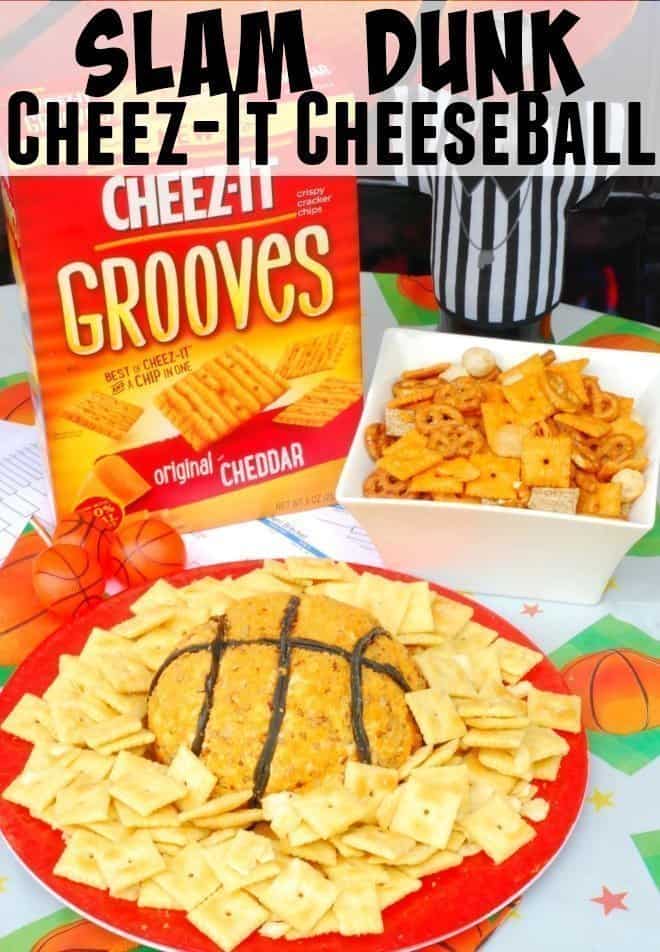 A Little Smack-talk
At this point and time, our brackets are seriously messed up!  But, secretly, I love it when an underdog team that barely made it to the playoffs, upsets a highly ranked team.  I'm ecstatic that my North Carolina team is moving on up to the final 4!  Go big blue!
Serious basketball watching calls for some serious snacking. It includes my Slam Dunk Cheez-It Cheeseball featuring Original Cheddar Cheez-It Grooves.  You can find them on the cracker aisle at your nearest Target.
This may sound like smack-talk, but my cheeseball is the best I've ever tasted. Plus, it's so easy to make.  It's creamy, cheesy, with an ever-so-subtle hint of sweet that comes from the pineapple.  You can mix all the ingredients together up to a day ahead and then roll the ball in the Cheez-It Groove/chopped pecan mixture right before serving.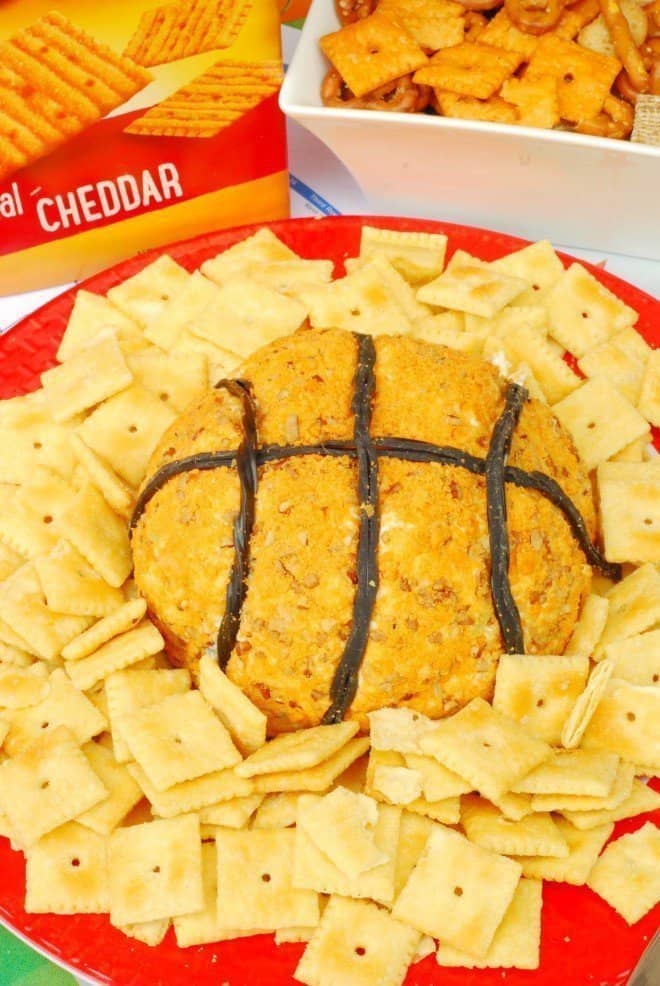 Slam Dunk Cheeze-It Cheeseball
Here's how I make it:  Place 2 (8 oz.) blocks of cream cheese, room temperature, in a mixing bowl.  Add well-drained crushed pineapple, chopped onion, green pepper, chopped pecans and seasoning salt.
Mix it all together (I use my stand mixer) and place in the fridge for about an hour or until firm.  Here's what it looks like on it's way to the fridge.
While the cheeseball mixture is lounging in the fridge, I add a cup of original Cheddar Cheez-it Grooves to my mini food processor to make fine crumbs and then mix the crumbs with a cup of chopped pecans.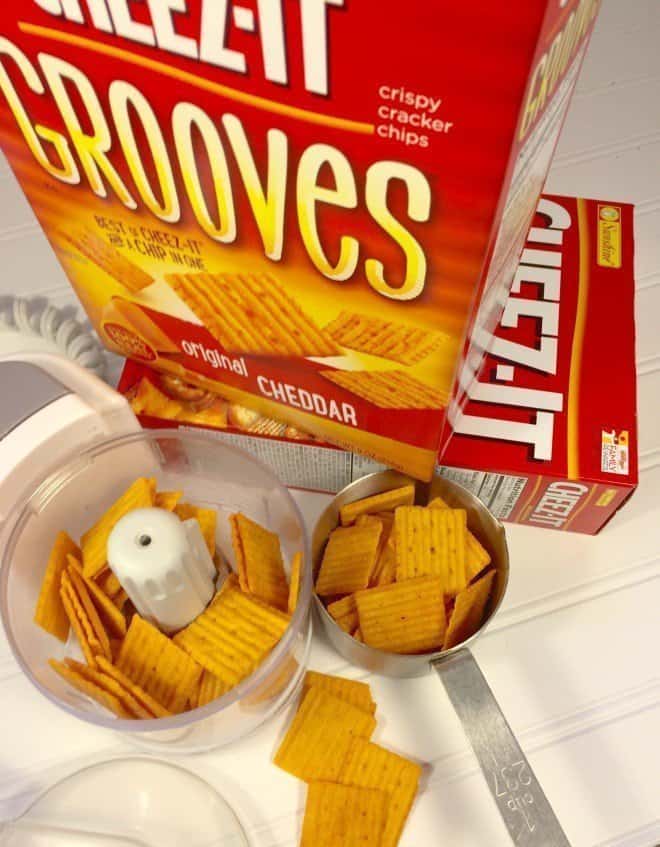 When it's almost time for tip-off, I remove the cheese mixture from the fridge, shape into a ball and roll it in the Cheez-it Grooves/pecan mix.

Slam Dunk Cheeze-It Cheeseball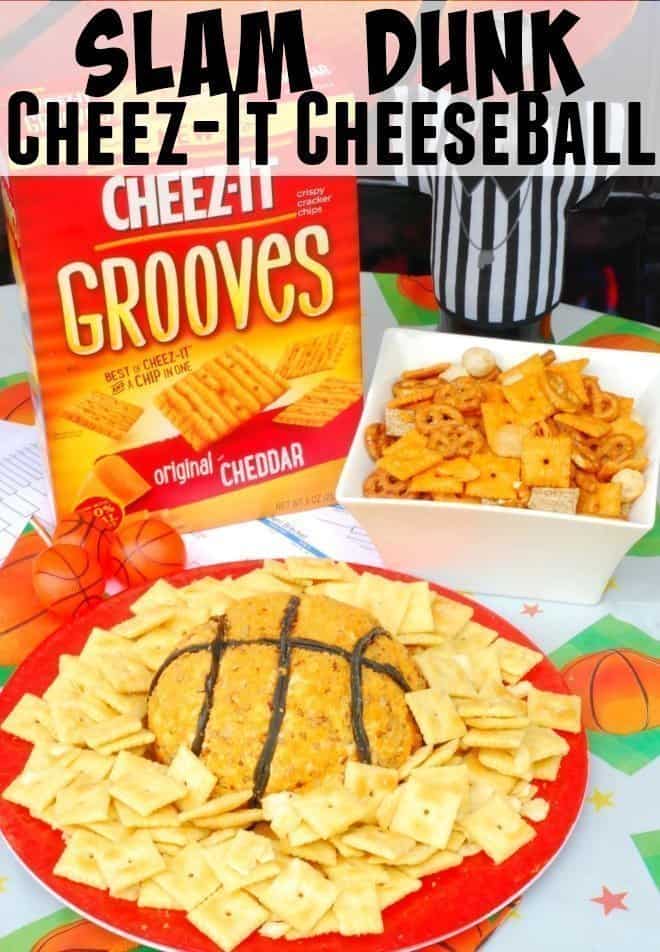 Ingredients
2 (8 oz. each) packages cream cheese, room temperature
1 (8-1/2 oz. can crushed pineapple, well drained
2 Tablespoons finely chopped onion
1/2 cup finely chopped green pepper
2 teaspoons seasoned salt
1-1/2 cups finely chopped pecans, divided
1 cup crushed Cheez-it Grooves, original cheddar, processed in food processor to make fine crumbs.
Instructions
With the mixer on low, mix cream cheese, pineapple, onion, pepper, 1/2 cup pecans, and seasoned salt until well blended.
Refrigerate until firm (about an hour).
Roll into a ball and roll into Cheez-it Grooves/chopped pecan mixture until well covered.
Serve with sharp white cheddar Cheez-it Grooves.
To celebrate my love of the game, I used black licorice to make my Slam Dunk Cheez-it Cheeseball the MVP!  How do you like my ref koozie? It's not a basketball party without a referee!
Have you ever used Cheez-its in a recipe?  What's your favorite flavor?