This shop has been compensated by Collective Bias, Inc. and its advertiser.  All opinions are mine alone.  #KreateMyHappy #CollectiveBias 
Whenever my husband is away on a business trip, my 20-something-year-old daughter and I lock eyes and silently scream, "Girls Night In with Krispies Kreations!"  This usually means a night of relaxation with a movie, as in, we get to choose the snacks, the movie AND have complete control over the remote.  I always miss the hubs, but I do love Girls Night In.  It's all about us!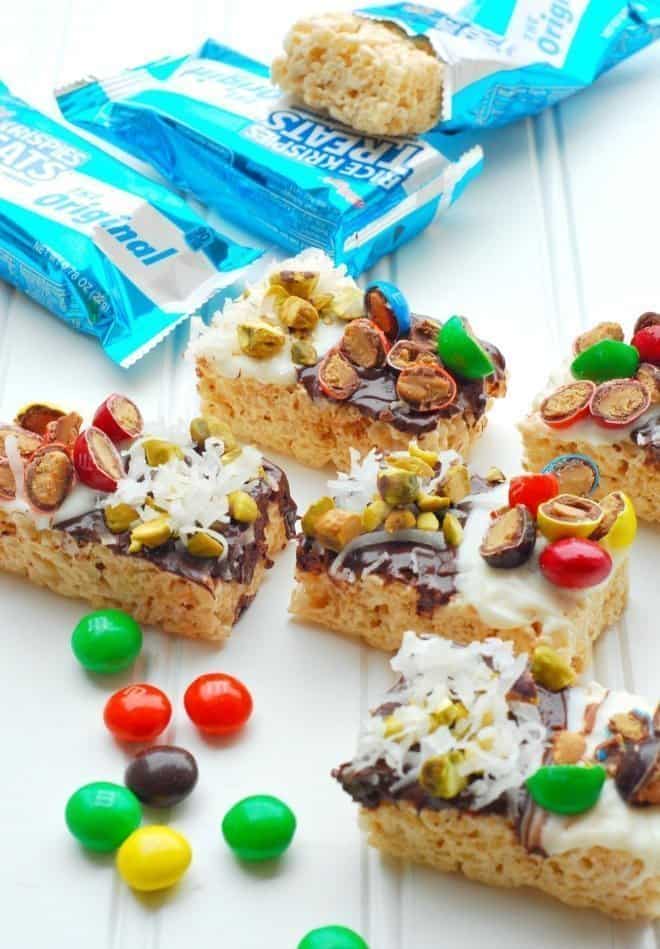 Girls Night In With Krispies Kreations
My daughter is usually given the task of picking the movie and I'm in charge of choosing the perfect snack.  Girls Night In always requires something out of the ordinary when it comes to munching. So I head straight to the cereal aisle of my local Walmart store. (There's where my favorite snack is located).
We're usually tired from working all day and need a quick pick-me-up snack to go with our movie, so I grab a box (or 2 – I'll never tell) of Rice Krispies Treats, dark & white chocolate, chopped pistachios, peanut butter M&M's and some coconut and head home to work my magic.
Black and White Rice Krispies Treats
In my mind I envision my own interpretation of a black and white cookie, using Rice Krispies Treats as the base of the cookie – they are so light, airy and marshmallowy- and coating half with a rich, creamy  dark chocolate and spreading the other half with beautiful, delicious white chocolate so that it resembles a black and white cookie. Don't stop there. Go for pure decadence by adding toasted coconut, peanut butter M&Ms and pistachios. I think I've invented the best snack ever!
I created a short video to show you how quick and easy it is to play dress-up with Rice Krispies Treats!  Make sure you watch it at the end of this post.

Black & White Rice Krispies Treats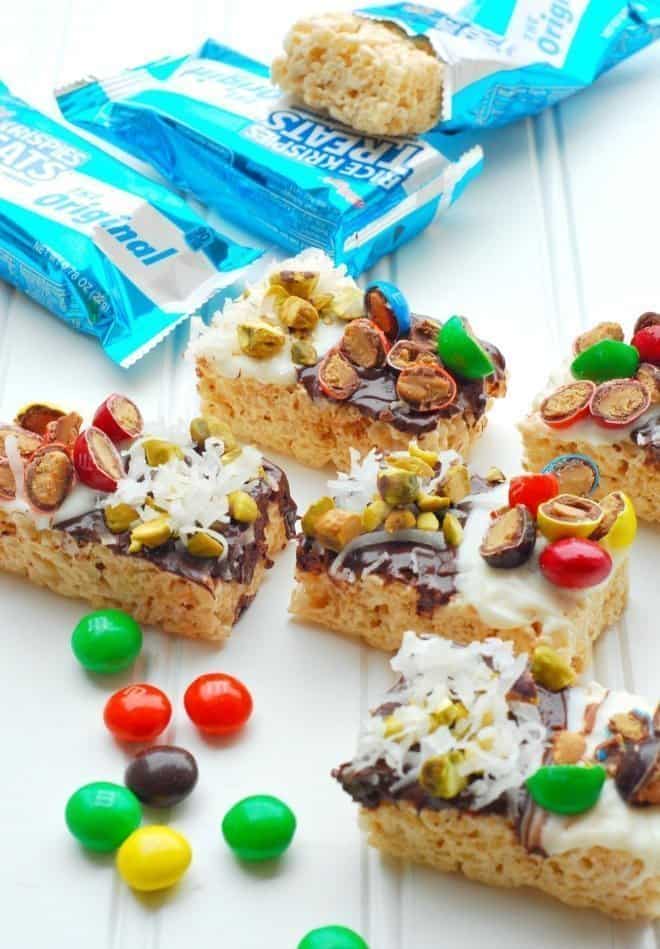 Ingredients
1 package Rice Krispies Treats
Semi-Sweet Chocolate Chips
White Chocolate Chips
Peanut Butter M&M's, rough chopped
Sweetened Coconut, toasted
Pistachio Nuts, chopped
Instructions
Preheat oven to 350°
Spread coconut in a baking pan and toast for 4-5 minutes.
Melt semi-sweet and white chocolate chips according to package directions.
Unwrap the Rice Krispie Treats and spread the melted semi-sweet chocolate on 1/2 of the top and the white chocolate on the other half.
Sprinkle toasted coconut and pistachios on the semi-sweet chocolate side and the chopped peanut butter M&M's on the white chocolate side.
Let harden.
Enjoy!
Everyone Deserves Some Me-Time
I do believe this Girl's Night has been the best yet.  The movie was OK, but the Black & White Rice Krispies treats won the awards for best dressed and greatest snack ever.  You don't have to wait for Girls' Night In to try these easy, elegant, dressed-up treats.  You can enjoy these babies all by yourself.  Because you deserve some me time!
Watch the video to see how easy it is to #KreateMyHappy!
Girls Night In @Replay_app #madewithreplay
Cheers!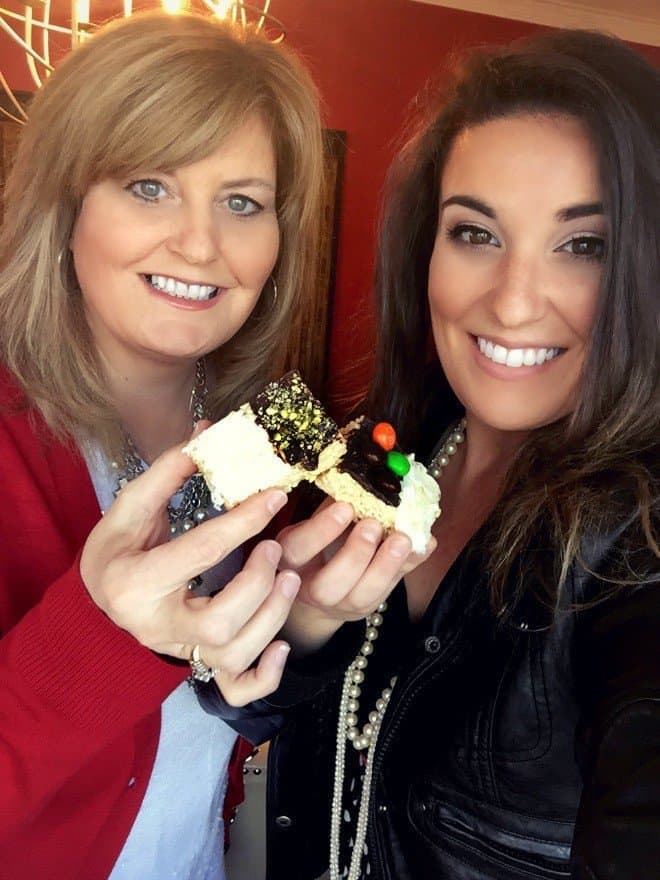 Do you ever have girls night in? How do you dress up your Rice Krispies Treats?