Thank you, Farm Rich, for sponsoring this Stress-Free Football Party post. All thoughts are my own.
Football season is coming to an end and very soon we'll be celebrating the big game. Yay! On any given weekend throughout the season, you'll find me hosting a Football Party for family and friends. Check out my top 29 Best Game Day Recipes!
Two things I've learned over the years are to keep the party simple and the food delicious.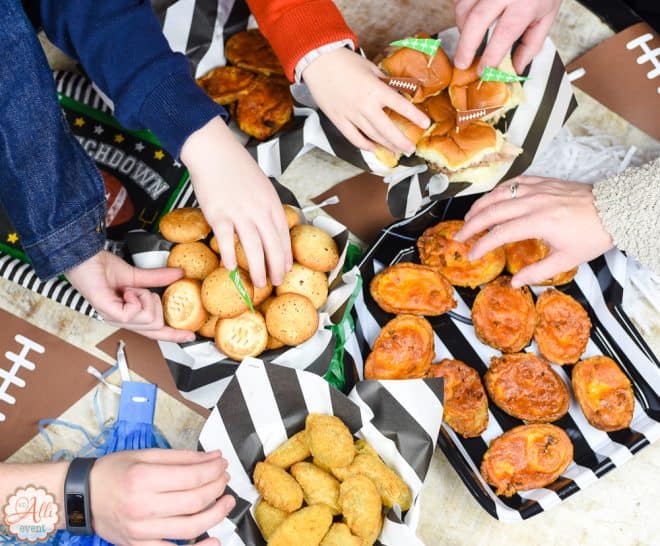 Stress-Free Football Party Tips
Since Homegating is the new tailgating, you don't need to go through all the hassle of getting to a game to enjoy football fun with family, friends, and FOOD. Just Homegate!
Farm Rich makes it easy with tasty, quick, and convenient foods, which will be your new #HomegatingHero for the Big Game 2018.
Casual parties are my favorite parties of all and my football party is always a casual family affair. I like to get in on all the action, so I always rely on Farm Rich when it comes to delicious party food.
Who wants to be stuck in the kitchen all night? Not me! Farm Rich helps families make the most of their time together with a wide variety of wholesome and easy-to-prepare frozen foods ready in minutes.
Funny Story: When my son took a bite of Farm Rich Mozzarella Bites, he said, "Mom, I keep telling you to open a restaurant." I just smiled and nodded. I didn't have the heart to tell him that Farm Rich gets the credit, not me.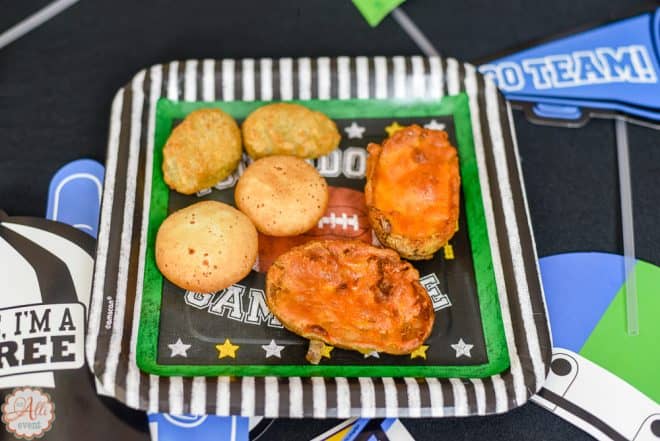 Easy Tips for Hosting a Football Party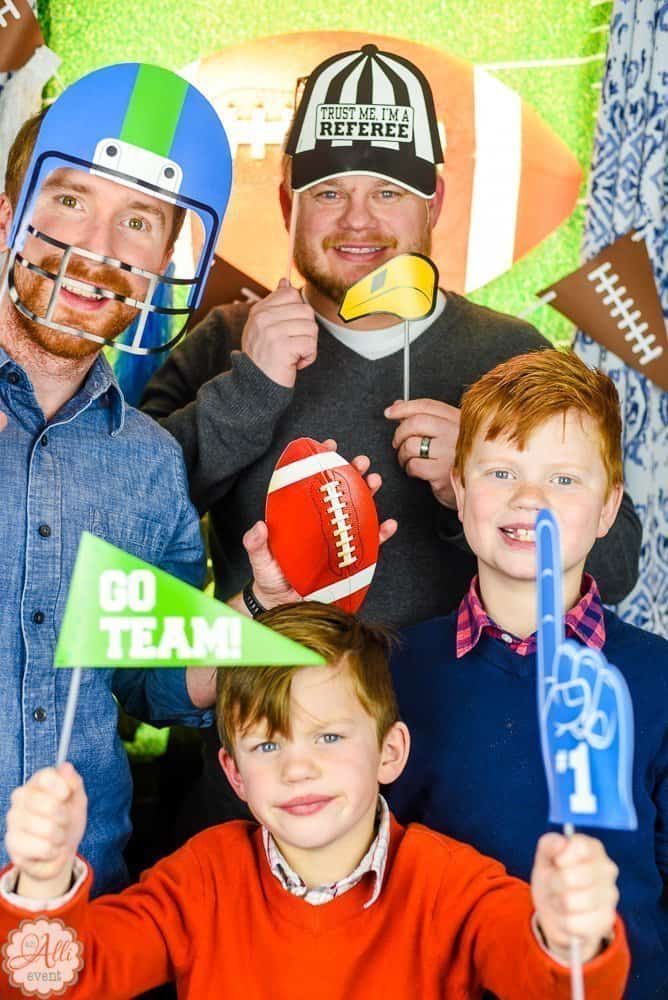 Decor
When it comes to football decor, I like to keep things simple. I always find great decor at my favorite party store.
There was a time when I'd DIY most of my decor, but it's often cheaper to buy it already made and it saves so much time. I also pick up my plates, napkins, and photo booth supplies at the party store.
For this homegating party, I used a black and white theme to give a nod to the referees. Sometimes we're tough on those guys and they need to be recognized too.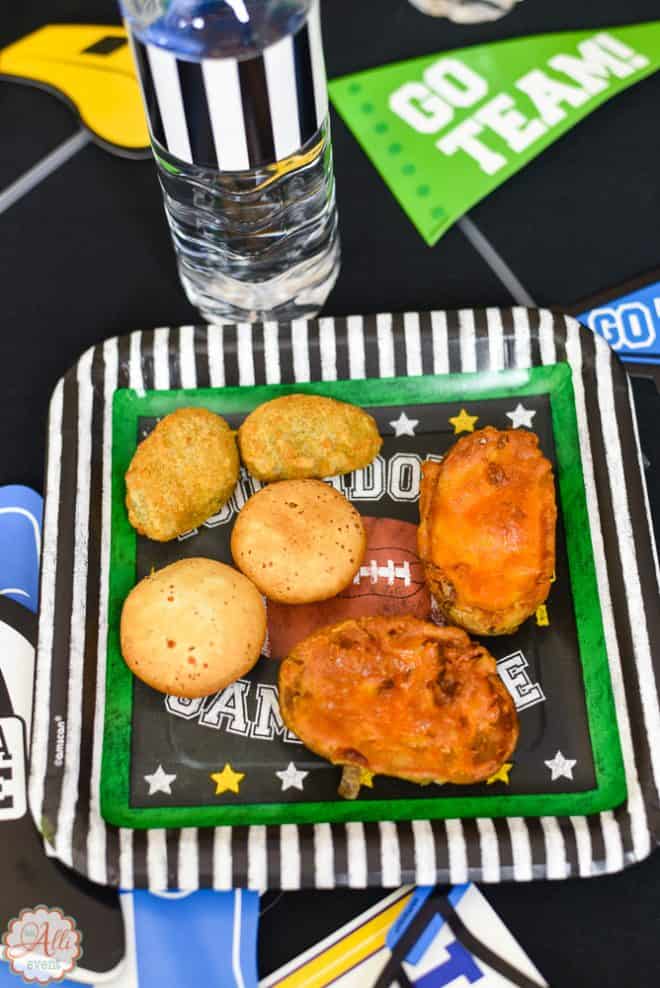 Food Stations
When it comes to hosting a football party, my food is always scrumptious. However, I don't spend a lot of time in the kitchen. Since we watch the game on the big screen TV in the great room, the food is front and center on the coffee table. I love this table because I can raise it or lower it. Plus, it's a great place to keep all the delicious snacks.
Farm Rich is one of America's favorite snacks and appetizers brands, offering the best snacks for your game day. I like that our favorite snacks are available at grocery stores across the U.S.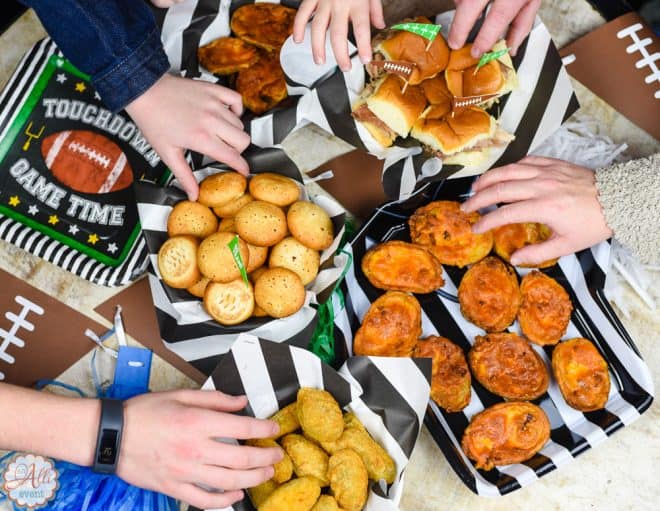 I always try to serve foods that don't need forks or spoons. Farm Rich helps out in that department with their amazing Mozzarella Bites, Loaded Potato Skins, and Jalapeno Peppers. I add a few dips and my BBQ sliders and the food is ready. Wasn't that easy?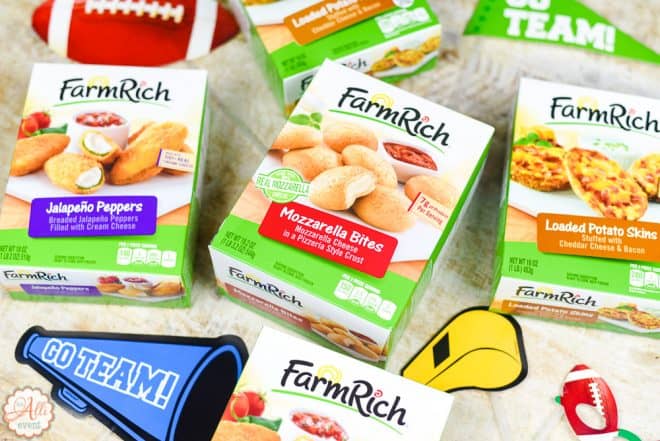 Here's a recipe for an easy marinara sauce to serve with the Farm Rich Mozzarella Bites and Mozzarella Sticks!
Easy Marinara Sauce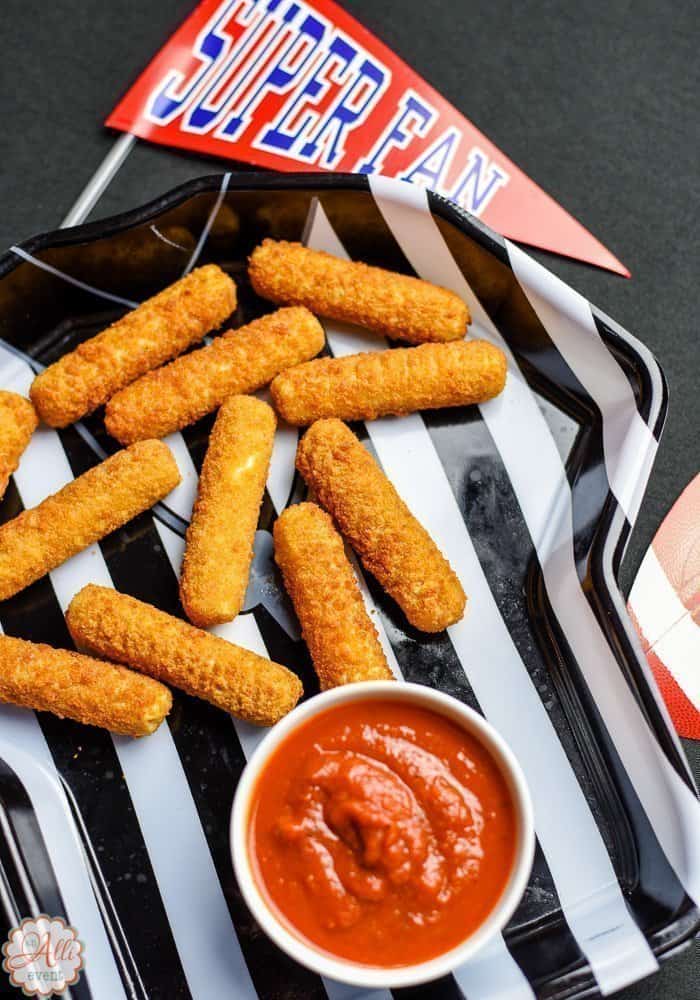 Ingredients
1 Tablespoon olive oil
1 (15 oz.) can tomato sauce
2 teaspoons minced garlic
1 teaspoon Italian seasoning
1/2 teaspoon salt
Instructions
In a small saucepan, heat the oil over medium-high heat. Add the garlic and stir for about 30 seconds. Add the tomato sauce, Italian seasoning and salt. Simmer for about 10 minutes on medium-low heat.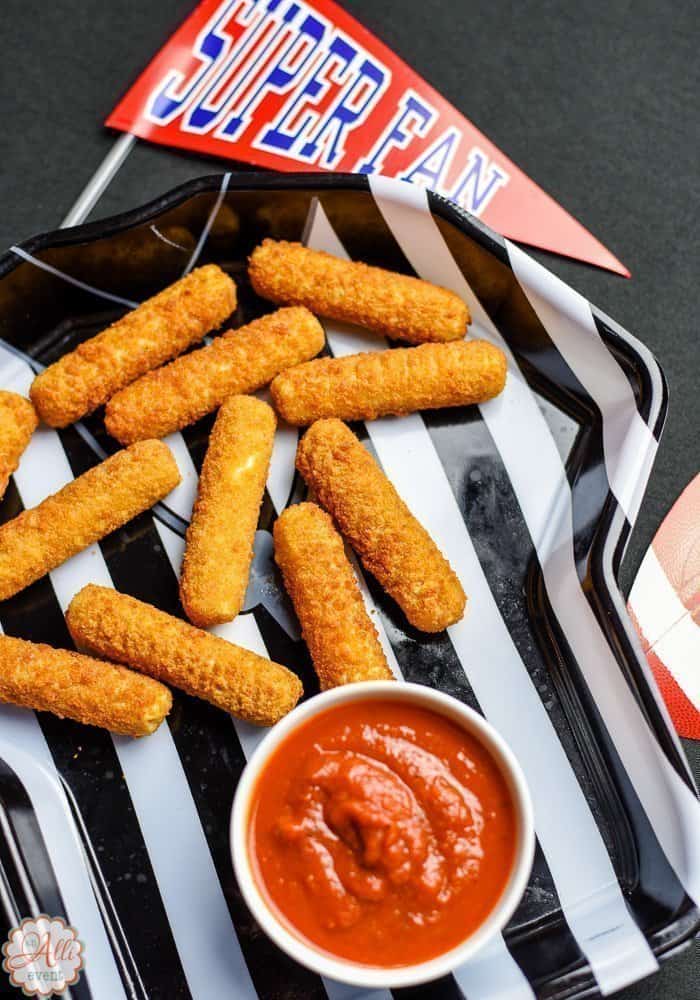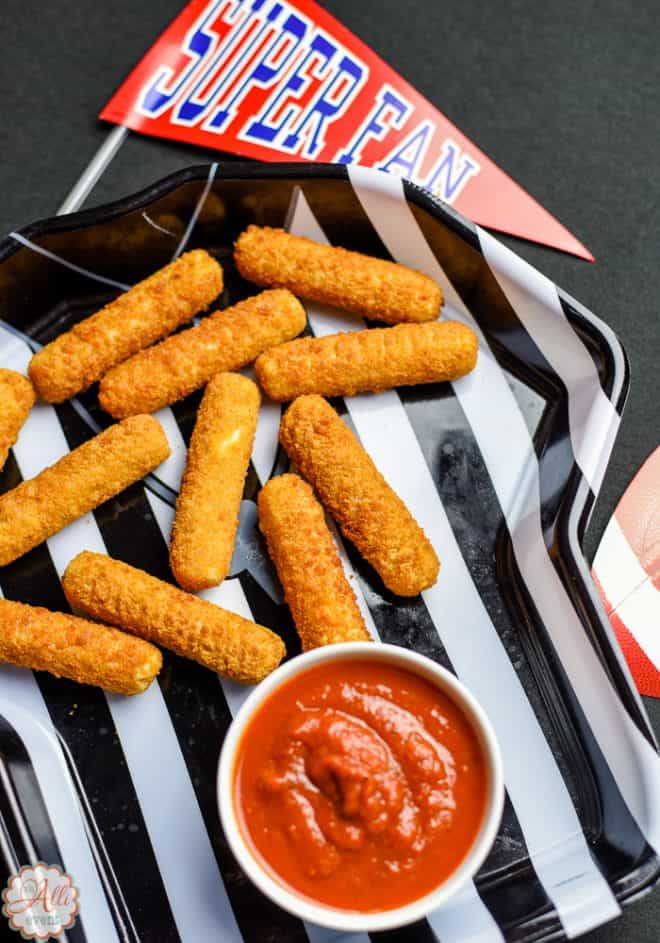 I also provide a drink station over to the side and I use black and white water bottle labels. Get the kids involved before the party by having them tape the labels onto the water bottles.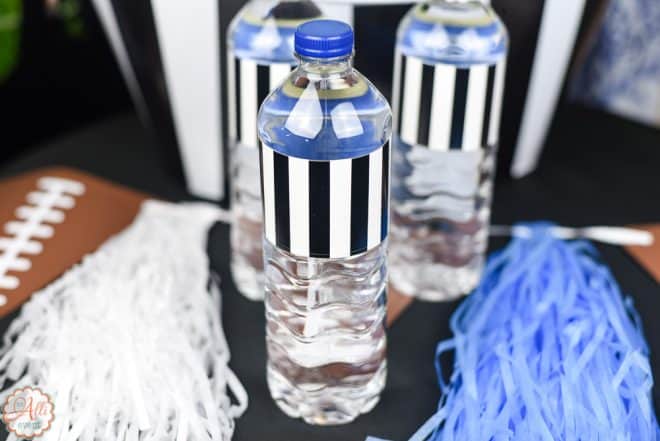 Photo Booth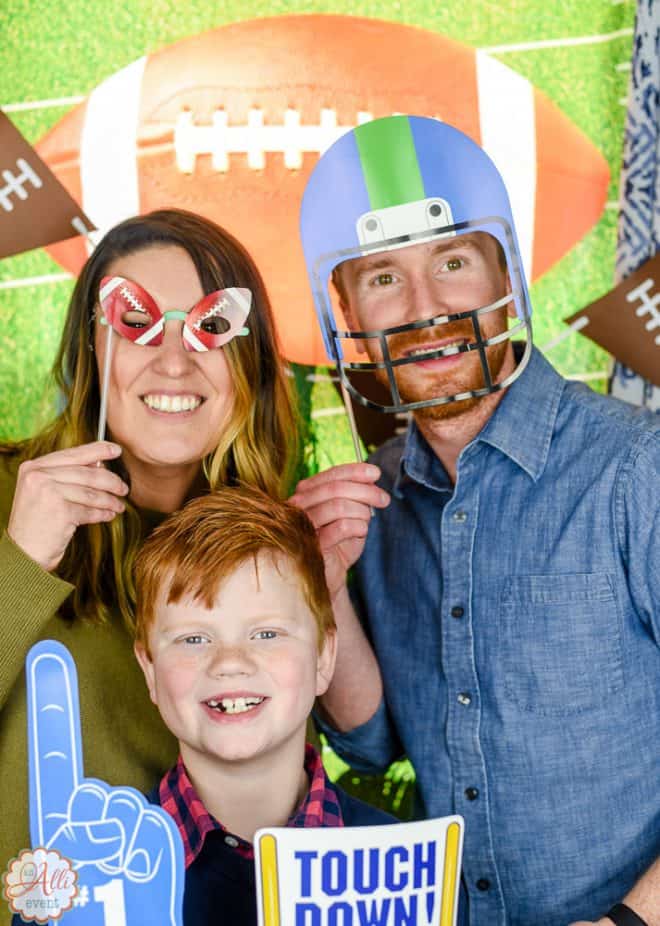 Stress-Free Football Party Includes Lots of Fun
An easy, makeshift photo booth is always a big hit at my Football Party! Grab some photo booth props at the party store (mine were only $5.00) and place them on a table beside your photo booth.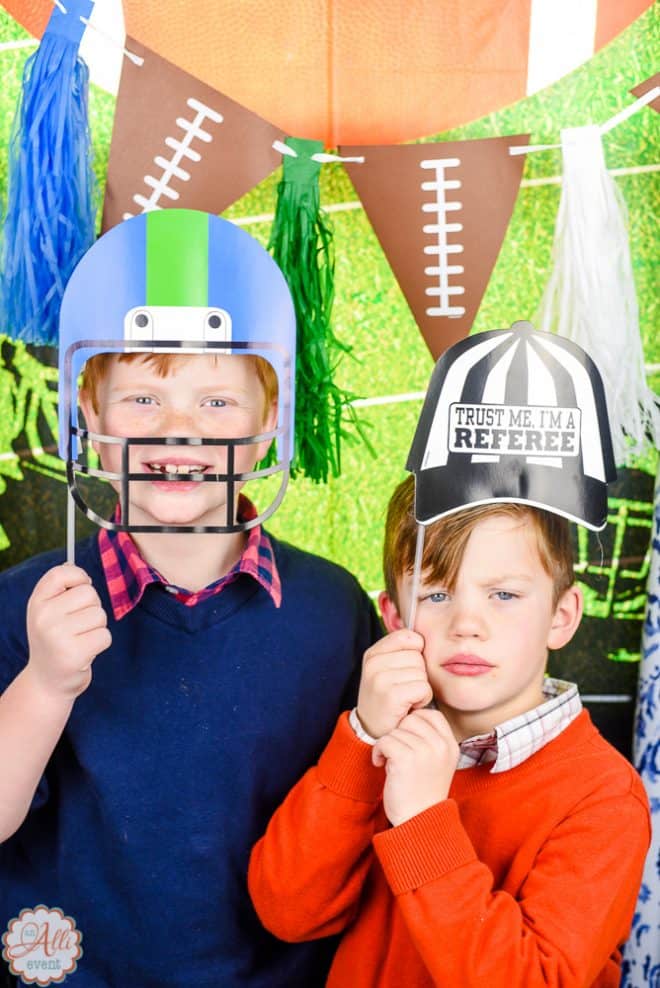 My photo booth is a football backdrop taped to a window. I add a football and pompom garland and I'm done.
Trust me, guests of all ages love hanging out at the photo booth, even the teens!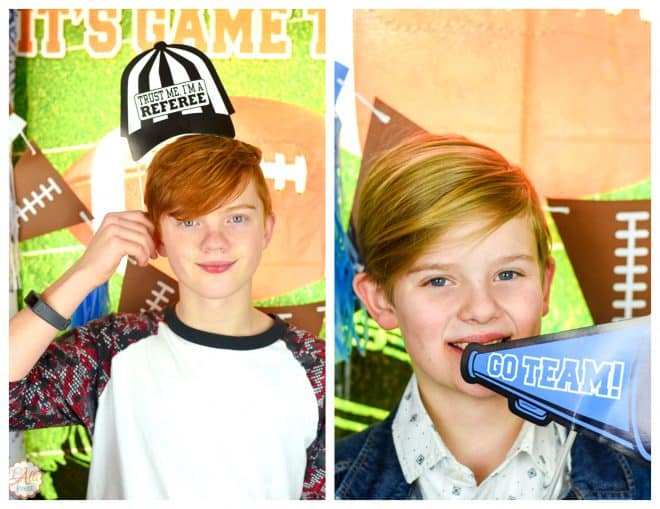 When it comes to a football viewing party, I always keep it simple, keep it casual and keep the food delicious. You can't go wrong with good food and an easy photo booth.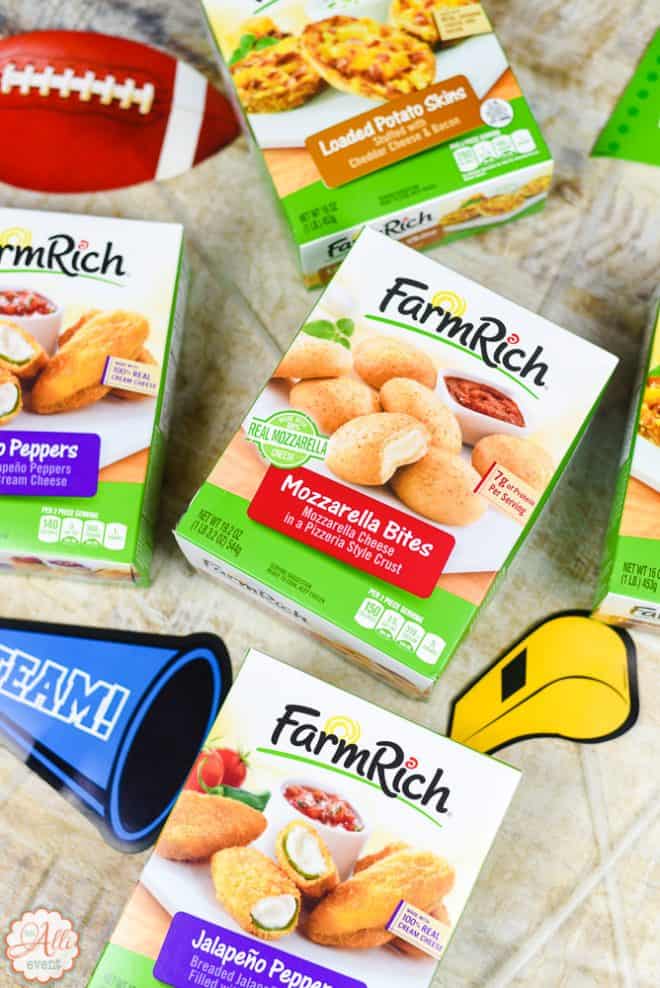 Are you hosting a party to watch the big game? Check out more easy ways to host a homegating party at Farm Rich.