My top Ten Packing Tips includes affiliate links. If you click a link and make a purchase, I may receive a small commision at no extra cost to you. 
It's that time of year – summer vacation time! I always look forward to our annual family vacation in North Myrtle Beach with all of our children and grandchildren. It's a summer tradition and it's just a short drive from our home. The one thing I don't care for is packing, but these packing tips help me get everything packed up in no time at all. I hope these packing tips help you as well.
I also look forward to my vacation with my husband – just the two of us – a tradition that was born after all the children grew up and flew the coop. For the past few years, we've been visiting a different Caribbean island every summer. I'm a beach person (with loads of sunscreen). I just am. You can learn all about my helpful tips to stay safe on vacation and why I love the beach, (but not cruises)!
Back in my younger days, I would always over-pack for a trip and upon returning home, let out a big sigh as I unpacked all of the clothing, shoes, and jewelry that I never wore. Face it, at the beach, you spend more time in your swimsuit than you do anything else. (Extra tip:  I always take 3 swimsuits. I'm tempted to take more, but I've learned that 3 is the perfect number. That way, there is always a dry suit).
Here are my top 10 packing tips: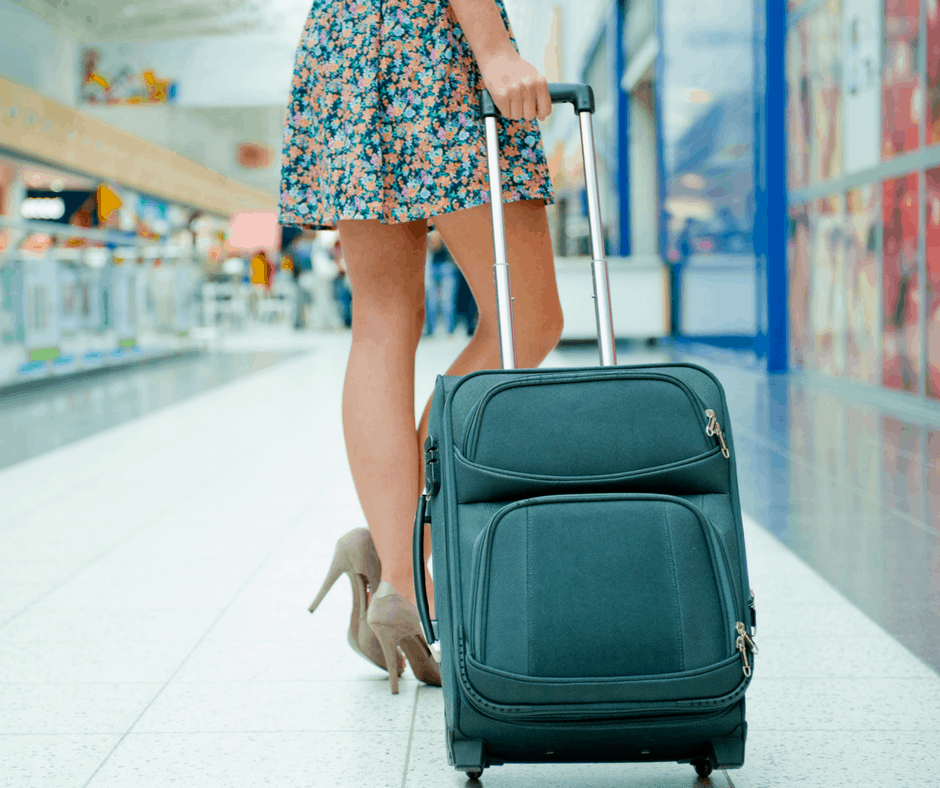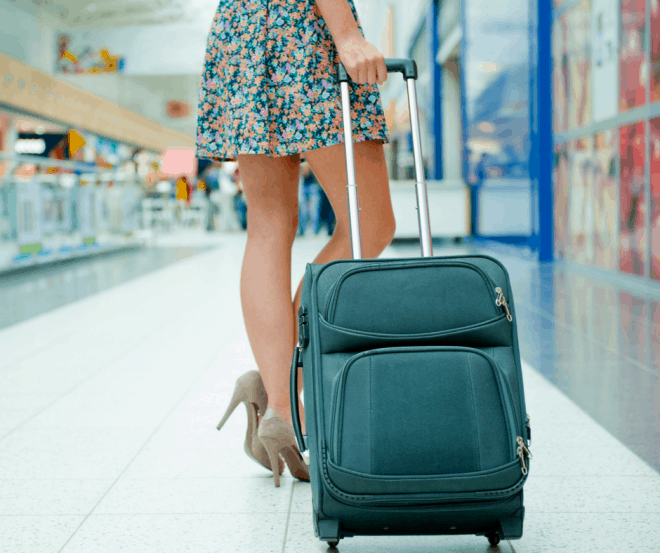 1.  Travel light!
Take only clothing that you love and can mix and match. I always try to take clothing that is wrinkle resistant. Who wants to be ironing the entire vacation? A pair of white shorts and a pair of black shorts are always on my packing list. (Yes, make a list!). When going out at night, I like to wear a lightweight summer dress that I can dress up or down. They barely take up any room in my luggage and are super versatile.
Helpful Hint: Most resorts furnish irons, hair dryers, etc. If your suite includes a washer/dryer, you've hit the jackpot. If I happen to score a suite with a washer/dryer, I pack my own travel-size laundry detergent. Place it in a zip-lock bag for added protection.
2.  Don't bother taking your own beach towels.
Towels take up valuable space in your suitcase and most hotels/resorts provide nice, clean towels on a daily basis. Call ahead and find out.
3.  Don't overdo the shoes (I'm talking to myself on this one).
You really do not need all of those shoes. Here is what I take: One pair of dressy black sandals, a pair of tan wedge sandals, sneakers (for working out), and pool/beach shoes aka flip-flops.
4.  Leave your valuable jewelry at home.
It's not wise to wear a lot of flashy jewelry around while on vacation. I have narrowed it down to the basics: silver hoop earrings, watch, rings that I wear every day, bracelet and my palmetto necklace. I wear it all on the plane and keep it in the room safe (along with passports) when I'm on the beach.
5.  Rolling your clothing when packing does work better than folding them.
I opposed the idea for years, thinking it was just too hard. But once I did it, I was hooked. Two advantages: Clothing is less wrinkled. Rolling takes up less space.
Make sure you weigh your baggage you're going to check before leaving home. Most airlines require that your checked baggage weigh in at 50 lbs. or less. If you exceed that amount, you will be paying even more to check it. You don't want that added expense.
6.  All of my toiletry items are packed into large zippered freezer bags (more heavy duty than storage bags) and placed in my checked baggage.
Trial size toiletries don't last very long on an extended vacation. And toiletries are very expensive on islands and in other countries.  Make sure you include sunscreen. I allow for one bottle of sunscreen per week and my absolute favorite is Neutrogena Beach Defense.
7.  Always take a light sweater or jacket.
I carry a sweater or jacket on the plane for two reasons. I always get cold when flying and jackets/sweaters take up too much precious room in my luggage.
8.  Leave that stack of books at home and take your E-Reader.
I take my Kindle Paperwhite and leave my Kindle Fire at home. A Kindle Fire is very hard to read on a beach because of the glare. The Paperwhite is perfect! I carry my Kindle in my purse so that I can read on the plane.
Helpful Hint: Most resorts have a lending library made up of old books that others have left behind. It isn't always listed in the amenities, so ask.
Also, keep in mind that your cell phone bill can go through the roof when you visit other countries and call home. Instead, add a temporary international plan to your cell service or buy an international prepaid cell phone.
9.  My carry-on bag is a combo rolling weekender/laptop case.
If I can find something that has a dual purpose, I'm all over it. I'm in love with my carry-on bag! One side holds my laptop and the other side is roomy enough to pack clothing for a weekend. And just in case my checked luggage doesn't arrive at my destination with me, I have a change of clothing.
10.  Make sure and leave enough space in your luggage for souvenirs.
Locally produced items tend to make the best mementos. You don't want a "made in China" item unless you are actually visiting China. Functional gifts are usually preferred over purely decorative items.
Helpful Hint: When my son was young, he loved swords (still does). So of course, on one of our vacations, he chose a small sword as his souvenir. I completely forgot about the sword until our carry on baggage was being checked as we left that country. He had put it in his backpack!  Yikes! Of course, it was immediately confiscated (considered to be a weapon), crudely wrapped and placed with the checked luggage. It was broken when we arrived home and my son was devastated.
Helpful Hint: Speaking of kids, backpacks are the perfect carry on luggage for children old enough to handle them. Don't over pack and put undue stress on your child's back!
Bonus Tip:
I always try to build a good rapport with the staff of the resort a couple of weeks before we visit by sending them a friendly email letting them know how excited we are about visiting.  If it's a special occasion like our trip to Barbados for our 30th anniversary, I let them know about the celebration.  These emails back and forth build a rapport and let them know that I'm a nice person and I'm expecting a pleasant experience.
When we arrived at Barbados, the staff had chocolate dipped strawberries and other goodies, along with an anniversary card, awaiting us in our suite. I called and let them know how much I appreciated the gesture.
That same week when we went out to a very nice (reservations only) restaurant to celebrate our anniversary, I had a horrible headache that kept getting worse, so I couldn't eat a bite (so sad). When the staff asked us if we enjoyed the restaurant, my husband casually mentioned my headache. A few minutes later there was a knock at our door. The manager had sent up a tray complete with hot tea, a light meal and a gift basket full of locally produced food items. I could go on and on about the favors we've had, including free seat upgrades to first class when traveling by plane! I'm convinced this happens because I establish a rapport before we meet and because I believe that we reap what we sow.  When we sow genuine kindness to others, we reap the same.
What are some of your favorite packing tips?
Headed to St. Maarten? Here are the Top 5 Kid-Friendly Restaurants in St. Maarten.