This post is part of a social shopper marketing insight campaign with Pollinate Media Group® and Sara Lee Desserts, but all my opinions are my own. #pmedia #SaraLeeDesserts http://my-disclosur.es/OBsstV
It happens every single time! Whenever I invite friends or family over for dinner, the first question is, "What's for dessert?" No one ever fails to show up when they know Turtle Cheesecake and Homemade Caramel Sauce is on the menu. It's fun to let guests create their own masterpiece, so I always have a Top Your Own Cheesecake Bar.
Throughout the years, I've perfected the dinner party. I've learned that pretty much everyone loves cheesecake. If you've been here a while, you know that all my dinner parties are semi-homemade. Sara Lee Cheesecake is the star of my Cheesecake Bar! Homemade Caramel Sauce is always a favorite topping. It's fail-proof and easy to make. I bet you have all the ingredients on hand right now.
There are several reasons I rely on a Top Your Own Cheesecake Bar for dessert.
It's easy!
It's pretty!
Everyone can pick their fave topping!
I mentioned earlier that everyone at my dinner parties like cheesecake. That's a given. It's the toppings where my guests have differing opinions. Some like toasted pecans but hate toasted coconut. I like them both! One guest may want a fruit topping while the other wants a bit of everything. It's all good!
I like to showcase my Top Your Own Cheesecake Bar on a side buffet – away from the dining table.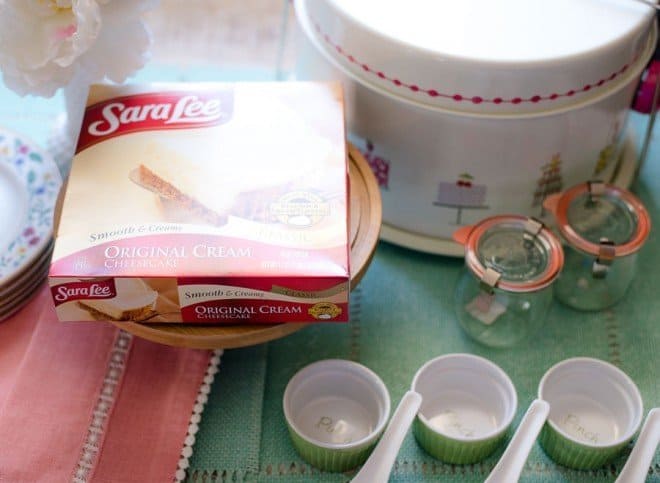 I have plates, spoons, forks, napkins and everything my guests need to create a cheesecake masterpiece.
A Cheesecake Surprise
You know how most dinner guests bring a hostess gift? I like to give a gift in return. So, we usually play a game to determine who gets to take home their own Sara Lee Original Cream Classic Cheesecake with Chocolate Sauce and Homemade Caramel Sauce. I always remember to buy two Sara Lee Cheesecakes when I'm shopping at Food Lion.
Helpful Hint: Be sure and use the instant redemption coupon on your Sara Lee Original Cream Classic Cheesecake package for $1.50 off the purchase of one cheesecake good through 3/31 while supplies last.
A Fun Game to Play During Dinner
One fun game to play is Phrases. Write down a different phrase for each guest and place it beneath their plate. When everyone sits down, have them look at their phrase and memorize it. During the dinner conversation, each guest has to try and slip their phrase into the conversation without anyone else noticing. The one who is most convincing wins!
Examples of phrases: I went skydiving last summer. I ate 5 apples yesterday. I'm thinking about taking a karate class. I recently read a book that completely changed my life.
I like to surprise the winning guest (whether it's family or friends) with a cheesecake in an awesome carrier. This vintage pie/cake carrier is perfect! Seeing my guest's face light up when he or she finds out she gets a Sara Lee Cheesecake to take home is priceless! And it's always fun to give to others.
Then I add the caramel and chocolate sauce in small resealable containers.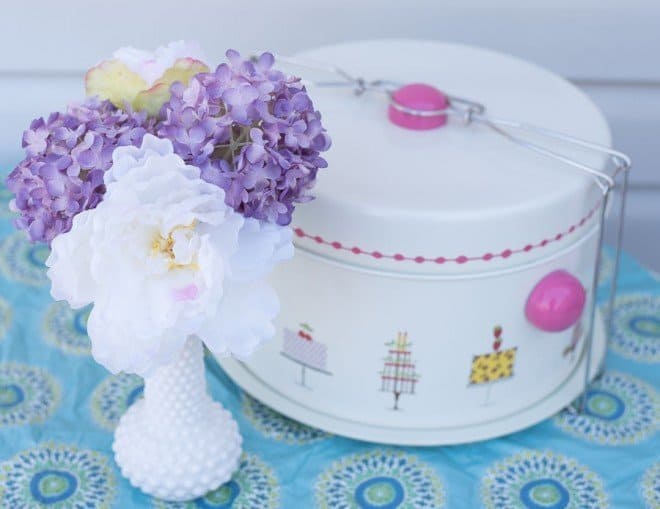 Speaking of caramel sauce, once you taste this easy-to-make sauce, you'll wonder why you haven't made it before.
Combine brown sugar, half & half, butter and a pinch of salt in a saucepan over medium-high heat. Whisk for 5-7 minutes or until mixture thickens.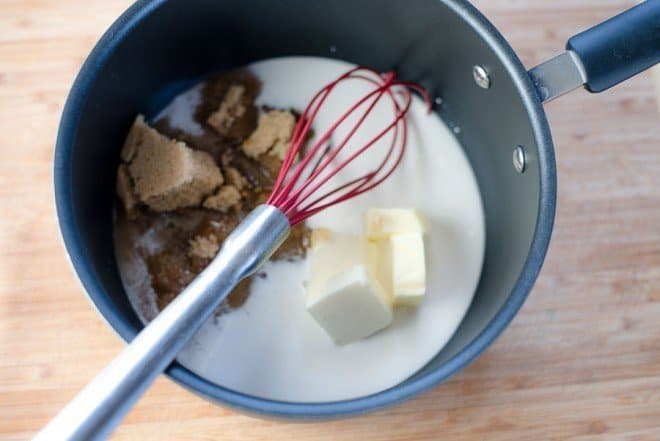 Add vanilla and whisk for another minute. Remove from heat, let cool and refrigerate. That's it!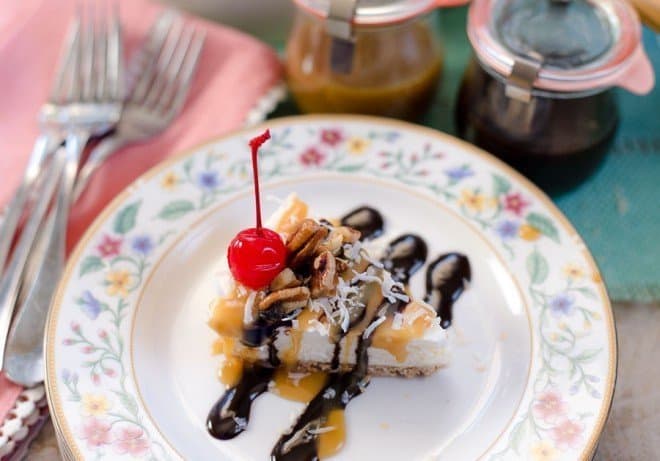 Homemade Caramel Sauce
Ingredients
1 cup packed brown sugar
½ cup half & half
4 tablespoons butter
Pinch of salt
1 tablespoon vanilla extract
Instructions
Mix first four ingredients in a saucepan over medium heat. Whisk continually for 5-7 minutes or until the mixture gets thicker (It will not be extremely thick).
Add vanilla and whisk another minute until it gets a little bit thicker. Remove from heat, cool and then refrigerate. It will thicken even more as it cools.
I usually make it the night before and then refrigerate it overnight.
Along with the Sara Lee Cheesecake and Caramel Sauce, I add toasted pecans, toasted coconut, chocolate sauce, and mixed fruit topping to complete my Top-Your-Own-Cheesecake Bar.
Have you ever created a Top-Your-Own-Cheesecake-Bar for dessert? What's your favorite topping?