This post is sponsored by CANIDAE® Pet Food and the BlogPaws® Pet Influencer Network™. I am being compensated to help create awareness about the Grain-Free PURE® line of pet food, but we only share information we feel is relevant to our readers. CANIDAE® is not responsible for the content of this article. 
It's been a while since I gave an update on Max, our sweet German Shepherd. He joined our family on Christmas Day, 2013. He was only six weeks old, but it wasn't long before Max became the boss of us all. Yeah, he's a little bossy and he likes to be large and in charge.
Here's a look back at Max, the puppy. Let's say it all together, "Awww!"
Max is now 2-1/2 and he's very protective of the boys. He's loyal, super-intelligent and when they're outside playing, he tries to keep them on the straight and narrow. Yes, he herds them. German Shepherds were originally developed to herd sheep so Max herds the kids. He thinks he's their boss. We think so too.
Update on Max
He's trying to look all big and bad in this photo, but he's really a gentle giant and loves everyone, including the mailman.
When I'm outdoors watering the plants and flowers, he likes to drink from the jug. It's clean, cool and refreshing, so I let him.
Max's favorite game is playing fetch. There's only one problem. He refuses to give the ball back. We've tried over and over to train him, but he will chase the ball down, run straight back and refuse to give up the ball. After playing tug of war with the ball, he finally releases it and is ready for round two.
When it comes to feeding Max, I'm very picky. When I heard about CANIDAE® Grain-Free Pure dog food, I was intrigued by the story behind the independent, family-owned pet food company.
Max is impressed with CANIDAE® Grain-Free Pure for completely different reasons – the taste. Normally, Max will not eat as long as you are looking at him. He's funny that way. We usually have to ignore him in order for him to eat. Those days are over. Thanks, CANIDAE®!
Did CANIDAE® Grain-Free Pure pass the sniff test? Yes, it did!
Max dug right in and didn't care at all that he was being photographed while he ate.
Then he got real comfy!
 A Few Facts I Love About CANIDAE® Grain-Free Pure:
Pet Food Made By Pet People™
Independent & family owned since 1996
No chicken by-product meal
No corn, wheat or soy
HealthPLUS Solutions in Every Bite®
Probiotics added to each kibble after cooking to help support healthy digestion, antioxidants to help support a healthy immune system, and omega 6&3 fatty acids to help support beautiful skin and coat.
Grain-free limited ingredient diet
7-10 key ingredients
Fresh meat is always first
Simple recipes for sensitive pets made with fresh meat and whole foods for great taste and healthy digestion
Keeping Max healthy and happy is my main goal, so naturally, I want to feed him the best pet food possible.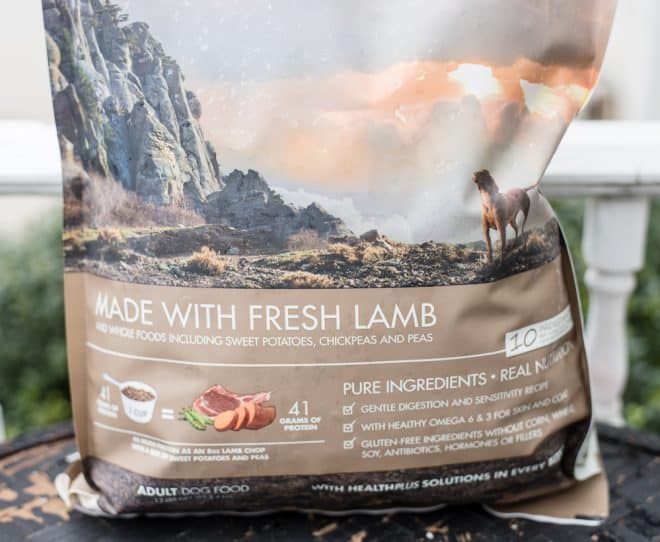 Here's a store locator so you can try CANIDAE® Grain-Free Pure for your dog or cat. Don't forget to grab some coupons!
You can keep up with the latest by joining me in following CANIDAE® on Facebook, Twitter, and Instagram.
Watch the video below to learn more about CANIDAE®.