You've heard me gush about my Mocha Punch on more than one occasion, right? It recently made an appearance at my Super Bowl Party and received rave reviews (unlike my fave team – but I'm trying hard to forget about that). Just wait until you taste my Strawberry Mocha Punch.
While my daughter, Caitlin, was scooping the chocolate and vanilla ice cream into the punch bowl, she mentioned something about how pretty mocha punch would be all dressed up in pink for Valentine's Day. I then replied that adding strawberry ice cream to all that chocolate wouldn't make it pink and I don't really like to use food coloring.
That's when an idea hit me like a ton of bricks and a new recipe was born right there at my kitchen counter. So, my friends, I present to you, Strawberry Mocha Punch!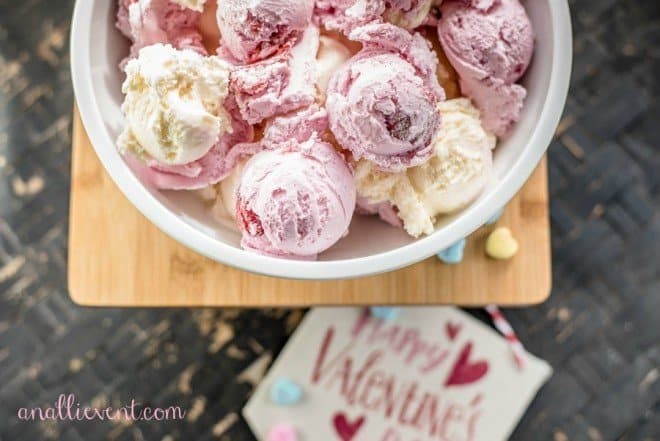 One of the main ingredients in Mocha Punch is Chocolate Nesquik. So I decided to use Strawberry Nesquik instead and replace the chocolate ice cream with strawberry ice cream.
My Strawberry Mocha Punch was designed with Valentine's Day in mind! It's as if cherubs aimed their pink arrows towards a creamy strawberry milkshake and bam – it was lightly kissed by a cup of coffee. It was love at first kiss.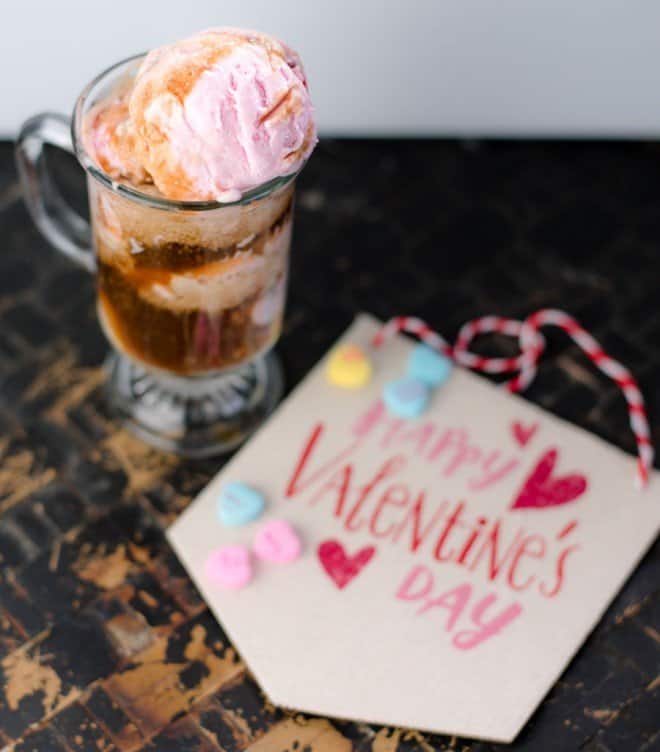 I can also see this Strawberry Mocha Punch as the shining star of a baby shower, a little girl's birthday party, a Pink Panther party (do people have those?) or any party that calls for pink. Think pink!
Helpful Hint: When all is said and done, the liquid portion of the punch is still brown because of the instant coffee granules. But, the pink and white ice cream topping the punch is beautiful! If you want truly pink punch, leave out the coffee, drop the mocha from the title and you have Strawberry Punch. It's still delicious and it will totally be pink.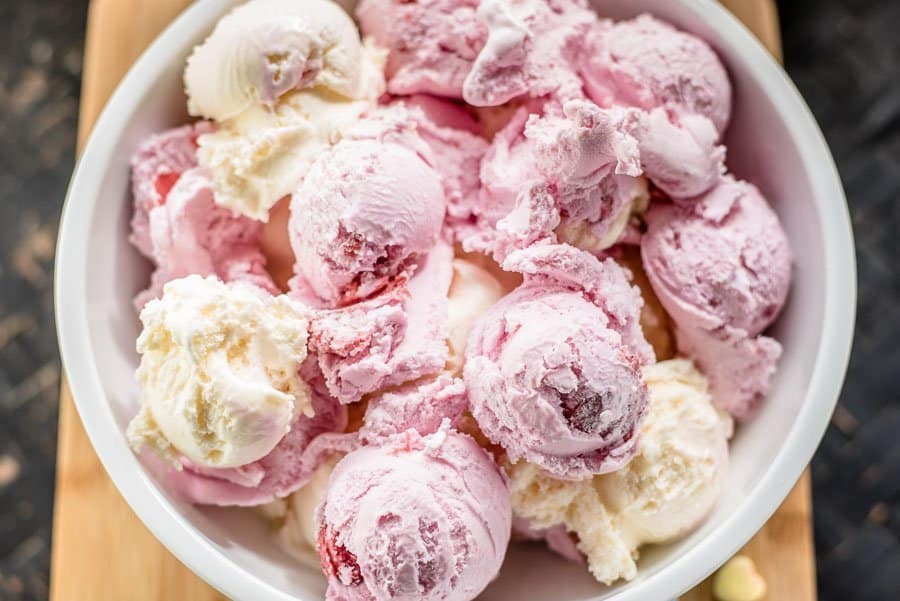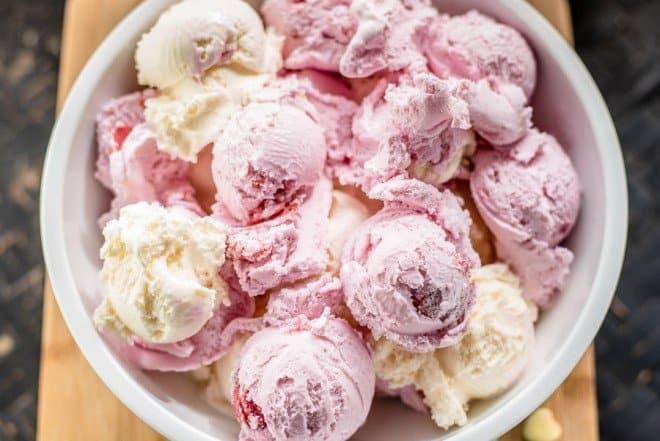 Yield: 24 servings
Strawberry Mocha Punch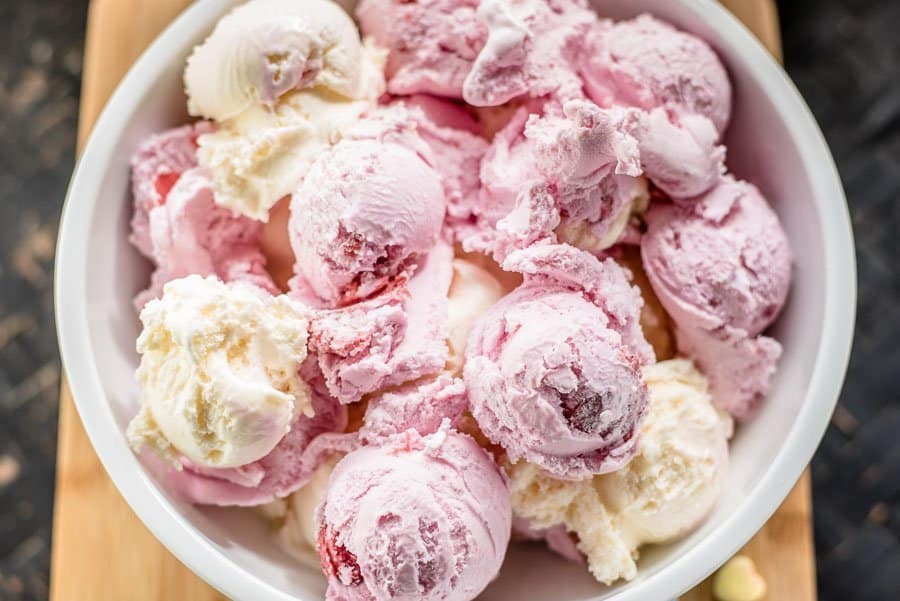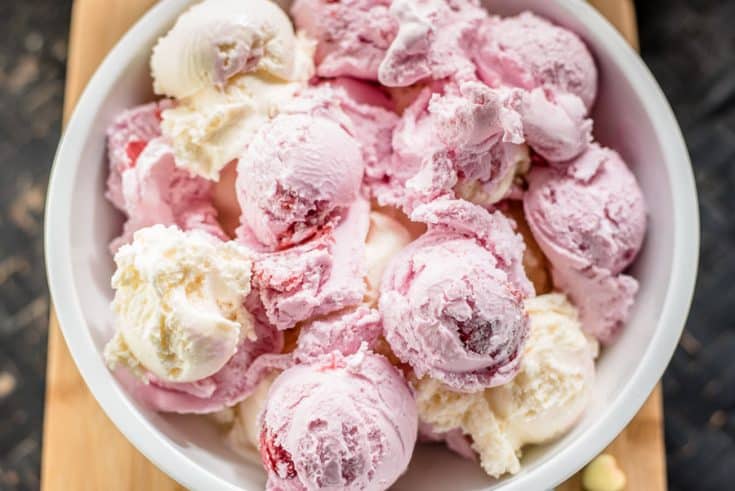 Total Time
8 hours
10 minutes
Ingredients
1-1/2 quarts water
1/2 cup Strawberry Nesquik
1/2 cup sugar
1/4 cup instant coffee (I use decaf)
1/2 gallon vanilla ice cream
1/2 gallon strawberry ice cream
Instructions
Bring the water to a boil.
Add the strawberry Nesquik, sugar and instant coffee. Stir until dissolved.
Let cool and place in the fridge for at least 4 hours or overnight.
A few minutes before serving, scoop the vanilla and strawberry ice creams into a punch bowl.
Give the refrigerated ingredients a quick stir and carefully pour over ice cream in punch bowl.
Gently stir before serving.
Nutrition Information
Yield
24
Serving Size
4 oz.
Amount Per Serving
Calories

195
Total Fat

9g
Saturated Fat

5g
Trans Fat

0g
Unsaturated Fat

2g
Cholesterol

32mg
Sodium

65mg
Carbohydrates

28g
Fiber

1g
Sugar

14g
Protein

3g
Helpful Hint
: This recipe can easily be doubled, tripled, quadrupled – you get the gist. It can also be cut in half if you only need it for two or a few. Or make the full batch and freeze what you don't drink. There are never any leftovers at my house.
How will you be celebrating Valentine's Day? If you're celebrating at home, my Shrimp Fra Diavolo is a winner. Or how about trying one of my Valentine's Day Menus complete with recipes for entrees, sides, and desserts. Click the pic for my Baked Spaghetti Dinner, Chicken Cordon Bleu or Pepper Ribeye Steaks.