Thanks to Venta Airwasher for supplying me with their exclusively formulated essential oils for review. All opinions are my own. 
In December, I received a Venta Airwasher for review. You can read about it here! I'm thrilled to report that my family and I are continuing to enjoy our humidifier/purifier. I can relax knowing that my airwasher is washing particles out of the air. "It's a wellness investment for life."
A few weeks ago I received a package in the mail.  It contained Venta Airwasher Aromatherapy combination packs. Don't you just love to receive gifts in the mail? I do!
I couldn't wait to try the essential oils. All I have to do is add 2-4 capfuls of fragrance directly to the water in the lower housing of the Venta Airwasher. At my house, the fragrance lasts a good 4 hours.
My package contained six unique fragrances of 100% all-natural essential oils:
Vanilla – Balancing & Invigorating
Eucalyptus – Comforting When There Are Colds About – (soothing blend of eucalyptus, peppermint, and tea)

Refreshing – Invigorating & Stimulating – (zesty blend of orange scents)

Citrus Garden – Refreshing & Invigorating – (blend of citrus oils)
Winter Dream – Warming & Relaxing (blend of cinnamon and citrus)

 

Relaxing – Helps You Rewind After A Long Day – (cinnamon, grapefruit, and carnation blend)
It's hard to choose a favorite! I like Relaxing or Winter Dream at night when I'm unwinding. Vanilla and Refreshing is great for mornings when I'm getting ready to start my day. Of course, Eucalyptus is my choice when my nose is a little stuffy. It's perfect for cold and flu season!
However, since you twisted my arm, I'll have to say that the Citrus Garden is my very favorite. It's made with fresh orange zest and when I pour a capful into the airwasher, my house smells so delicious.
Venta Airwasher Essential Oils Facts
100% All-Natural
Long Lasting Fragrance (depending on room size, 2-4 hours)
Exclusively Formulated for the Venta Airwasher
Six Unique Fragrances
Water Soluble
Bottom Line:  I love my airwasher! The essential oils enhances the pure air experience. The combination packs (3 bottles) are $19.99. Or, you can purchase 3 bottles of the same fragrance for $19.99.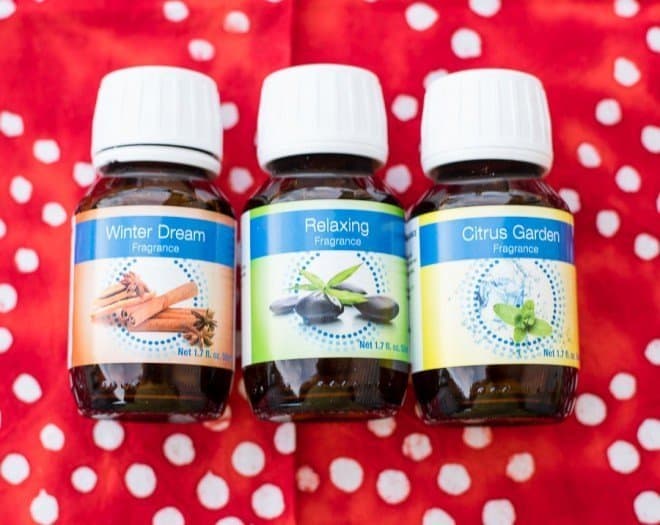 I have a Deal for You!
If you purchase a Venta Airwasher, you will receive a free package of the Aromatherapy of your choice. Redeem the Offer: Call the toll-free number to purchase your new Airwasher (888-333-8218). Mention An Alli Event by name and choose your complimentary package of Aromatherapy. That's it!
I give Venta Airwasher Aromatherapy an A+! Which fragrance do you think you would like the most?
Join me in following Venta Airwasher on Facebook, Twitter and Youtube.