Throughout the years, my decor style has changed many times. In the past, my style tended towards whatever was trending at the moment. Who remembers when ducks, geese, and country blue was all the rage? I do! It reminds me of the game, duck, duck, goose! These days, I tend to lean towards a minimalistic sense of style and I really like this simple black and white Christmas mantel decor. It does have a touch of green.
Welcome to Day 7 of the Fourth Annual 12 Days of Christmas Series!
We have teamed up with 50 plus bloggers to bring you oodles of DIY Ideas and Recipes to make your holiday season merrier. There are 12 different posts in the series and we have spread them out over a four week period with three posts per week. Now is the time to subscribe!
GO HERE for the complete list of Dates and Topics plus a collection of most popular holiday ideas including ornaments, games, recipes and more from all 50 plus talented bloggers!
It's Day 7 and we are sharing Holiday Decor Ideas
Simple Black and White Christmas Mantel Decor
On the day after Thanksgiving, I always head to our church early in the morning to decorate for Christmas. A few years ago, I had my son-in-law build a faux fireplace to help our fellowship hall look more homey and welcoming.
I decorate the mantel seasonally, so that means taking down all the fall decor and putting it away before decorating for Christmas. It usually takes me about 5 hours to put up the tree and the rest of the decor, including wreaths on the doors.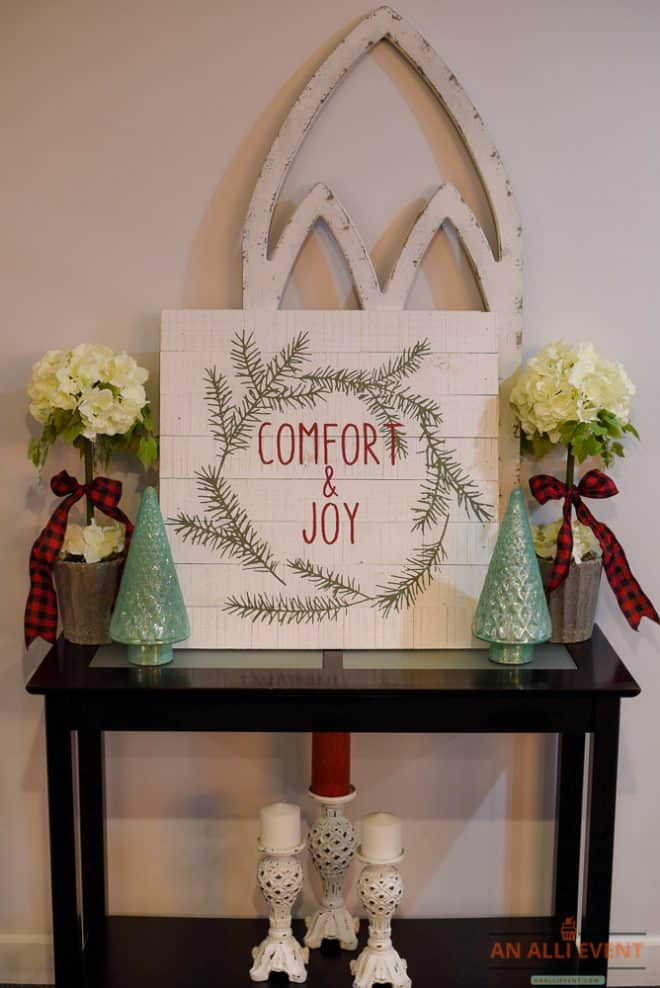 The mantle decor usually includes a lighted garland but this year I wasn't feeling it so it was left in its bin for this year. I also reuse items in order to stick with the budget. I didn't spend a penny on decor this time around, even though it never looks exactly like it did the previous year.
The wreath and stockings are from Target. They are part of the Hearth & Hand™ with Magnolia Holiday Decor (Joanna Gaines). These were purchased last November, but they do have some pretty decor for this year as well.
The deer family on the mantle are from Sam's Club. The deer family below are from Hobby Lobby. The ice garland is also from Hobby Lobby. The inexpensive snow-look fabric ties everything together.
The trees are from Home Goods (purchased last year as well).
There you have it – a simple black and white Christmas mantle decor.
Scroll down for many more Holiday Decor Ideas to create a festive atmosphere in your home!